Glenn Youngkin Calling UVA Shooting an 'Event' Sparks Fierce Criticism
Virginia Governor Glenn Youngkin is receiving criticism for referring to a shooting that has left three University of Virginia (UVA) student-athletes dead as an "event."
On Monday, alleged shooter Christopher Darnell Jones was confirmed by campus police to be apprehended, following a manhunt that began Sunday evening when the shootings in a school parking garage were originally reported.
University of Virginia President Jim Ryan said Monday that the three students fatally shot were UVA football players Devin Chandler, Lavel Davis Jr. and D'Sean Perry.
Youngkin's account tweeted Monday morning that he and his wife, Suzanne, were "praying for the UVA community" and implored students to shelter in place while authorities located and apprehended the suspect.
"For family and friends with questions about the event, @UVA has established an Emergency Hotline at 877-685-4836," said an additional tweet.
In a statement published at 4 a.m. Monday, updates were provided by Ryan to the UVA community. One line mimics what Youngkin said in his tweet, with Ryan providing the same emergency hotline number "for those who have questions about these events."
Prior to using the term "event," Ryan used the word "shooting" three times in his statement, not including in the title of the correspondence. He also called it a "traumatic incident."
Fred Guttenberg retweeted Youngkin's tweet, saying it is "truly bothering me." Gutenberg has been an outspoken gun safety advocate following the death of his daughter, Jamie, in the Parkland high school shooting.
"It was not an 'event' Glenn," Gutenberg said via tweet. "It was a mass shooting in your state and under your leadership. It was gun violence. Glenn, call it what it is."
Another Twitter user said in response to Youngkin's tweet, "Event? Are you kidding? It's a shooting. Guns going bang bang bang! Killing people."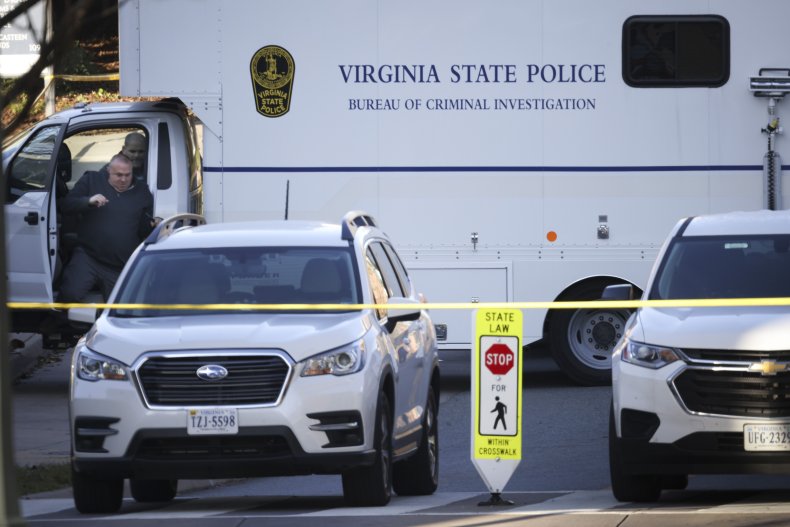 "Two tweets and you can't mention the word 'shooting' or 'gunman,'" another Twitter user replied to Youngkin. "Did anyone receive 'deliveries of metal that were not requested by recipients' at this 'event?'"
"'The event' - you mean a gunman that is roaming campus?" another user remarked.
Macaulay Porter, press secretary for Youngkin, referred Newsweek to more elaborate comments made by Youngkin on Monday morning during an appearance in Virginia Beach.
"We had a horrific tragedy overnight at the University of Virginia in Charlottesville, and there were lives lost. And families changed forever," Youngkin said in Virginia Beach. "And I just ask everybody this morning to lift up those families, the entire community in prayer.
"We have law enforcement fully engaged because the suspect has not been apprehended, and so Charlottesville is still on a lockdown. And it is an extremely, extremely sad, scary, horrific moment."
Following the shooting, videos surfaced online of students sheltering in place. One video showed students among one another in a fitness center, some lying on towels on the floor while waiting for confirmation that the suspect had been apprehended.
University of Virginia Police Chief Tim Longo said during a press conference Monday that the university's threat assessment team received reports from the student affairs office months earlier about the suspect, Jones, making a comment about owning a gun to a third-party individual.
Newsweek reached out to Ryan's office for comment.