Glenn Youngkin Slams Terry McAuliffe Over Resurfaced Claim 2000 Election Was Stolen
A claim Virginia gubernatorial candidate Terry McAuliffe made in 2004 about the 2000 presidential election being stolen was revisited Thursday during a roundtable candidate discussion hosted by the Portsmouth-based news station WAVY-TV.
While Republican gubernatorial candidate Glenn Youngkin's campaign has said the clip is an example of how McAuliffe has questioned the legitimacy of an election in the past—something McAuliffe's campaign has accused Youngkin of doing in connection with the 2020 election—McAuliffe has said the circumstances surrounding the 2000 and 2020 elections are different, with the U.S. Supreme Court intervening in only one.
Election integrity has been a focus of local and national politics since the 2020 presidential election, during which former President Donald Trump repeated claims of widespread voter fraud without evidence. Election integrity was a key issue in the early days of this year's gubernatorial race in Virginia, according to The Associated Press, and remains a point of debate as the November 2 election approaches.
Earlier this week, Youngkin called for voting machines in Virginia to be regularly audited, though the AP reported they are currently audited once every year. In response to those comments, McAuliffe, a Democrat, released a campaign ad that compared past Trump claims of voting machines altering votes with Youngkin's recent calls for machine audits.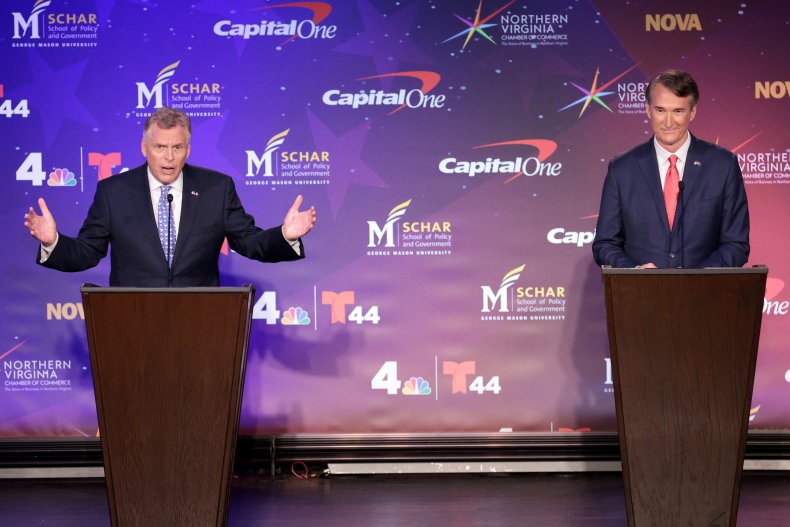 Election integrity was the topic of the first question that roundtable discussion hosts Anita Blanton and Andy Fox posed to McAuliffe on Thursday. The station first played a clip from a recent gubernatorial debate that showed McAuliffe criticizing individuals who question the integrity of the 2020 presidential election before playing a video clip from 2004.
In that 2004 clip, McAuliffe spoke about the 2000 election, which reached a conclusion after the U.S. Supreme Court was called to step in.
"We actually won the last presidential election, folks. They stole the last presidential election," McAuliffe said in the clip.
When pressed by Blanton and Fox to identify the differences between his comments about the 2000 election and Youngkin's focus on election integrity in the wake of the 2020 election, McAuliffe pointed to the Supreme Court's decision to halt ballot counting in December 2000.
"That case in 2000 went to the United States Supreme Court, went through the Florida Supreme Court," McAuliffe said. "None of that happened in 2020."
McAuliffe also mentioned the election integrity task force featured on Youngkin's website, which the Republican launched in February. While Youngkin in the early days of his campaign did not respond to questions regarding the legitimacy of President Joe Biden's win in the 2020 election, he acknowledged Biden as the president after becoming the top Republican gubernatorial candidate in the Virginia race.
"We don't have election fraud here. It's buzzwords that they try to use to the Trump base to keep them happy," McAuliffe told Blanton and Fox.
On Thursday evening, Youngkin tweeted part of the roundtable discussion clip. "WATCH: Terry McAuliffe refuses to say George W. Bush was legitimately elected president and defends his claims that the 2000 and 2004 elections were stolen," Youngkin wrote.
Though McAuliffe first delved into the circumstances surrounding the 2000 election when he was asked whether former President George W. Bush had been "legitimately elected," he said Bush was when Blanton and Fox asked him a "yes or no" follow-up question.
"Yeah. He got sworn in," McAuliffe said. "Once you're sworn in, we've got to move on."
When contacted for further comment on Friday, McAuliffe's campaign pointed Newsweek toward Youngkin's recent calls for voting machine audits.
"Glenn Youngkin has based his entire campaign on peddling Donald Trump's election conspiracy theories and has recently called for auditing Virginia's voting machines," said Renzo Olivari, a spokesperson for the Terry for Virginia campaign. "Donald Trump knows Glenn will bring their dangerous agenda to Virginia, which is why he proudly endorsed Glenn a fifth time again this week."
Olivari's mention of Trump's most recent endorsement for Youngkin's campaign referred to an email Trump's Save America PAC sent Wednesday evening. The email encouraged recipients to read The Hill's coverage of Youngkin's calls for voting machine audits. Trump first endorsed Youngkin in May.
Speaking with reporters on Thursday, Susan Swecker, the chairwoman of the Democratic Party of Virginia, described the email as Trump's latest Youngkin endorsement, according to the AP.
"Glenn just can't get enough and he continues to be all in on Donald Trump's baseless election conspiracy theories that erode our democratic processes and lead, as we have all seen, to violence," she said.
Just over three weeks remain until voters decide who will become Virginia's next governor. McAuliffe, who previously served as Virginia's governor from 2014 to 2018, was leading in the polls as of Friday, with polling averages compiled by FiveThirtyEight estimating the Democrat to be about 2.5 points ahead of Youngkin.