Glenn Youngkin's Underaged Son Tried Twice to Cast a Ballot in Virginia's Election
Virginia Governor-elect Glenn Youngkin's 17-year-old son tried to vote in Tuesday's election despite being too young to cast a ballot, voting officials said.
In a statement released Friday, Fairfax County election officials said that Youngkin's underaged son tried to vote in the gubernatorial election twice. The boy is not being named as he is under 18 and not charged with any crime.
However, the teen did not end up casting a ballot nor did he violate any state election laws after being turned away at the polls, according to the statement.
"This morning, November 5, 2021, the General Registrar was made aware of concerns that a 17 yo male attempted on two occasions to vote on election day," the office of elections said. "The young man presented identification but was ineligible to be registered due to his age and was not permitted to vote. The man was given a registration form and encouraged to register for future elections."
Jennifer Chanty, the precinct captain at the Great Falls Library polling location, told The Washington Post that the teen walked in to the voting precinct and presented his driver's license to an election official when asked for proof of identity.
Chanty said that upon checking his ID, she realized who the young man was and informed him that he was not eligible to vote in Virginia because he was under 18, but offered to register him in the next election.
She said the teen walked out before returning 20 minutes later and insisted that he be allowed to cast a ballot because a 17-year-old friend of his had been allowed to vote.
"I told him, 'I don't know what occurred with your friend, but you are not registered to vote today. You're welcome to register, but you will not be voting today,'" Chanty, a Democrat, told the Post.
"It was just weird," she added. "He was very insistent that he wanted to vote in this election, and I said, 'Well, you're not old enough.'"
Chanty said it was particularly strange that the 17-year-old attempted to vote at her precinct located in Hickory, where the Youngkins are not registered to vote.
Officials emphasized that the teen did not cast a ballot, did not make any false statements and did not violate any election laws in his attempt to cast a ballot.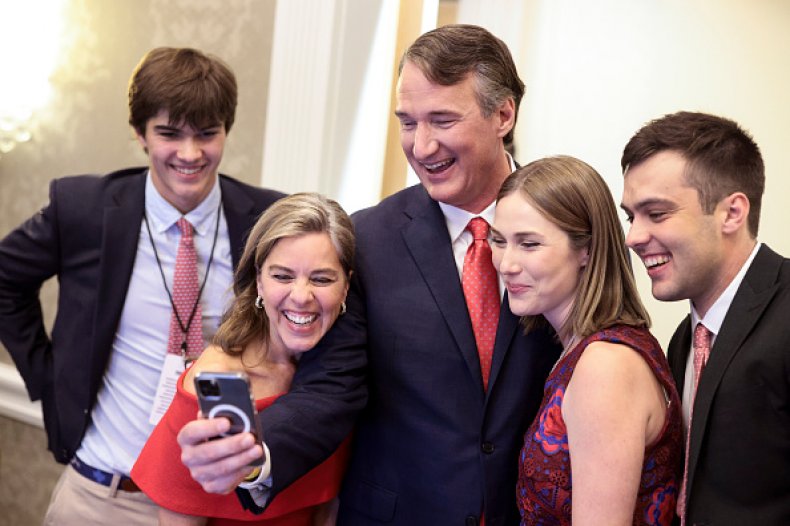 Over the last year, a number of prominent Republican figures have repeatedly alleged that there was widespread voter fraud in the 2020 presidential election—a claim that have been debunked by multiple failed lawsuits and hand-counted audits.
Among these unsubstantiated claims were allegations that some voters cast two ballots in the election.
Youngkin, who defeated Democrat Terry McAuliffe for governor, had previously been evasive when asked if he believed President Joe Biden's victory was legitimate, but later acknowledged Biden's win in an appeal to win over the state's more moderate suburban voters.
Youngkin and his wife Suzanne have three sons and one daughter.
The governor-elect ran on a platform dedicated to education and parental rights, arguing in a late September debate that he didn't think "parents should be telling schools what they should teach."
"We're going to take the power of our children's education," Youngkin promised parents in the Commonwealth while on the campaign trail.
Newsweek reached out to Youngkin's campaign for comment but did not hear back before publication.