Both Democrat and GOP state officials have denounced a tweet from the University of Washington College Republicans warning that conservatives—including President Donald Trump—are embracing the "cosmopolitan, GloboHomo agenda" of the left.
The president of the University of Washington College Republicans, Armen Tooloee, defended the group's controversial Sunday Twitter commentary, saying the term "GloboHomo" actually stands for "globalized homogenized" and has "nothing to do with gay people, specifically."
However, Tooloee told Seattle news outlets he wants to see Trump embrace the wishes of socially conservative voters and stop trying to pander to the "cosmopolitan" LGBT community because Republicans are "still going to be called bigots and homophobes." The UWCR Twitter account routinely criticizes libertarians and fiscal conservatives as "hollow" ideologies.
Tooloee said "most Republicans are just nice people" and don't need LGBT or gay rights issues as part of the party's platform.
On Monday, Tooloee acknowledged on KTTH radio he "may have chosen the wrong term" but only because it was a distraction and has "unsavory characters," including white supremacists, attached to it. But he cautioned that too many Republicans are being drawn in by a left-wing push to dilute culture on a global scale.
"Republicans are afraid to take true right wing stands on most issues. Rather than provide a real alternative to the cosmopolitan, GloboHomo agenda of the Democratic Party, they offer Liberalism Lite; basically all of the same stuff but with a tax cut," reads the original UW College Republicans tweet.
Tooloee defended the "globohomo" reference both on Twitter and through Seattle news outlets: "It's a pretty apt way to describe the political platform you see mostly from the left, but certainly people on the right who go along with it. Basically, they want to have a hyper-globalized economy and culture where every city and every country and every state have the same sorts of businesses, they have the same types of buildings they want to listen to the same type of music, same type of culture."
He warned that true conservatives are disappointed in Republican leaders, including President Trump, who have tried reaching out to the gay community and others with a "cosmopolitan mindset."
"[There's a] large push to appeal to the LGBT community while in office, taking the liberal playbook of 'we're really the ones who are pro-gay' -- and that's just a non-starter for most people who voted for Trump," Tooloee said on The Jason Rantz Show. I know a lot of people who voted for Trump and it doesn't really matter for them much...it would be better for the right to basically say 'we're different from the other party.'"
The UW College Republicans leader said it's futile for the GOP to try and appease or appeal to the gay community.
"It sounds like a good idea but then you realize that it doesn't actually help them because [Republicans] are still going to be called bigots and homophobes no matter what and the media is going to amplify it," he continued. "So it doesn't actually help them. It only alienates their socially conservative voters who are like 'hey wait a minute, I wanted to vote for a party that is socially conservative, not just fiscally conservative.'"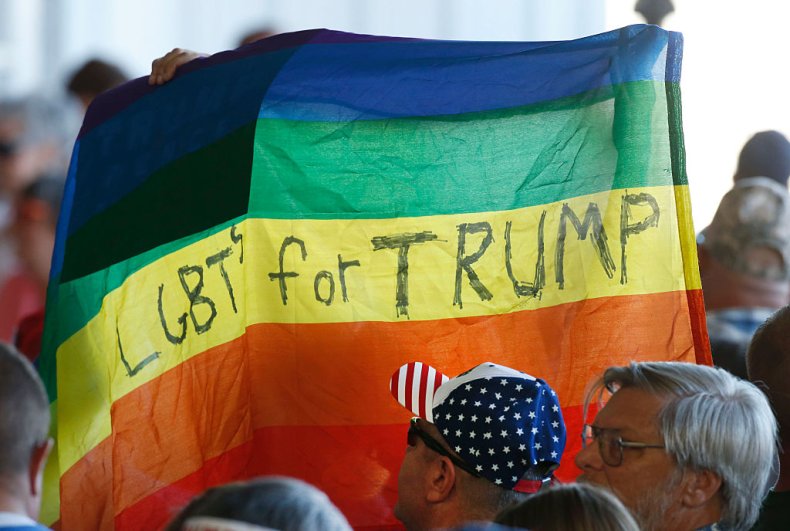 On Monday, Washington state Democratic Party chair Tina Podlowdowski condemned the "globohomo" tweet: "I was absolutely horrified by what I saw," she said in a statement. "It really views the value of someone, their worth through the lends of the color of their skin, sexual orientation, gender ID, as opposed to content of tier character."
And in a statement to KOMO-TV, Washington state Republican Party chair Caleb Heimlich also rebuked the College Republicans' Twitter commentary.
"Someone is saying ridiculous, offensive things behind the safety of their keyboard. Welcome to the internet in 2019. I cannot begin to speculate what is going on in the mind of whoever is running the UWCR Twitter account, so I am not going to try. The UWCRs are not sanctioned or recognized by the National Federation of College Republicans. They certainly don't speak for Republicans in Washington state."
Hundreds of Twitter users blasted the Sunday tweet specifically, including Fred Wellman, founder of a military veterans advocacy firm: "GloboHomo'. Nice bigotry and douchebaggery, Chad. Tell Ryan and Chas to put down their lacrosse sticks in the frat house and all of you should stop being such monumental jackasses."
This is not the University of Washington College Republicans' first foray into controversial social media posts. In October 2018, the group claimed they were "discriminated against" for holding a "Beers for Brett" event at a local bar in celebration of Brett Kavanaugh's swearing in to the U.S. Supreme Court.
In recent tweets, the College Republicans at UW account mused that, "Libertarianism in 2019 is basically just 'we want weed and butt sex.' A totally hollow and bankrupt ideology. Libertarians fear positive duties!"
Tooloee and the UWCR did not immediately respond to Newsweek's requests for comment Tuesday.