'Go to the Hospitals': Fauci Challenges Trump's Claim of Exaggerated COVID Deaths
Dr. Anthony Fauci pushed back Sunday against President Donald Trump's most recent attempt to undermine the gravity of the coronavirus pandemic. Trump earlier in the day tweeted that COVID cases and deaths have been "exaggerated" by top federal agencies.
Fauci, a leading health official who's helped guide the country's pandemic response as part of the White House Coronavirus Task Force, defended the legitimacy of reported figures during a Sunday morning appearance on ABC News' This Week.
"The deaths are real deaths," said Fauci, responding directly to Trump's tweet, which described the nation's rising COVID-19 mortality count as "fake news."
"I mean, all you need to do is to go out into the trenches, go to the hospitals, see what the health-care worker are dealing with," he continued. "They are under very stressed situations. In many areas of the country, the hospital beds are stretched, people are running out of beds, running out of trained personnel who are exhausted right now. That's real. That's not fake."
Even as the U.S. continues to establish new single-day record increases in COVID-19 diagnoses and resulting deaths, Trump refuses to acknowledge scope of the pandemic, or seriousness of its consequences to Americans. In his tweet, the president said virus cases and deaths reported in the U.S. are "far exaggerated...because of @CDCgov's ridiculous method of determination compared to other countries, many of whom report, purposely, very inaccurately and low."
"'When in doubt, call it Covid,'" he wrote on Twitter. "Fake News!"
The U.S. has recorded more COVID-19 cases and deaths than any other affected nation. Data updated by the Centers for Disease Control and Prevention (CDC) on Saturday confirmed upwards of 20 million people have tested positive for the respiratory disease since the pandemic began, and at least 346,925 people have died after contracting the infection. The agency's statistics are lower than those reflected in independent tracers. Johns Hopkins University's database, for example, placed the national death toll above 350,200 early Sunday.
The incidence of COVID-19 infections and deaths increased rapidly in the U.S. as temperatures fell this past fall, and Fauci warned that the outbreak "could, and likely will, get worse" before it improves.
During an appearance on NBC News' Meet the Press also on Sunday morning, he anticipated that large indoor gatherings and heightened travel over the holidays would prevent the outbreak curve from flattening for at least several weeks.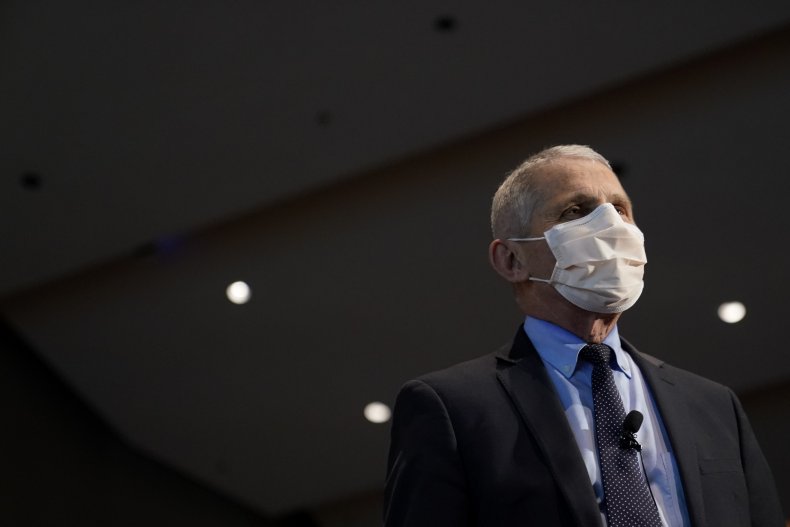 "It's terrible," Fauci said. "It's unfortunate, but it was predictable that we were going to see the number of cases that we're seeing now. My concern is that it could get worse over the next couple of weeks, as we see the lag that happens when an event occurs, like the Christmas and New Years holiday."
Trump endeavored to credit himself for Fauci's work in another message shared to Twitter Sunday, following the morning interviews.
"Something how Dr. Fauci is revered by the LameStream Media as such a great professional, having done, they say, such an incredible job, yet he works for me and the Trump Administration, and I am in no way given any credit for my work," he wrote. "Gee, could this just be more Fake News?"
Trump and Fauci clashed on several occasions as the pandemic unfolded, and subsequently persisted, throughout last year. While the president notoriously downplayed its severity, the health expert, who has served as director of the National Institute of Allergy and Infectious Diseases for more than 30 years, maintained an objective outlook, championing facts and underscoring the import of ongoing mitigation.
After questioning Fauci's expertise in public interviews over the summer, when COVID-19 cases surged across the U.S., Trump suggested he would fire the longstanding federal official during remarks at a campaign rally just days ahead of November's general election. His suggestion closely trailed a Washington Post report in which Fauci praised President-elect Joe Biden for "taking [the pandemic] seriously, from a public health perspective."
Newsweek reached out to the White House and CDC for comments, but did not receive replies in time for publication.