GoFundMe Launches Government Shutdown Direct Relief Fund For Federal Employees
Popular crowdfunding platform GoFundMe launched a "Government Shutdown Direct Relief Fund" yesterday for federal workers affected by the shutdown that has dragged on for 29 days with no resolution in sight.
In a statement, released on Saturday, GoFundMe CEO Rob Solomon explained that the donations "will be distributed to several nonprofit organizations across the country offering direct assistance to government workers" such as "providing hot meals, necessary counseling, and housing relief." The company has partnered with American-Indian author Deepak Chopra on the campaign.
"They are honest, hard working Americans serving our country," the GoFundMe page reads. "They are showing up to work protecting our coastal waters and keeping our airports and skies safe, among other important duties as civil servants and contractors."
"We want to provide a place for people to take action and help someone in need, because, together, we have power to make a difference and provide critical short-term relief. The over 800,000 federal workers furloughed or working without pay don't deserve this hardship, but we have the opportunity to take action and deliver a message of hope and solidarity."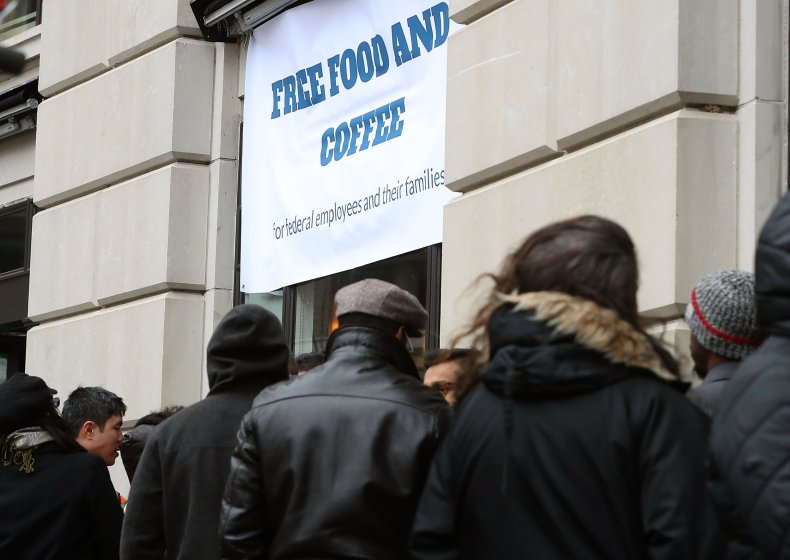 The campaign comes after more than 1,000 federal staffers — who have either been furloughed or working unpaid — turned to the crowdsourcing site to raise money for their daily living expenses. The partial government shutdown began last month after President Donald Trump refused to sign a stop-gap measure designed to keep the government running through to February because it didn't include funding provisions for the border wall he promised to deliver during his campaign trail. Last weekend, the shutdown became the longest in American history at 22 days, beating a previous record set in 1996 by Bill Clinton's administration.
Celebrity chef José Andrés' nonprofit, who has already provided food for around 12,000 federal workers in Washington D.C., will be one of the first to receive donations.
"Government workers, through no fault of their own, can't afford to put diapers on their newborns," Solomon said. "Employees of the most powerful nation in the world are being forced to work without pay and line up at diaper or food banks. It makes no sense."
The site also pledged to provide donations to the National Diaper Bank Network, a nonprofit currently supplying diapers to federal workers who cannot afford them during the shutdown. A full list of nonprofit recipients who are working to help those affected by the shutdown will be released by GoFundMe "in the coming days."
Created on January 18, the campaign has raised $78,451 of its $125,000 goal as of Sunday evening, with 897 donor contributions. Approximately 1,300 users have also shared the campaign on social media, propelling the site to trending status.