GoFundMe Page For Donald Trump's Border Wall Raises More Than $900K in 3 Days
A Florida Air Force veteran's GoFundMe page has raised more than $900,000 for President Donald Trump's border wall over the past three days—and the figure is rapidly rising.
The campaign titled "We The People Will Fund The Wall" was created on Sunday by Purple Heart Recipient and triple amputee veteran Brian Kolfage, 37. It has since raised $906,005 of its $1 billion goal from 14,698 donors at the time this article was published.
Read more: Border wall GoFundMe campaign reaches $3M
On Wednesday, Kolfage—who proved his identity via a verified Facebook account—told Newsweek that the campaign was in response to "inaction from politicians on both sides of the aisle." "I could see the frustration among many Americans like myself. I knew there was a possible way to do this with so many people passionate about the cause," he said.
If the campaign doesn't come significantly close to reaching its $1 billion goal, it pledges to refund donors all money contributed. "If the 63 million people who voted for Trump each pledge $80, we can build the wall. That equates to roughly 5 billion dollars, even if we get half, that's half the wall. We can do this," the campaign's description said. "The government has accepted large private donations before, most recently a billionaire donated $7.5 Million to fund half of the Washington Monument repairs in 2012; this is no different."
Kolfage describes himself as a "retired United States Air Force member who was wounded in Iraq and lost three limbs."
"I feel deeply invested to this nation to ensure future generations have everything we have today," he explained on the GoFundMe page. "Too many Americans have been murdered by illegal aliens and too many illegals are taking advantage of the United States taxpayers with no means of ever contributing to our society."
The campaign also claims to have been in contact with the Trump administration to "secure a point of contact where all funds will go upon completion" and said it is working with a legal firm to ensure the government uses the money only for constructing the wall.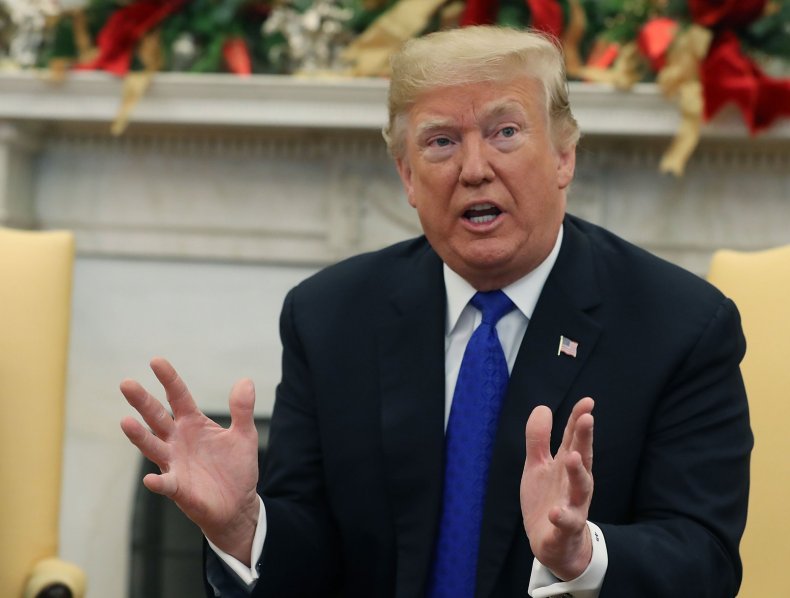 When asked whether it's reasonable that American should pay for the wall directly, Kolfage compared his campaign to a charity. "If people want to donate to charity, we don't stop them; why should people be disallowed from spending their own money as they see fit?," he told Newsweek. "I expected [the fundraiser] to grow large, but didn't expect it to go at this rate. It shows that people are willing to put their money where their mouth is when it comes to doing something they are passionate about. "
Last week, Trump threatened to shutdown the government if Congress didn't give him $5 billion to build the wall—which he promised his base on his campaign trail—during a heated discussion at the Oval Office with incoming House Speaker Nancy Pelosi and Senator Chuck Schumer.
However, White House senior counselor Kellyanne Conway suggested today that if Congress moved to pass a short-term funding measure to keep the government open, Trump would be open to the idea.
"A short term [continuing resolution]—or a CR that goes through February 8 keeps the government up and running but that doesn't mean the President is backing down from an essential promise, not a campaign promise, a promise as President of the United States and our commander in chief to keep us safe," she said.
Trump took to Twitter on Wednesday to claim that Mexico will pay for the wall through the new North American trade deal, while providing no explanation on how the deal will ensure funding for the barrier from Mexico.
"Mexico is paying (indirectly) for the Wall through the new USMCA, the replacement for NAFTA!" the president tweeted. "Far more money coming to the U.S. Because of the tremendous dangers at the Border, including large scale criminal and drug inflow, the United States Military will build the Wall!"