A GoFundMe page set up by a Florida Air Force veteran to raise funds for President Donald Trump's touted border wall has seen donations soar to more than $4.5 million in three days—according to the funding campaign—with donors using the names of prominent Democrats and other high-profile figures to make their contributions.
So far, names like "Barack Obama," "Hillary Clinton," "Adam Schiff" and even "Lee Harvey Oswald" have appeared as donors on the page.
Read more: GoFundMe page for Donald Trump's border wall raises more than 900K in 3 days
While it's highly unlikely that the former U.S. president, secretary of state and the incoming chairman of the House Intelligence Committee would have contributed to the effort, it's impossible that Oswald, the U.S. Marine who assassinated U.S. President John F. Kennedy, did, as he has been dead since November 1963.
Despite the obviously fake names, some backers of the "We the People Will Fund the Wall" GoFundMe page have used to make their donations, many appear to have donated using their real names, or have contributed anonymously, with one of the biggest donations, of $5,000, coming from an anonymous donor.
The GoFundMe campaign was created on Sunday by Purple Heart recipient Brian Kolfage, who is hoping to raise at least $1 billion in donations to go toward the construction of Trump's border wall. With the $4.5 million raised so far, the 37-year-old veteran's goal is 0.28 percent complete.
If the campaign doesn't reach its $1 billion target, Kolfage said he would return all of the donations.
The veteran, who describes himself as a "retired United States Air Force member who was wounded in Iraq and lost three limbs," has said on his GoFundMe page that "if the 63 million people who voted for Trump each pledge $80" that should equate to "roughly 5 billion dollars."
"Even if we get half, that's half the wall. We can do this," he said, adding: "The government has accepted large private donations before, most recently a billionaire donated $7.5 Million to fund half of the Washington Monument repairs in 2012; this is no different."
Speaking to Newsweek on Wednesday, Kolfage said he launched the campaign in response to "inaction from politicians on both sides of the aisle.
"I could see the frustration among many Americans like myself. I knew there was a possible way to do this with so many people passionate about the cause," he said.
While Kolfage's border wall campaign has taken off, the veteran has seen previous efforts to spread his message thwarted, with Facebook reportedly shutting down several pages he had run earlier this year.
Speaking to The Guardian in October, Kolfage said that a Right Wing News page he had set up on Facebook was pulled from the website, along with three other politically conservative pages.
Kolfage said at the time that he had tried to work with Facebook to set up a meeting to discuss how his pages could better adhere to the social network's policies around political content, but said that the meeting was canceled, with his pages disappearing from the social media platform a week later.
Calling it a "complete shock," Kolfage told The Guardian that Facebook never told him his pages had broken any rules. "If they had an issue, they could have brought it up," he said.
Despite his difficulties on Facebook, the veteran does appear to have a verified page on the social media platform, and the Right Wing News page also appears to be live, although it is unclear if Kolfage still runs it.
The veteran's efforts to raise $1 billion for Trump's border wall come as the president has failed to get the $5 billion he has demanded from Congress for the project.
Last week, Trump threatened to shut down the government if Congress refused to meet his $5 billion border wall demand.
In recent days, Trump backed away from the threat, with Trump counselor Kellyanne Conway saying on Wednesday that the president would be open to Congress passing a short-term funding measure to keep the government open.
The president has also insisted that even if Congress didn't meet his funding demands, Mexico would be paying for the wall regardless through the recently signed U.S.-Mexico-Canada Agreement (USMCA), which he claimed would result in enough additional funds coming into the U.S. to cover the cost of the wall.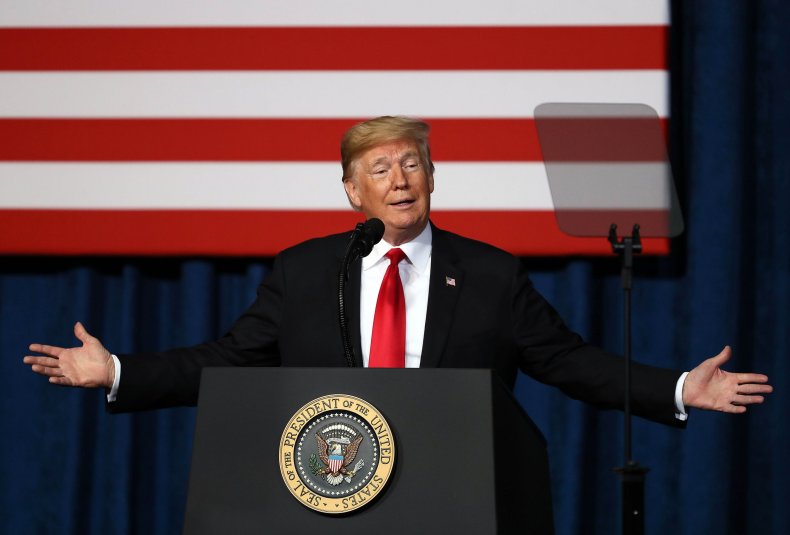 This article has been updated to reflect a rise in the amount donated to the 'We The People Will Fund The Wall' GoFundMe campaign.