GoFundMe for Xing Long Lin, NYC Deliveryman Killed as Car Crashes Outdoor Dining Area, Raises $75K
A GoFundMe page had more than tripled its fundraising goal by Saturday morning as donors contributed support to the family of Xing Long Lin, a food deliveryman who was struck and killed by a car in New York City on Wednesday night.
"Xing was in the middle of his shift when a driver entered the 35th St. bike lane in order to pass another car," the GoFundMe page read. "The driver struck him, dragging his body and scooter under her car, hit two more parked vehicles, and barreled through the outdoor dining structure at Rosatoro, injuring one other."
New York City Mayor Bill de Blasio responded Thursday morning to the news of Xing's death, writing in a tweet: "There is ZERO tolerance for reckless driving. I feel incredible pain for Xing Lin's family."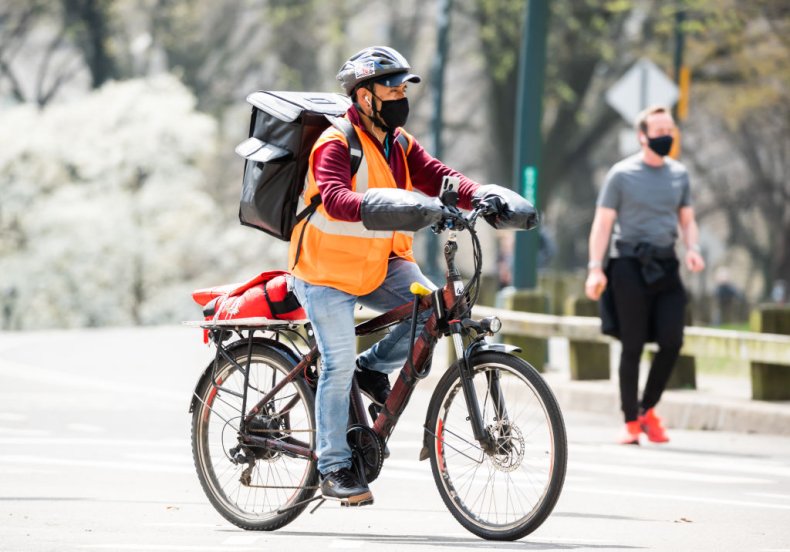 The fundraiser in response to Xing's death was set up by Zohran Kwame Mamdani, an assembly member for Queens' Astoria neighborhood where the incident took place.
Mamdani said he set up the page with the consent of Xing's wife, Li Chen, to raise money for funeral services and the needs of Li and Xing's 5-year-old and 9-year-old children.
Support poured in for Xing's family. By Thursday evening, Mamdani announced he would raise the GoFundMe's fundraising goal to $20,000 after he exceed the initial goal of $10,000 "rather quickly thanks to the generosity of the Astoria community."
As of Saturday morning, that goal had more than tripled, reaching over $75,000.
Some supporters left comments on the GoFundMe page: "The very worst thing for this young immigrant family is to lose a breadwinner in the midst of a pandemic. My heart goes out to them," one donor, Lauren Whitehead, wrote.
The driver who killed Xing was a 60-year-old woman driving a Mercedes "at an apparent high rate of speed" according to a statement the New York Police Department provided to Newsweek. The woman tried to get around a car ahead of her, but her move failed, CBS 2 reported. She launched onto the curb and struck a dining structure outside Peruvian restaurant, Rosatoro, around 7:45 p.m.
"Police responded to a 911 call of a vehicle collision on 35 Street near Ditmars Boulevard, within the confines of the 114 Precinct," NYPD said in a statement to Newsweek. "Upon arrival officers observed a 37-year-old male, unconscious and unresponsive, with trauma about the body and a conscious 32-year-old female, in the roadway, with trauma to both legs. EMS also responded to the location and transported both individuals to NYC Health & Hospitals/Elmhurst, where the male was pronounced deceased and the female is listed in stable condition."
NYPD added: "In the course of striking the structure, debris from the outdoor dining structure struck the 32-year-old female pedestrian who was inside. There are no arrests and the investigation remains ongoing."
Tom Mountfort, a witness, said to CBS2: "I saw the gentleman who sadly passed away. They were working on him. He left very quickly."
Xing was a Chinese immigrant who came to the U.S. 14 years ago to provide for his family, according to Mamdani, who added that the 37-year-old man started delivering food for Watawa Sushi in Astoria just one-and-a-half months ago.
"His new job was vital as Xing was the sole income-earner of his household," Mamdani wrote. "He tried to work as much as he could so he could provide enough for his family here as well as his mother and father who live in China."
The assemblyman pointed out that this week's tragic accident is a symptom of a much larger infrastructure issues, and that people dining outdoors should not have to fear for their safety.
"I won't eat in any of those outdoor things," Astoria resident Mindy Reiss said to CBS2. "Think about if people were out there on a nice evening."
Xing's killing comes just six months after the death of Alfredo Cabrera Licona, another deliveryman who was struck and killed by a driver.
"We must be clear however, the true cause of death for both Xing and Alfredo was the inadequate road safety infrastructure across Astoria, infrastructure that incentivizes the kind of reckless driving that took their lives," Mamdani wrote. "Our neighborhood, and this entire city, needs appropriate infrastructure to prevent cars from entering bike lanes."
He added that for streets which host outdoor dining, which have expanded amid the COVID-19 pandemic, should be closed to car traffic to protect diners.
"Without these changes, more will die," Mamdani wrote. "And it is immigrants and essential workers like Xing and Alfredo who will continue to be most exposed to the risks and most impacted when they inevitably come to a head, as they are the people who we rely on to keep our city running as we emerge from this pandemic."
Updated 5:02 PM ET, with comment from NYPD.