Going Green: Hypocrisy Seen in New York City Mayor's Stance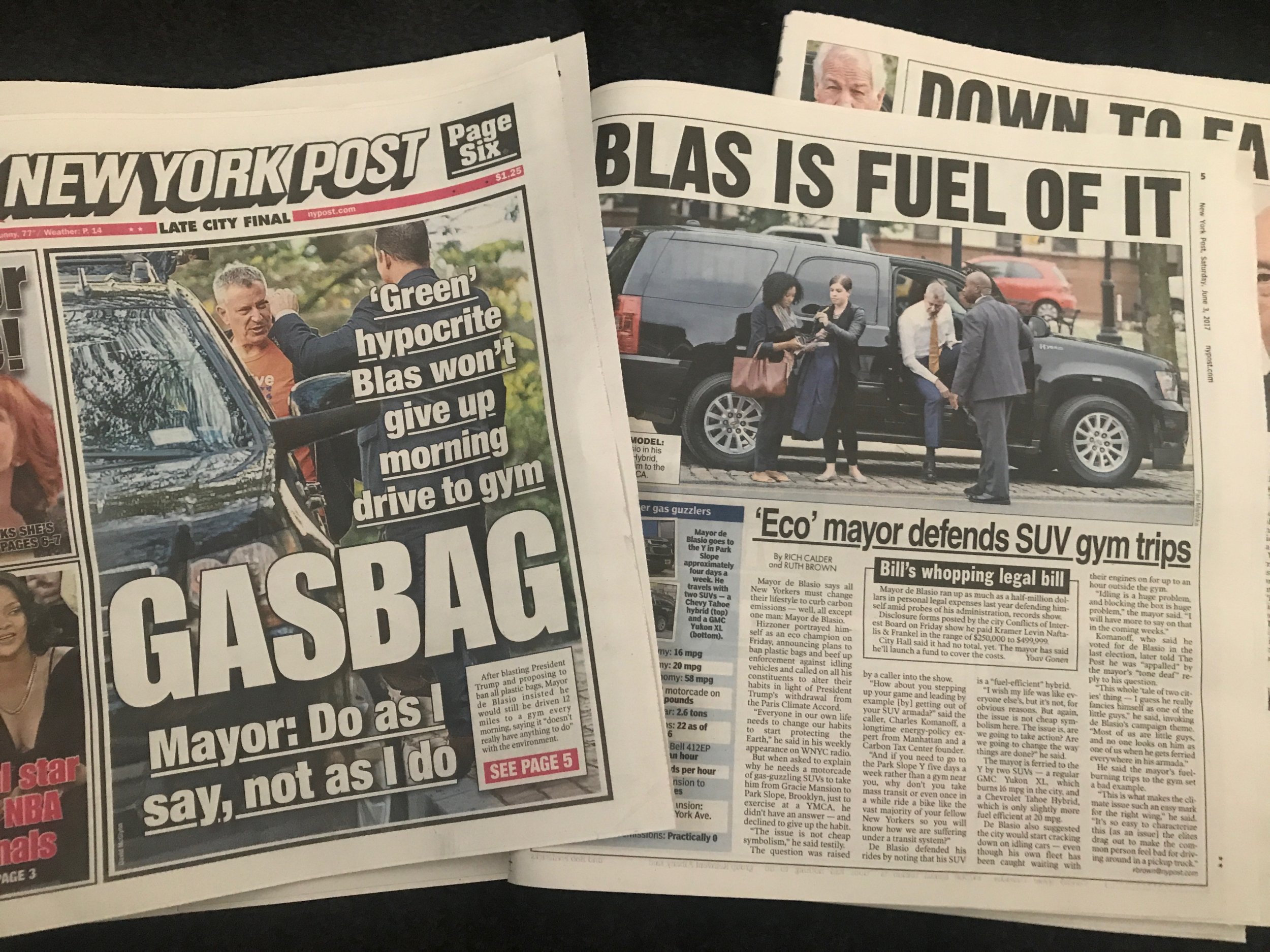 Most would say President Donald J. Trump deserves all the criticism he has received in recent days for pulling the United States out of the Paris climate accord, many times over. But he didn't begin the ruinous process of global warming, and neither he nor any other single politician can end it. In true Hollywood blockbuster fashion, saving the world from environmental catastrophe will require all to act in concert, from Brad Pitt to the suburban family of three in central Ohio.
That point was illustrated, awkwardly and forcefully, by New York City Mayor Bill de Blasio, a progressive who has long yearned for the national limelight. On Friday, de Blasio appeared on the public radio station WNYC for his weekly #AsktheMayor segment on the Brian Lehrer Show. He took the opportunity to decry Trump's withdrawal from the Paris climate pact and to signal New York's commitment to a green future.
He spoke about a "further and faster" effort to lower emissions citywide. "We're gonna have to shoulder more of the burden now," the first-term mayor said.
"Let's be leaders here," de Blasio urged the citizens of New York.
But a caller to the show asked de Blasio a question he couldn't seem to answer: If he cares so much about the environment, why does he commute nearly every day from Gracie Mansion, on the Upper East Side of Manhattan, to a gym 12 miles away, in the Park Slope neighborhood of Brooklyn? De Blasio has insisted on that routine throughout his mayoral term, despite there being more than a few gyms on the Upper East Side. The 92nd Street Y, for example, is less than a mile away from Gracie Mansion.
The caller, identified as "Charles from Manhattan," complimented de Blasio for "eloquently" making the case for green policies, but then suggested the mayor himself should act in precisely the way he'd just instructed New Yorkers to: "How about you stepping up your game, leading by example, getting out of your SUV armada, and if you need to go to the Park Slope Y five days a week rather than a gym near you, why don't you take mass transit or even once in a while ride a bike like the vast majority of your fellow New Yorkers, so you will know how we are suffering under a transit system?"
The called was later identified by The New York Times as Charles Komanoff of the Carbon Tax Center in Manhattan.
De Blasio responded with a peevishness that frequently manifests itself when the mayor is challenged. "Charles, I understand the emotional appeal of what you're saying, but I'm just not going to take the bait, my friend," he said, adding that he would refuse to engage in the "cheap symbolism" of using public transit. (His predecessor, Mayor Michael R. Bloomberg, a leading figure in combating climate change, frequently made use of the New York City public transit system.)
"I'm going to keep going to the gym—I'm proud to say we have a hybrid and it's a good car, it's very fuel efficient," the mayor said.
The hypocrisy of de Blasio's position was clear: It is easy enough to criticize someone like Trump, who has called climate change a hoax, yet putting all the blame for the warming planet on him is not only misguided but dangerous.
Saturday's tabloids, predictably, took savage aim at de Blasio, with the New York Post branding him a "gasbag" on its front page. The famously fiesty tabloid, which is owned by Rupert Murdoch, pointed out that the two SUVs that whisk de Blasio to the gym in Brooklyn average an unremarkable 18 miles per gallon between them; the fuel economy of a Toyota Prius, by comparison, is 58 mpg.
Of course, this is ultimately about neither de Blasio nor Trump, but a collective willingness of all to make sacrifices, whether those sacrifices include plastic bags or sport-utility vehicles.
Climate change "deniers" often fear that environmentalists are trying to trying to use global warming as an argument to force behavioral changes. On this, they are correct. Those changes need to happen regardless of who is in power, what party he or she belongs to, whether he golfs at Mar-a-Lago or hits the treadmill in Park Slope. This is a human issue, not a political one.