'Earth to Trump: F**k You!' President's Paris Climate Pact Withdrawal Inspires Amazing Headlines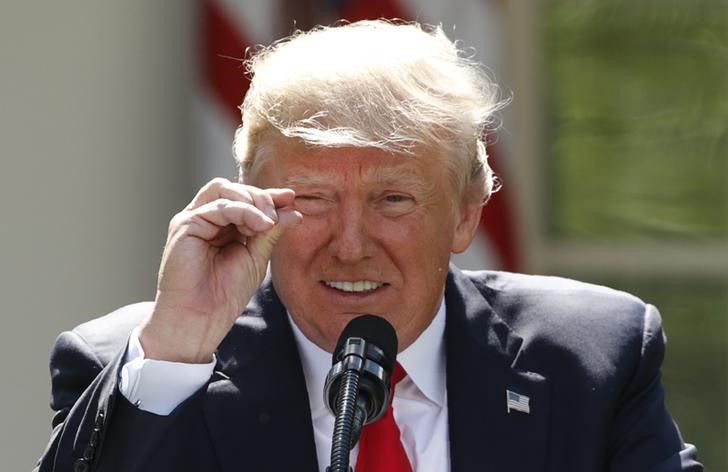 In announcing that he was withdrawing the United States from the Paris climate change accord, President Donald Trump said the deal would have allowed the rest of the world to have a laugh at the expense of the United States.
Related: Paris climate agreement: The world reacts to Trump's withdrawal
"We don't want other leaders and other countries laughing at us anymore, and they won't be." he said from the White House Rose Garden as he confirmed that the U.S. would join Nicaragua and Syria as the only countries not to be part of the pact.
Whether or not people were laughing at the U.S. before, there has been plenty of mocking of the American president since his decision. World leaders have generally kept a respectful if critical tone, although French President Emmanuel Macron, he of the robust handshake, did take a shot at Trump's famed slogan, saying, "Make our planet great again."
Headline writers across this warming planet have been having even more fun at the president's expense. This is particularly true in Germany, where Trump recently took shots over trade. Many front pages there have issued cutting rebukes of Trump's decision to turn his back on the landmark agreement to tackle climate change.
Der Spiegel, a weekly German news magazine with a circulation of almost 1 million, used another of Trump's famous phrases to lambast him, complete with an eye-grabbing image using Trump's sun-tinted hair.
"America First! Earth Last!" read the headline on its front page.
And the magazine came out with another cover Friday, making use of the president's famed catchphrase from his reality show, The Apprentice.
Berlin tabloid Berliner Kurier reversed the conversation, seeing it from the planet's point of view. Using language that could only be described as blunt, it also morphed into English for extra effect.
Headlines slamming Trump's announcement also were written in other countries. In France, the daily newspaper Libération branched out from merely discussing Trump to offering a verdict on the impact his decision would have on the United States's place in the world. "Goodbye America," read its front-page splash.
Many critics of Trump's decision have predicted that it will lead to the U.S. being sidelined in global efforts to tackle climate change and develop renewable energy. The European Union and China have already said that in the absence of the U.S. they will unite to take a leading role in fighting climate change.
In Spain, headline writers pulled no punches in their assessment. "Trump," said Barcelona-based ARA, "Against the Planet."
Trump didn't escape scathing condemnation in the U.S., either. In his home city of New York, the Daily News went with the front-page headline: "Trump to World: Drop Dead."
This story has been updated to include a new cover from Der Spiegel.