Who Is Golda Meir? Biden Recalls Ukraine-Born, U.S.-Raised Ex-PM of Israel
President Joe Biden spoke about how he met with former Israeli Prime Minister Golda Meir nearly five decades ago during his speech at Ben Gurion Airport in Tel Aviv on Wednesday
Biden stood with Israeli Prime Minister Yair Lapid and recalled how he had the "privilege" of meeting Meir during his first trip to Israel in 1973 while he was a senator from Delaware.
"The fact is that, since then, I've known every single [Israeli] Prime Minister and it's been an honor, formed strong working relationships with each of them," Biden said. "And now, this is my 10th visit."
Biden has told the story of how he met Meir just a few weeks before the Yom Kippur War broke out in October 1973 several times in the past, including calling it in 2015 the "one of the most consequential meetings" he ever had.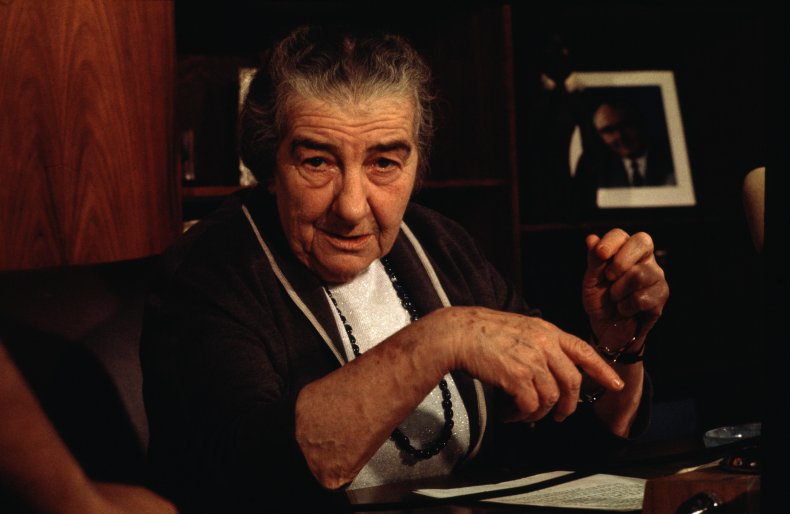 Who Is Golda Meir?
Meir was the fourth prime minister of Israel, leading the nation between 1969 and 1974, becoming its first and still only female leader.
She was born Golda Mabovitch in Kiev in what is now Ukraine, but was then part of Russia, in 1898. In 1906, her family fled Russia for the United States and settled in Milwaukee. She went on to study at North Division High School against her parents' wishes, who wanted the then 14-year-old to marry.
After running away to live with her sister in Denver, Colorado, Meir eventually returned to Milwaukee and graduated around 1915 or 1916.
Upon her return to Wisconsin, Meir took up a teaching job at a Yiddish-speaking school in the state and became more involved with the ideals of Labor Zionism that would influence the rest of her political life.
After Britain issued the Balfour Declaration in 1917, which supported the establishment of a Jewish homeland in Palestine, Meir moved to Palestine in 1921 with her husband Morris Meyerson, a dedicated socialist.
The pair later moved to Tel Aviv, where they had their firstborn son, before moving to Jerusalem, where Meir gave birth to a daughter.
Around this time, she became active in the Histadrut trade union movement, eventually becoming Secretary of its Council for Women Workers and later moving up the ranks to become its Executive Committee in 1934 and head of its political department in 1936.
In 1949, a year after the creation of the state of Israel in the wake of World War II, Meir was elected to the Knesset [Israeli parliament].
While in office, she held several other positions, such as the minister of foreign affairs, minister of labor and minister of internal affairs, before becoming prime minister in 1969.
She resigned after facing criticism over the heavy losses Israeli forces suffered during the 1973 war, which Israel still managed to win.
Meir resigned on April 10, 1974, just a few months after the Labor Party won the election of December 1973. She died in 1978, aged 80.
A film about her life, starring the non-Jewish actress Helen Mirren in heavy prosthetics, is set to be released later this year.