Joe Biden's Middle East Trip Blighted by Blunders
President Joe Biden's first visit to the Middle East since he has been in office has so far suffered from notable blunders as the president appeared to abandon a no-handshaking policy and flubbed remarks about the horrors of the Holocaust.
Biden's visit to the region began with a trip to Israel on Wednesday where he was expected to observe a policy of not shaking hands with the people he met due to concerns regarding COVID-19.
White House aides had reported that he would avoid handshakes during the Middle East trip and initially he appeared to do so. Upon arriving at Israel's Ben Gurion Airport, he offered a fist bump to Israeli Prime Minister Yair Lapid and President Isaac Herzog.
However, President Biden soon abandoned the no-handshaking approach following speeches that took place on the red carpet after his arrival.
The president shook hands with former Israeli Prime Ministers Naftali Bennet and Benjamin Netanyahu. Netanyahu and Biden had a long handshake that may have been a nod to their previous differences. The two men strongly disagreed about a U.S. nuclear deal with Iran made during the Obama administration.
Despite not shaking Lapid's hand, Biden was photographed with his hand placed on the Israeli prime minister's shoulder.
During his remarks at Ben Gurion Airport, Biden also misspoke and said people should keep alive "the honor of the Holocaust" before quickly correcting himself.
"Later today, I will once more return to the hallowed ground of Yad Vashem to honor the six million Jewish lives that were stolen in a genocide and continue — which we must do every, every day — continue to bear witness, to keep alive the truth and honor of the Holocaust — horror of the Holocaust — honor those we lost, so that we never, ever forget that lesson, you know, and to continue our shared, unending work to fight the poison of antisemitism wherever it raises its ugly head," the president said.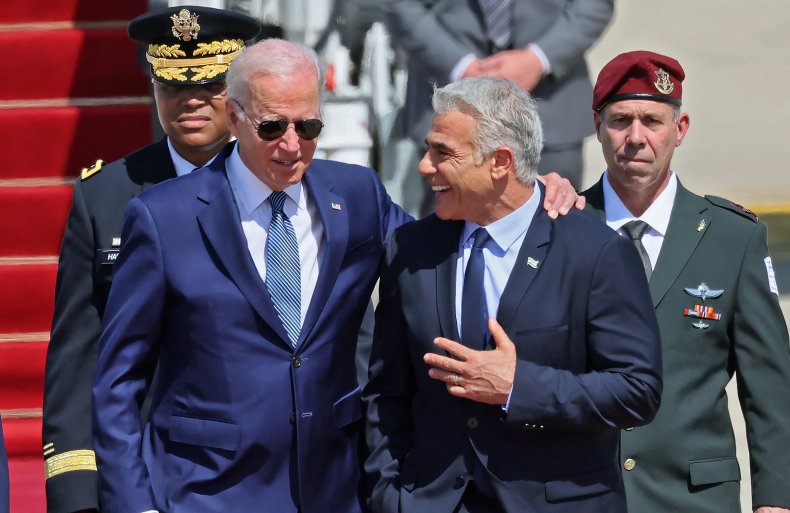 Yad Vashem is the world Holocaust remembrance center located in Jerusalem, which Biden visited later on Wednesday. While there, Biden held hands with two elderly Holocaust survivors, 86-year-old Rena Quint and 95-year-old Gita Cycowicz, in another apparent violation of the limited physical contact policy.
Biden's decision to offer his hands to the Israeli dignitaries may complicate his visit to Saudi Arabia, where he is due on Friday, as the White House reportedly wanted to avoid photos of Biden shaking hands with Saudi Crown Prince Mohammed bin Salman.
U.S. intelligence has concluded that bin Salman was responsible for ordering the 2018 killing of Saudi journalist Jamal Khashoggi and a photo op shaking hands with the crown prince could prove politically difficult. However, it may now be unavoidable and will likely be viewed as another blunder.
Biden's decision also appeared to undercut comments made by White House Press Secretary Karine Jean-Pierre on board Air Force One in response to a question about avoiding shaking bin Salman's hand.
"We are saying that we're going to try to minimize contact as much as possible. But also, there are precautions that we are taking because this is up to his doctor," she said. "BA.4, BA.5 is indeed, as we're seeing, increasing. And we want to make sure that we're taking those precautions to keep him safe and to keep all of us safe."
She was referring to new variants of COVID-19, BA.4 and BA.5. The latter variant became dominant in the U.S. last week, according to the Centers for Disease Control and Prevention (CDC).
Newsweek has reached out to the White House for comment.
Follow Newsweek's live blog for the latest updates on President Biden's visit to Israel.
Update 7/14/22 10:55 a.m. ET: The video accompanying this story has been updated.