COVID BA.5: Everything We Know About Highly Transmissible Variant
A COVID Omicron sub-variant known as BA.5, which has been referred to as "the worst version of the virus that we've seen," continues to spread around the United States—but it's still unclear just how bad it is.
Since Omicron was first discovered in late 2021, it has stubbornly refused to go away. Highly transmissible even compared to earlier versions of COVID, it led to a record winter spike at the start of this year—and it's believed to have gotten even more transmissible since.
Omicron has mutated several times, first from BA.1 and BA.2 through to BA.5, the version that's now spreading across the country along with the similar sub-type BA.4. Projections from the U.S. Centers for Disease Control and Prevention (CDC) estimate that in the week ending July 9, BA.5 accounted for 65 percent of COVID infections based on samples collected, with BA.4 accounting for 16.3 percent.
If accurate, this estimation would mark a rise from 53.8 percent the previous week and 39 percent the week before that.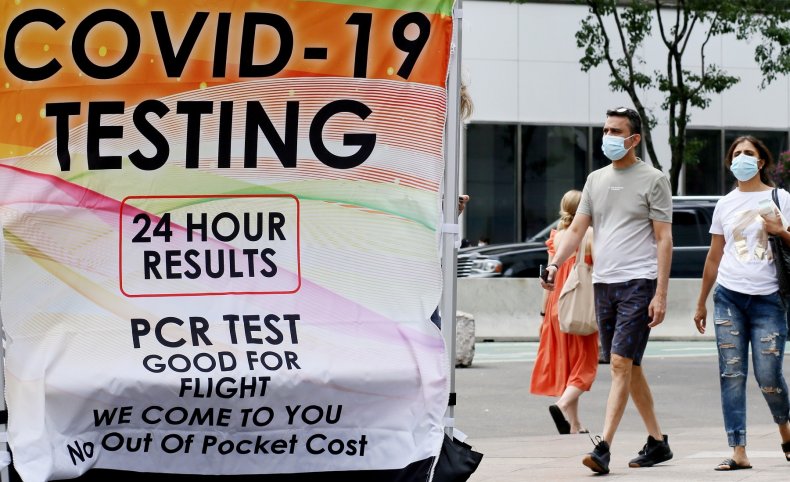 "The Omicron sub-variant BA.5 is the worst version of the virus that we've seen," Eric Topol, founder of the Scripps Research Translational Institute and professor of molecular medicine there, wrote on his blog in late June. "It takes immune escape, already extensive, to the next level, and, as a function of that, enhanced transmissibility, well beyond Omicron (BA.1) and other Omicron family variants that we've seen."
According to Topol, genetic sequencing of BA.5 has shown that it has mutated significantly from early versions of Omicron, making it harder for our bodies to recognize its spike protein and provide immunity.
Topol isn't the only one to have warned about BA.5. In a press briefing on July 12, CDC Director Rochelle Walensky said that "people with prior infection, even with BA.1 and BA.2, are likely still at risk for BA.4 or BA.5."
It's thought that BA.5 takes transmissibility and immune evasion to another level. Two key questions now are what this means for vaccines, and whether BA.5 causes more severe disease in people who catch it.
In its most recent technical briefing on COVID variants published on June 24, the U.K. Health Security Agency (HSA) touched on the vaccine question, noting there was insufficient data at that time to know for sure how well vaccines work against BA.5. However, it stated that preliminary analyses has indicated that "protection conferred by the vaccines likely remains comparable to that observed previously."
Walensky echoed the point in Tuesday's press briefing, stating that while data on vaccine effectiveness against BA.4 and BA.5 was still being collected, "we know that vaccine effectiveness against severe disease and death remains high for other Omicron sub-lineages and likely also for BA.4 and 5."
It is currently not known whether BA.5 causes more severe illness than other Omicron sub-types.
On his blog, Topol noted there had been one study showing that BA.4 and BA.5 induced worse disease than BA.2 in hamsters, but animal studies are not necessarily accurate in predicting what will happen in humans. In its June 24 report, the U.K. HSA noted that hospitalization risk had been growing since April this year, but said the effect was small and the reason behind it is unclear.
Professor Francois Balloux, director of the University College London (UCL) Genetics Institute (UGI) in the U.K., had a firmer view. On Wednesday, he tweeted: "We have massive data on BA.5 hospitalisation/death rates, preprints with huge sample sizes coming out left, right and centre, all showing no increase in virulence [severity] over BA.1/BA.2."
Balloux also said that the CDC's data on BA.5's proportion of U.S. cases "does not capture the complexity of the current situation."
Finally, there is case data. CDC figures show that the seven-day moving average of new COVID cases in the U.S. has been roughly between 100,000 and 110,000 for a few weeks, though it jumped to 123,365 on July 12.
Online statistics tool OurWorldInData, which uses Johns Hopkins University COVID data, shows that a number of countries including France, Italy, Germany, Switzerland and the U.K. have all experienced recent case increases in terms of daily positive cases per one million people—though the variant behind the cases wasn't specified.
In a media statement on July 12, the White House said BA.5 "has the potential to cause the number of infections to rise in the coming weeks" and that "vaccines remain our single-most important tool" to protect people. The Biden administration also said it would continue to provide antivirals like Paxlovid to health services.