Russia Cozies Up to Saudi Arabia as Biden Faces Struggle to Get More Oil
The Kremlin has brandished its close relationship with Saudi Arabia ahead of President Joe Biden's visit to the nation whose help he is seeking to ease soaring gas prices in the United States.
With Americans paying record amounts at the pump, Biden is expected to ask OPEC's de facto leader to increase oil output during his first Middle Eastern trip as president.
Biden faces a tricky diplomatic balancing act, having called Saudi Arabia a "pariah state" in 2019 over the brutal murder of journalist Jamal Khashoggi. U.S. intelligence believes Crown Prince Mohammed bin Salman approved the killing, although the royal has denied ordering it.
With Biden facing criticism that he is seeking to kowtow to Saudi Arabia having previously condemned allegations of human rights abuses, Kremlin spokesman Dmitry Peskov boasted about how Moscow already had good ties with the kingdom.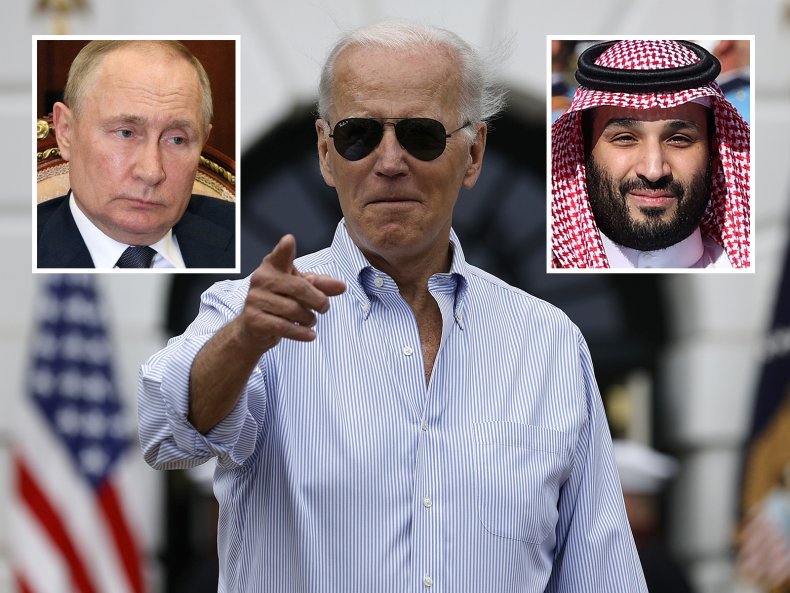 Peskov told reporters on Wednesday that Russia was acting within agreements of OPEC Plus, which includes the 13 OPEC countries and other oil producers like Russia, and that "we highly appreciate the work that we manage to do with our partners, including leading partners such as Saudi Arabia."
The visit comes amid Biden's continued condemnation of Russia's invasion of Ukraine and increased pledges of American military and financial support for Kyiv, as well as tough sanctions against Moscow.
But when asked if the visit might pose a threat to Russian interests, Peskov said that Moscow "highly values our interests, our relations and our interactions" with Saudi Arabia.
"Of course we hope that building relations and developing relations with other world capitals will in no way be directed against us," Peskov added, according to the Russian news agency RIA Novosti.
Biden may face an uphill battle to get gas prices under control after OPEC said on Tuesday that global oil demand will continue to outpace supply and that the group's members are struggling to increase flows.
In its first forecast for 2023, OPEC said on Tuesday that oil demand is increasing by 2.7 million barrels per day (BPD), while supplies from non-OPEC sources are expected to grow by 1.7 million BPD. As a result, OPEC forecast the world will need 30.1 million BPD in 2023 from its members to balance the market, up 900,000 BPD from 2022, Reuters reported.
However, the International Energy Agency (IEA) said that spare capacity in Saudi Arabia and neighboring United Arab Emirates—the only OPEC members that can raise output, will be at a "razor-thin" 2.2 million barrels a day by August, Bloomberg reported.
There is much else on Biden's agenda during his visit between Wednesday and Saturday which also takes in Israel and the West Bank, including trying to bring the Saudis and Israel closer together, advancing a truce in Yemen, and establishing a more strong regional front against Iran.
In defending his trip, Biden wrote in a Washington Post op-ed last week that it came "at a vital time for the region, and it will advance important American interests."