Biden Has Betrayed Khashoggi With Saudi Trip—Friend of Murdered Journalist
President Joe Biden's visit to Saudi Arabia is a "betrayal" of Jamal Khashoggi, a friend of the murdered journalist told Newsweek.
Khashoggi, a writer for The Washington Post and fierce critic of the Saudi regime, was killed by Saudi government agents in Istanbul in 2018.
As a presidential candidate, Biden had vowed to treat Saudi Arabia like a "pariah" for its human rights abuses. He angered Saudi officials by releasing a U.S. intelligence report that determined the kingdom's de facto leader, Crown Prince Mohammad bin Salman, likely approved Khashoggi's killing.
But Biden is looking to reset the U.S.-Saudi relationship by flying to the kingdom and meeting with the crown prince and other Saudi leaders on Friday—a decision that has been criticized by human rights activists.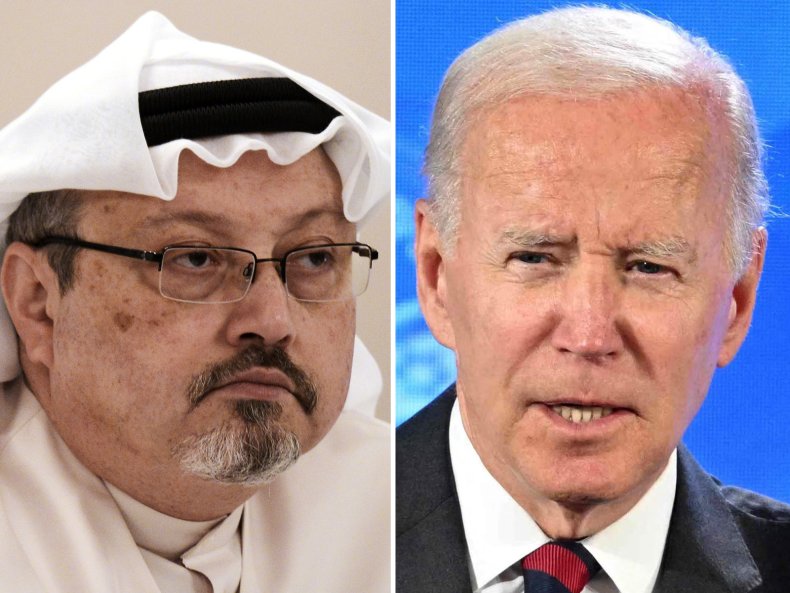 It amounts to "a betrayal," said Sarah Leah Whitson, the executive director of Democracy for the Arab World Now, a nonprofit organization founded by Khashoggi.
She told Newsweek: "It's not just a betrayal of Jamal, and the specific promises that President Biden made to hold his murderers accountable, which he has already failed to do by failing to sanction Mohammed bin Salman... but it's a betrayal of countless activists and families of political prisoners, who are languishing in Saudi jails, in Emirati jails, in Israeli jails, in Egyptian jails."
Political activists in the Middle East had faith the Biden administration would be "different," Whitson said. "They believed the Biden administration when President Biden said: no more blank checks for dictators. He has betrayed all of them by resuming blank checks for dictators."
Whitson, who developed a friendship with Khashoggi after meeting him in 2004, said Biden's penning of an opinion piece to justify his visit and new policy towards Saudi Arabia shows he is "ashamed" of his "broken promises."
In the op-ed published by the Post on Saturday, Biden said his "views on human rights are clear and long-standing."
He said his aim is to "reorient but not rupture" relations with a longstanding strategic partner and strengthen a partnership "going forward that's based on mutual interests and responsibilities, while also holding true to fundamental American values."
Biden argued that engaging directly with countries like Saudi Arabia could help promote America's interests, tying U.S. strength and security to countering Russian aggression and competition from China.
Whitson said the White House's announcement that Biden would limit physical contact during his Middle East trip was an effort to avoid a problematic image of the president shaking hands with the crown prince, who is often referred to by his initials MBS.
That photo op "would go around the world, because everyone in the world sees that for what it is... a capitulation, a shameful, humiliating capitulation for President Biden personally," she said. "That's why they've done these things to avoid it."
White House officials have said Biden will make the case for greater oil production from OPEC nations when he meets with Saudi leaders in Jeddah on Friday—a bid to alleviate high gas prices that's unlikely to be successful.
Strategy on Oil Prices
"If the Biden administration was really that concerned about oil prices, then why is it doing everything it can to ensure prices stay high?" Whitson said, suggesting that the administration could lift sanctions on countries like Venezuela rather than engage with Saudi Arabia.
"If the pretext of making compromise is the price of oil, there are less heinous compromises they can be making than supporting a murderous regime," she said.
But Biden's actions are "much more than a failure to provide accountability for Jamal Khashoggi's death," Whitson said.
"Unfortunately, this is a much more egregious capitulation that endangers generations of Americans and people in the Middle East for many years to come."
She also cited a report that the U.S is weighing the possible lifting of its ban on U.S. sales of offensive weapons to Saudi Arabia.
That would mean the U.S provides "billions of dollars of weapons to a murderous madman, who has launched a completely needless war" in Yemen, she said, "leading to half a million deaths, massive starvation, humanitarian catastrophe."
Concern About Iran
Biden is also "doing something no American president has ever done before, which is provide a security agreement to a new bloc of autocratic oppressors in the region," Whitson added, pointing to reports of a U.S.-backed initiative promoting closer security ties between Israel and Arab nations to counter Iran.
U.S. support for "tyrannies and apartheid governments in the Middle East is indefensible," she said. "It completely undermines America's credibility and standing around the world. President Biden's op-ed basically wants us to believe that in order to save democracy in Ukraine, we have to support tyranny in the Middle East. That's a bad deal."
The White House has been contacted for comment.