Biden Open to Using Force Against Iran to Prevent Nuclear Weapons
President Joe Biden said he would be open to using force against Iran in order to prevent the country from acquiring nuclear weapons.
Asked by Israeli news anchor Yonit Levi whether he would be willing to take a stronger stance to ensure Iran does not get a nuclear weapon, Biden said, "As a last resort, yes."
In an interview with Israel's Channel 12 News that aired on Wednesday, the president doubled down on his efforts to revive the 2015 nuclear deal that he said his predecessor, former President Donald Trump, made the "gigantic mistake" of withdrawing the U.S. from.
"The only thing worse than the Iran that exists now is Iran with nuclear weapons," Biden told Levi. "If we can return to the deal and hold on tight—I think it was a gigantic mistake for the last president to get out of the deal."
Biden said thanks to Trump's withdrawal, Iran is "closer to a nuclear weapon now than they were before."
His comments came amid rising tensions that have set the scene for his four-day trip to Israel and Saudi Arabia, where key Middle East allies are ramping up the pressure on Biden to outline his plans to constrain Iran.
The president further criticized the Trump administration's foreign policy, saying, "There are those who thought with the last administration we sort of walked away from the Middle East, that we were going to create a vacuum that China and/or Russia would fill, and we can't let that happen."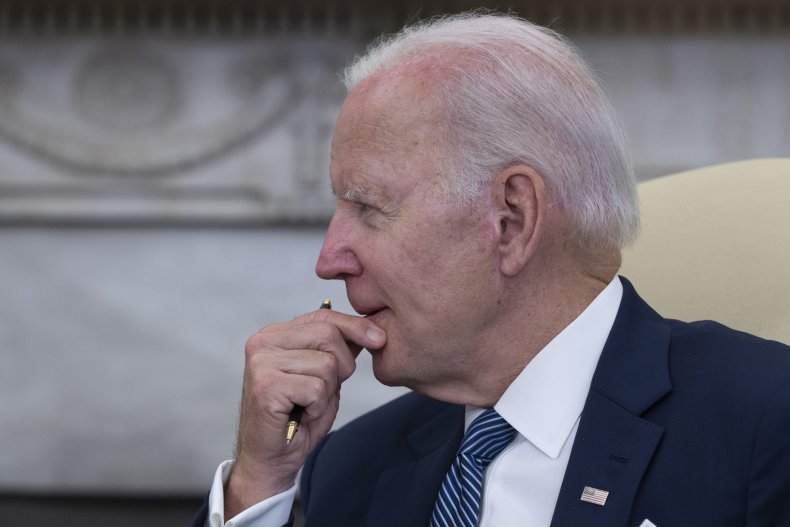 Although Biden is hoping to restore the agreement with Tehran, he said he would prioritize keeping Iran's Islamic Revolutionary Guard Corps (IRGC) on the U.S.' "foreign terrorist organization" list.
Asked if he was committed to keeping the IRGC on the list, "even if that means that it kills the deal," the president answered with a simple "yes."
In the interview taped before his Middle East trip, Biden stressed that his upcoming visit is about stability in the region.
"It's in the overwhelming interest of the United States of America to have more stability in the Middle East," he said, adding that, "The more Israel is integrated into the region as an equal and accepted, the more likely there is going to be a means by which they can eventually come to an accommodation with the Palestinians down the road."
Biden also defended the trip against progressives in his own party who have criticized the Biden administration's funding for Israel's Iron Dome, saying that those Democratic voices were "few" and "wrong."
"Israel is a democracy. Israel is our ally. Israel is a friend, and I think that I make no apologies," he said. "It's overwhelmingly in our interest that Israel be stable."