Golden Globes 2021: Viewers Call Out Double Standard as Some Men Dress Down for Ceremony
The Golden Globes 2021 saw celebrities presented with a unique dilemma: with no real red carpet and most attending the ceremony from home, they could decide to either dress in the usual high-fashion looks that they would every year, or they could fully embrace the at-home nature of the ceremony and dress down for the night.
On Twitter, some viewers were quick to point out a number of men had decided to dress down in a way that women would not be able to do. Among the tweets that pointed out this double standard were the following:
"The men of #GoldenGlobes who didn't feel the need to dress up... dude. I get it. But there's NO WAY the women would ever have the same grace extended to them. They spent hours getting ready to sit at home, and you couldn't be bothered to put on a jacket?!?!"
"If you're nominated for an award and you're zooming in, at least dress the top of you. Joan Rivers is SPINNING in her grave over these men showing up in hoodies/flannels. #joanrangers #GoldenGlobes."
"Lol it's interesting how three white men can dress all casual for the #GoldenGlobes and it's all fine but if a woman did that, especially a woman of color, she would be torn apart by the media."
These tweets came after a number of men appeared during the telecast in at-home looks. Jeff Daniels appeared in a flannel shirt, joking on Twitter: "Congrats to Mark Ruffalo and a special thanks to the #Golden Globes for allowing me to fulfill a lifelong dream of going to an Awards Show wearing Carhartt."
Bill Murray was his usual playful self in a Hawaiian shirt (and matching cocktail), while Jason Sudeikis picked up the best actor in a comedy series for Ted Lasso in a tie-dye hoodie.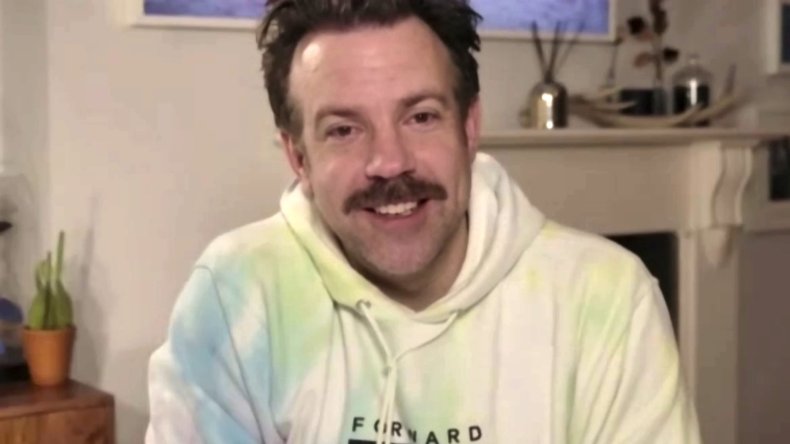 There was more to Sudeikis' hoodie, however, than it seems. The actor took the opportunity to use his platform give publicity to his sister's workout space Forward_Space. And with the hoodie now reportedly sold out, it seems to have worked.
Even the men who took the stage were underdressed. Joaquin Phoenix, for example, took to the stage to present an award in a shirt and hoodie reading "animal equality."
Others went for a more hybrid approach. John Boyega, for example, revealed that he was wearing track pants off-screen with his tuxedo jacket.
The last tweet above, which says that the media would tear apart a woman of color for dressing casually, however, came before Chloe Zhao picked up the award for best director for Nomadland (which also won best picture, drama) in what appeared to be a green t-shirt and braids without any backlash from the media. Among the other celebrities who opted to dress down, meanwhile were Jodie Foster and wife Alexandra Hedison, who appeared dressed in (admittedly chic) pajamas.
Of course, not all men decided to dress down for the 2021 Golden Globes. Among the men who gained plaudits from fashion journalists were Schitt's Creek star Dan Levy in a yellow Valentino suit, silver shoes and a gold sequinned top.
Though double standards of beauty do certainly exist, arguably the at-home Golden Globes actually did a lot to level the fashion playing field, with stars not forced into hours of wardrobe, hair and make-up if they did not want to, or a perfect opportunity to bring some glamour into staying at home if they wanted that. It remains to be seen, however, whether this will continue when in-person red carpets return.