A dog owner found the perfect way to keep her golden retriever occupied when guests came over—and it has the internet in stitches.
Jess Hindman from Columbia, South Carolina, took to TikTok to share her novel approach to keeping her beloved canine, Rocky, busy with a little bit of screen time.
Eager to calm her pet pooch down after a boisterous few minutes around the house, she loaded up a video of some squirrels on her phone, setting it down on the couch for Rocky to enjoy. The footage can be seen here.
As the clip shows, the canine took the bait, settling down to watch the tiny animals on this seemingly magical screen. Watching the video, with his snout millimeters from the screen, Rocky appeared quite entranced.
His adorable behavior was not lost on Hindman's guests either with one even heard declaring: "That's so cute!"
Dog lovers were similarly gushing on TikTok, where the video of Rocky's hilariously adorable antics has racked up nearly 800,000 views.
"Screen time the universal babysitter," Roo Labordane joked. "I used to watch dog dad videos with my dog when he was learning how to dad."
-Steph J.- commented: "He's adorable....I think he needs a big screen to watch the squirrels on." Jade Aveiro wondered what Rocky's ancestors would have said if they could see him now. "These darn gen-z pups. Back in the day we used to chase the squirrels ourselves."
For others like Cowtown, the jealousy was palpable. "I would be snuggled up next to him," they wrote in reaction to the clip. ItsmeStel echoed a familiar line from many a childhood, writing: "My mom would say he is wayyyy too close to that phone and is going to go blind."
The footage has also found its way onto Twitter after being picked up by the popular account We Rate Dogs.
At the time of writing, the clip of Rocky has been watched over 900,000 times, earning more than 7,000 retweets and 700,000 likes in the process.
The good news is that Rocky's squirrel viewing facilities has been given a major upgrade with Hindman sharing a follow-up video to TikTok showing the golden retriever watching his furry friends on a widescreen television.
That video can be watched here.
Newsweek has contacted Hindman for comment.
According to PetMD, opinion is divided on whether dogs know that the images they watch on a television screen are real or not.
"Dogs also heavily rely on other senses, such as smell—which clearly isn't possible on a televised image," the website said. "Based on the disconnect with dogs' most important sense (smell), it's likely that dogs do recognize that the image on the screen isn't real, but instead a representation of an animal or figure."
However, they also noted that dogs "often respond to the sounds made by animals on TV, and this clearly communicates information to them, even across species lines."
This isn't the first time a golden retriever has gone viral after becoming mesmerized by a television screen. One puppy recently earned millions of views online after becoming hypnotized by a video of rapper Cardi B performing.
Another cute viral video centered on this particular breed saw a golden retriever refusing to get out of bed with hilarious results.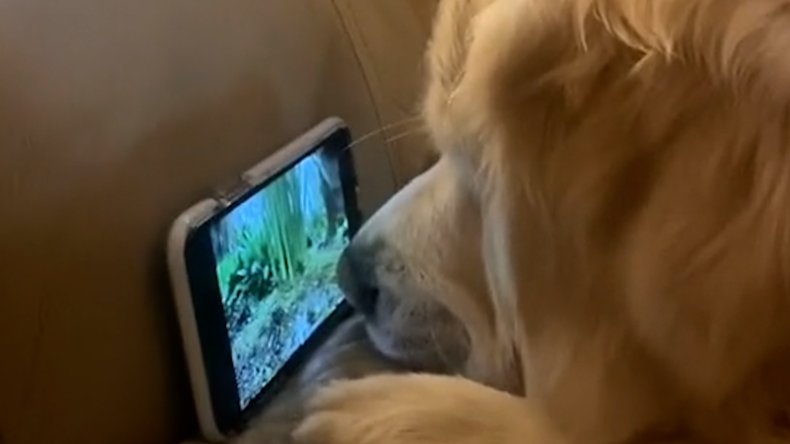 UPDATE 01/11/22 11:13 a.m. ET: This article was updated to include picture and video.