Golden Retriever's Behavior Around Pregnant Owner Melts Hearts 
A video of a dog no longer being "daddy's girl" since her owner's pregnancy has gone viral on TikTok, where it received 1.2 million views at the time of writing.
The video, shared from the TikTok account @theladyandtheblues, was posted with a caption saying "9 months of happiness #snugglepuppy #cuddles #fyp #foryour #pregnantlife #dogsoftiktok."
As the clip showed various shots of the golden retriever snuggled up with a man on a couch in different positions, a message overlaid across it read: "Our female dog has been daddy's girl until..."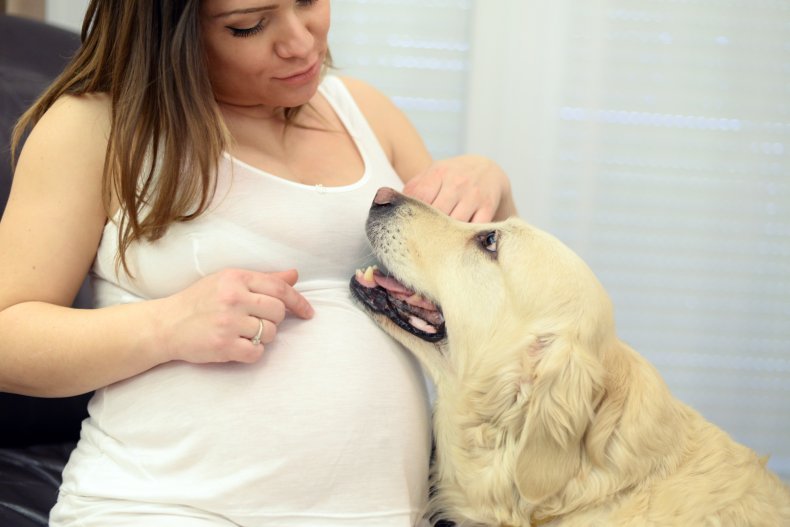 Then a subsequent note overlaid across the video said "...I got pregnant," as it showed clips of the dog resting its head on the belly of a pregnant woman and snoozing beside her.
As touching as the golden retriever's affection for the expectant mother may be in the latest video, the question remains: Do dogs know when you're pregnant?
While it's difficult to know for sure, a woman's change in hormone levels may be what your canine friend is picking up on due to its heightened sense of smell, which allows them to sniff out other conditions from cancer and seizures to even stress, research has shown.
According to Dr. Ann Hohenhaus, a staff veterinarian at New York City's Schwarzman Animal Medical Center, dogs have 60 times as many smell receptors as humans and 40 times as much brain power devoted to smell. This enables them to differentiate 30,000 to 100,000 scents, the veterinarian explained in a June 2021 article for the American Kennel Club (AKC).
Russ Hartstein, a certified behaviorist and dog trainer in Los Angeles, told the AKC: "Dogs are highly sensitive and intimate in studying behavior and subtle movements," so they'll notice something is different about a pregnant woman on a physical/behavioral level and respond accordingly.
Veterinarian Dr. Rachel Barrack, the owner of Animal Acupuncture in New York City, told the AKC that dogs are smart enough to also sense changes "in an emotional way, such as your feelings and your mood," during pregnancy.
She said many expectant mothers report that their dogs are more affectionate and/or protective. "It's likely due to the scent and your hormones, as well as possible changes in your mood."
The latest video has warmed the hearts of users on TikTok.
Viktor Anders Fonage said: "Dogs seriously are one of the best things in life." The Half Husky Bros simply wrote: "Oh my heart [black heart emoji]."
User amepayne82 said: "She is going to be a wonderful sister." Mike Mac wrote: "They know [floating hearts smiley face emoji]......and when the little one arrives.....they will be cuddle buddies."
User 🇵🇹 Catrod@stayawayCo wrote: "[Oh my god] congratulations on the baby. [tearful eyes emojis] she loves you both and wants to keep close and protect you."
User nydiavargas2021 said: "She knows you're giving her a little human to love with all that she is. [crying floods of tears and floating hearts smiley face emojis]. We don't deserve these Beautiful souls."
Newsweek has contacted the original poster for comment. This video has not been independently verified.
Do you have funny and adorable videos or pictures of your pet you want to share? Send them to life@newsweek.com with some details about your best friend and they could appear in our Pet of the Week lineup.