Woman Films Hilarious 'Shark Attack in the Snow' With Her Golden Retriever
A video of a golden retriever loving the snow has delighted users on TikTok, with over 365,000 views.
In the video, uploaded by user @griffinourgolden, Griffin the golden retriever can be seen lying in the snow while his owner pushes snow off the patio towards him and "shark attack" music is playing. As the snow shovel gets closer to him, Griffin pounces with his mouth open, getting a face full of snow.
"Just when you thought it was safe to back in the snow! #Jaws!" said one user.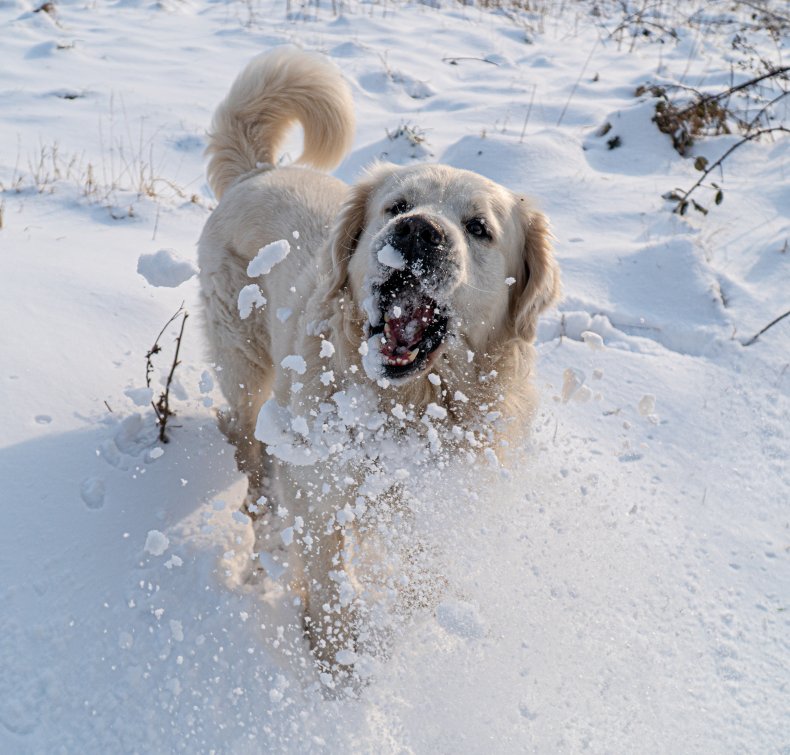 The text reads, "Shark attack in the snow be like..." One user commented, "Love it I have a golden that loves the snow too," to which the @griffinourgolden replied, "don't they just looove the snow."
Why Do Dogs Love Snow?
Snow can turn even the most taciturn of dogs into playful puppies, turning their excitement levels up 100 percent. Even if your dog needs a special outfit to enjoy the cold weather, dogs certainly do love the snow.
This could be, according to professional dog trainer Amelia Wieber, talking to Yahoo, because "snow likely has its own scent to dogs, and it may cover or enhance different scents whether they were laid before, during, or after the snow." Wieber says "snow also gives dogs a new layer to dig through to find hiding critters and covered goodies, and any tracks left behind are easier to see and therefore follow."
Why Do Dogs Eat Snow?
Like Griffin the golden retriever, many dogs will lick or eat snow when they get the opportunity. It's not known for certain why some dogs display this behavior, but Hill's Pet nutritionists suggest it could be for a number of reasons.
Thirst
"Unless you've just filled your pup's water bowl, their water might not be the freshest. But it doesn't get much fresher or cleaner than newly fallen snow," say Hill's Pet.
Their Ancestors
Before dogs were fully domesticated, Hill's Pet explains, "their ancestors in colder climates often had to rely on eating snow to hydrate. It is possible that that innate behavior still exists coded in their DNA thousands of years later."
A Health Condition
If you notice your dog is compulsively eating snow, it could be a sign of a health condition. "Cushing's disease or thyroid or kidney problems," say Hill's Pet. They might even be eating snow to induce vomiting, similar to excessive grass eating.
Is It Safe To Eat Snow?
As long as it's clean, snow is safe to eat in small quantities. Beware of toxic surfaces such as ice melt or antifreeze, which could make your dog sick, "and eating snow in large quantities could dangerously lower your dog's body temperature," according to Hill's Pet.
Newsweek has reached out to @griffinourgolden on TikTok for comment.
Do you have funny and adorable videos or pictures of your pet you want to share? We want to see the best ones! Send them in to life@newsweek.com and they could appear on our site.