Golden Retriever Licking Pet Cam Hoping He'll Receive Treats Melts Hearts
A video of a golden retriever attempting to get a camera to "give him treats" has gone viral on TikTok, where it has so far received over 472,000 views.
A message laid across the video shared from @chowederandgumbo, the TikTok account of the dog duo Chowder and Gumbo, read: "Gumbo kissing the Furbo [pet camera] hoping it'll give him treats."
The video showed the dog licking the bottom of the Furbo camera, which can dispense treats, that was sitting on top of a television shelf.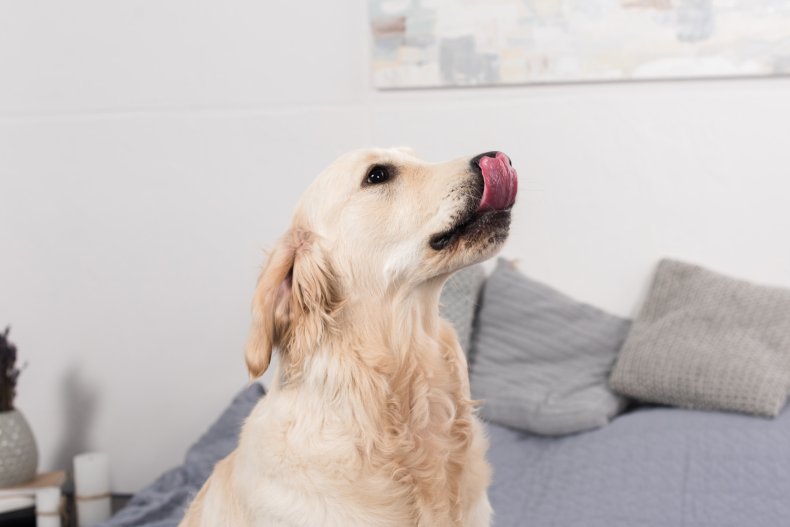 According to a report by Grand View Research, a market research and consulting company based in the U.S. and India, the global pet snacks and treats market size was valued at $33.16 billion in 2021 and is projected to expand through 2030.
Figures from the American Pet Products Association showed that owners spent around $97.1 billion on pets in the U.S. in 2019. Growth was seen in certain pet food sectors, including healthy treats, snacks, specialty pet foods, and other premium items, the report said.
Treats should be given to dogs in moderation as having too many will disrupt your dog's appetite for regular food, noted veterinarians Krista Williams and Robin Downing in an article for VCA, one of North America's largest animal hospital chains.
"This can contribute to a nutritional imbalance in the long term, and can turn him into a 'fussy eater,' making it particularly challenging to use therapeutic nutrition should the need arise later in life to manage a disease nutritionally," they said.
Williams and Downing advised that dog treats should never form more than 10 percent of a dog's energy/calorie intake. But keeping it at five percent is even better. This is because unlike commercially prepared dog foods, dog treats are not balanced and not nutritionally complete.
The veterinarians warned: "Do not be fooled by treats that are labeled 'light' or 'lower calorie.' These are not significantly lower in calories than other treats and they do add extra calories to a dog's daily intake."
Having too many treats can also raise the risk of your dog becoming overweight and obese. Both conditions "are now afflicting family dogs at epidemic rates," the veterinarians said.
The golden retriever in the latest viral video has delighted users on TikTok, with some saying their own pups act the same way around their Furbo devices.
Rissywein said: "My dog sits in front of the Furbo praying for treats all day."
User cassieugalde said: "Mine does this too [crying laughing emoji]," to which the original poster said: "They are so smart!!"
User cc wrote: "this is ridiculously cute [floating hearts smiley face emoji]," while Pawbrey Golden Retriever said: "[This] is so funny [crying laughing emojis]."
User Fog Goblin said: "He's worshipping it," to which the original poster replied: "It is his supreme being."
User It same thing wrote: "My dogs would protect this thing with their life lol [laugh out loud]," and the original poster said: "That's why Gumbo gives it the special treatment! [ crying laughing emoji]."
Newsweek has contacted the original poster for comment via TikTok and email. This video has not been independently verified.
Do you have funny and adorable videos or pictures of your pet you want to share? Send them to life@newsweek.com with some details about your best friend and they could appear in our Pet of the Week lineup.