Adorable Puppy Filmed Falling To Sleep Thanks to Teddy With Heartbeat
An adorable video of a golden retriever puppy falling asleep with an otter-shaped toy has gone viral on TikTok, with over 570,000 views.
In the video, 10 month old Paddington the golden retriever puppy can be seen lying on his back next to a stuffed animal that has a mechanized heartbeat.
The caption reads: "Everyone working from home needs an otter buddy for meetings."
In a previous video, Paddington's owner explains: "From zoomies to dreamies in 13 seconds" while the caption reads, "When Paddington is all zoomied-out, he gets super bitey! That's time to tuck him in with Otter for some sweet dreams."
The owner explains in a comment that the stuffed otter is a baby toy from Fisher Price.
Newsweek spoke to Paddington's owner Suzy, 49, a children's intensive care doctor from Mid Cheshire, England, about the adorable puppy. "Even though it's for human babies Paddington was so tiny when we got him, I thought it was just the right size for him to cuddle. He just took to it straight away, I think it's the breathing he likes," Suzy told Newsweek.
"Now he's a bit older, if he's getting a bit overtired and bitey I just tuck him up with his otter and he nods off! Our 8-year-old pug sometimes climbs into the puppy bed and pokes the otter to have a little lullaby too!!"
Pet nutritionists Purina argue that it is important to remember that your puppy is still a tiny baby, alone for the first time and figuring things out, so its not the best idea to lock them away in a separate room overnight.
"Puppies who are shut away from their new owners in these early days can easily go on to have separation-related behavior problems" it reports, "as they have learnt from their very first night that people do leave them and it is really frightening and upsetting!"
Should I Let My Dog Sleep In My Bed?
Whether or not pet owners should let their dogs sleep in their bed with them is a contentious topic. While it might be tempting to let your dog up on to the bed, it may not be the best thing for you or your pooch.
VCA Animal Hospital suggests that if your dog has musculoskeletal issues, such as arthritis, then the jump up to and off the bed might not be the best idea, "and soft beds do not support aging joints well enough."
"Painful dogs may prefer comfortable padding over a solid surface that is low on the ground. Plus, older dogs may become incontinent. Weak, aged bladders leak when the dog lies down. Uh-oh ... wet bed sheets," it added.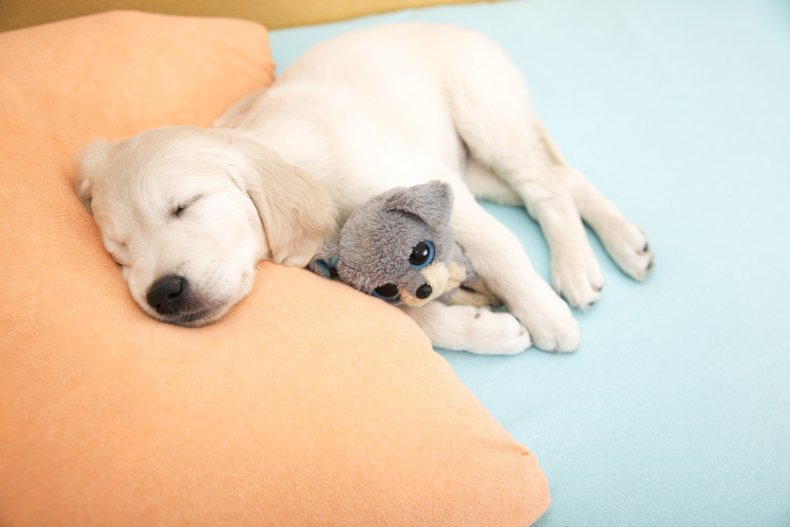 VCA suggested that people are more likely to share their beds with smaller dogs, reporting that about 62 percent of small dogs are allowed in the bed, compared to 41 percent of medium dogs, and 32 percent of large dogs.
They also report that while light sleepers may struggle to sleep properly with their dog in the bed, others may sleep better with the comfort of knowing their pet is close.
Many dog owners feel more secure and actually sleep better when snuggled next to their furry friends," it said. "Dogs tend to calm people and can lower blood pressure and stress levels."
ToastedBananas commented, "Honestly, i am the one that needs the otter for my meetings."
Dannie S said, "My dog would definitely try to rip that out [face with tears of joy emoji] I tried the snuggle bear one from Walmart and it lasted a day."
Cyrup wrote, "They make these for dogs too! Just search snuggle puppy/ heart beat toy. You can put heat packs in it too."
Do you have funny and adorable videos or pictures of your pet you want to share? We want to see the best ones! Send them in to life@newsweek.com and they could appear on our site.
Update 01/30/23, 10:45 a.m. ET: This article was updated with comment from the original poster.