Golden Retriever's Reaction to First Car Wash Has Internet in Stitches
A video of a dog's reaction to his first car wash experience has gone viral on TikTok, where it had 3.2 million views and over 289,000 likes at the time of writing, with several users commenting on "that face."
The video—shared by user Callie Christine (under the username __calliechristine) with a caption reading "Not impressed" and message overlaid on the video saying "His first car wash experience..."—shows a golden retriever sitting inside a car as it goes through a car wash.
Seemingly unfazed and blinking occasionally, the dog is seen staring at a window as a colorful liquid is splashed across it from the outside, while the iconic streaking music from the soundtrack of the 1960s horror film Psycho plays in the video.
The dog's trance is later broken, as it turns its head towards the camera, maintaining its poker face before the video ends.
A November 2021 study in the peer-reviewed Animals journal said that research suggests "dogs have anatomical configurations that allow them to generate changes in their expressions that similar canids—wolves, for example—cannot produce."
The study added that dogs can perceive emotions "similar to those of their human tutors due to close human-animal interaction."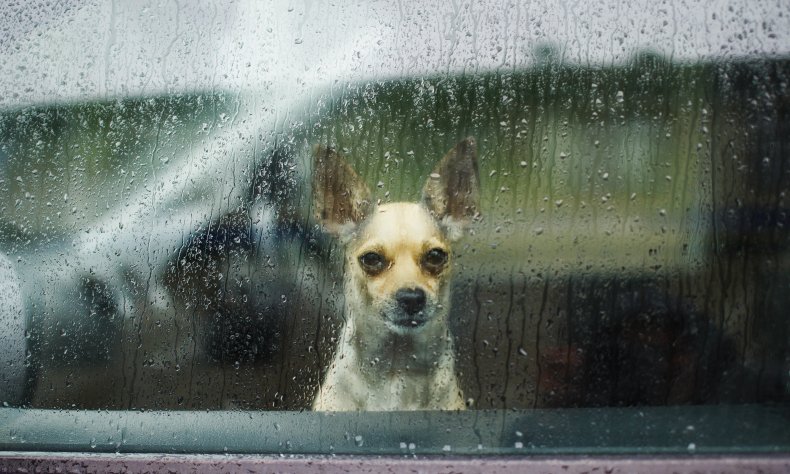 Facial expressions in dogs and other animals are "a communication form of positive and negative emotions, in which motor responses are developed in specific facial action units," including the eyebrows and eyes as well as the position of the ears and opening of the mouth.
"Although there is evidence of certain patterns of facial changes associated with specific stimuli in domestic dogs, it is challenging to objectively evaluate facial expressions due to domestication, the close human-animal relationship, and the extensive inter-species variability," the study concluded.
The latest TiKTok video left several users in stitches, with many commenting on what may be going through the dog's mind.
User Cryssie said: "He's thinking 'Just keep calm...just keep your cool'," in a comment that received 690 likes.
Jennifer Rose said the dog must be thinking "I'm not so sure about this!," while Coalminer said: "haha he's like what is this crazy place mom."
Jessica G Garcia said: "He's very concerned [crying laughing emoji]," while Amy Nicole Cosolo said: "Lol omg he's so cute [crying laughing emoji]that look of concern on his face is priceless."
Larry Saunders415 wrote: "poor guy is thinking I'm tripping out [surprised face with eyebrows raised emoji]."
User Jann P432 simply wrote: "that face [two floating hearts smiley face emojis]," while Fran Viva98 said: "love the face [three floating hearts smiley face emojis]."
Do you have funny and adorable videos or pictures of your pet you want to share? We want to see the best ones! Send them in to life@newsweek.com and they could appear on our site.