Golden Retriever's Zoomies in a Ball Pit Are Just as Chaotic as They Sound
A video of a golden retriever's ball-pit "zoomies" is melting hearts on TikTok, with more than 6 million views and almost 500,000 likes.
In the clip shared by user @a.golden.named.chloe on February 6, the pup can be seen speeding in circles around a ball pit at home.
Along with bouncing in and out of the pit and performing a twirl, Chloe manages to throw balls around the room and all over her toys.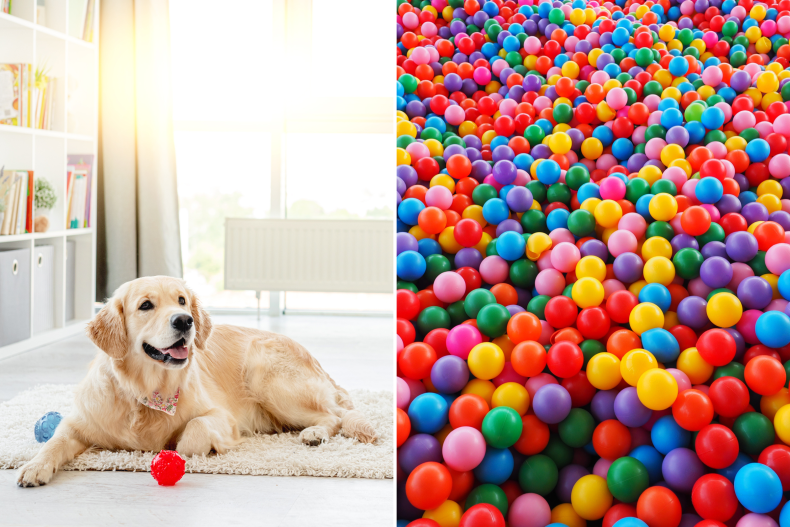 What Are 'Zoomies'?
Wendy Diamond, chief pet officer at Animal Fair Media, told Newsweek that "the zoomies" are when your dog goes from "0 to 60 in a split second."
"They love to run and play, especially when they're feeling frisky, zipping and zigzagging all over the place like they're on a mission to burn off some energy," Diamond said.
Known scientifically as frenetic random activity periods or "FRAPs," zoomies are a way for canines to release pent-up energy.
According to the Cornell Richard P. Riney Canine Health Center, common "frapping" periods include during playtime; when their owner returns from work; when something exciting happens; and even after pooping.
"It's a totally normal and cute behavior that dogs of all sizes and breeds can experience," said Diamond.
"Just make sure you keep a close eye on them, especially if they're zooming around in a place that's not safe," she added.
"Because when your pup has the zoomies, it's all about having fun and being in the moment."
Dogs aren't the only animals to FRAP. Cats—like Paul, who found fame dashing up and down the stairs in March 2022—also experience the zoomies.
'This Made My Morning'
TikTok users couldn't get enough of Chloe the hyperactive golden retriever, with cutemomof3kids commenting: "I love the zoomies!"
"This is the cutest thing ever," posted Sim, while Melissa wrote: "She's one happy doggie."
"She's like 'let's go crazy,'" joked user3847556428137foxxyzia, while Cwilson commented, "This made my morning."
Some users were inspired to buy their own dogs a ball-pit, with Serein Praveen asking: "Where did you purchase it?"
"Think I may have to get my boy one of them he would love it," wrote Toni. "My 3 pups need this !!" agreed natashaclaire4, while Finley & Franklin commented: "Alexa, add to cart."
Chloe's ball-pit zoomies aren't the only FRAPs to go viral. In January, a senior dog's first zoomies since its friend died made TikTok users emotional, while another canine's bed-destroying zoomies had the internet in stitches in March 2022.
Newsweek has reached out to @a.golden.named.chloe for comment.
Do you have funny and adorable videos or pictures of your pet you want to share? We want to see the best ones! Send them in to life@newsweek.com and they could appear on our site.