'It Was Amazing': Golden State Warriors Visit Barack Obama in Washington and Kevin Durant Loves It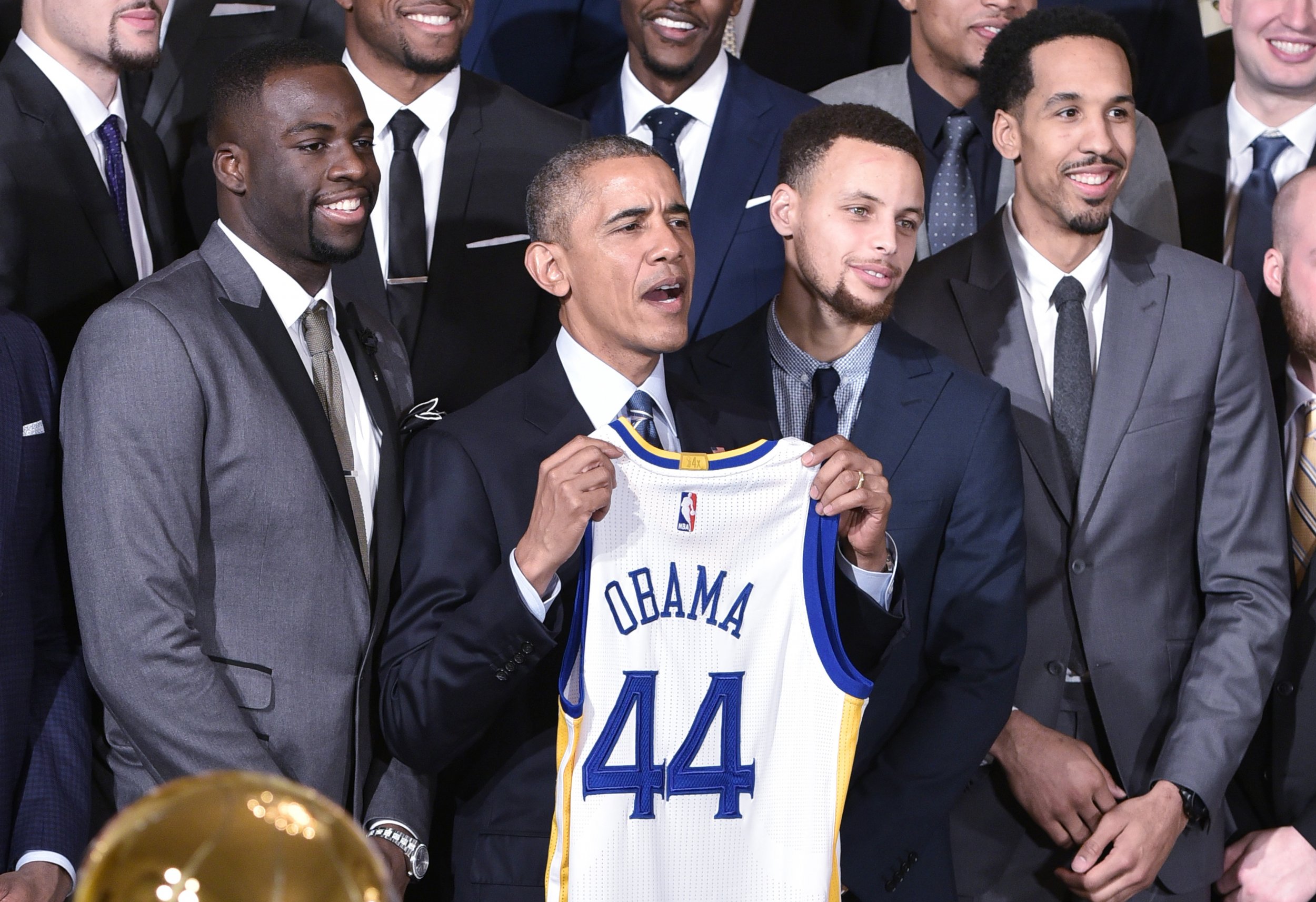 Kevin Durant described meeting Barack Obama as an "amazing" event after the Golden State Warriors paid a visit to the former president in Washington on Thursday.
The defending NBA champions were in the nation's capital ahead of their game against the Washington Wizards and stopped by to visit Obama in his office.
Logan Murdock of The Mercury News shared a picture of the meeting, with the Warriors surrounding a beaming Obama, who is a huge basketball fan.
Jonas Jerebko was the only absentee from the group. He made his way back to the Bay Area on Wednesday in order to be by his wife's side for the birth of their second child.
"It was amazing," Durant told ESPN of the meeting after the Warriors beat the Wizards 126-118.
Forward Draymond Green echoed his teammate's thoughts, saying "It was good. A private team meeting, team event, it was good."
The broadcaster reporter a Warriors official as saying the visit was arranged through Stephen Curry, who has established a friendly relationship with Obama over the past few years. The three-time NBA champion, who was spotted chatting with House Speaker Nancy Pelosi after the game, however, dismissed the suggestion.
"I have no idea," he said when asked if he had played a part in organizing the visit.
Warriors head coach Steve Kerr was also absent from the meeting and declined to explain why he had not joined the team.
"That's private," Kerr was quoted as saying by The Mercury News. "Appreciate the question. Doesn't mean I have to answer it."
The Warriors met Obama at the White House in February 2016 to celebrate their 2015 title but had their invited rescinded in 2018 by President Donald Trump, after Curry said he was not likely to attend.
The Warriors traveled to Washington anyway but opted to spend a day at the National Museum of African American History and Culture, where they were joined by youngsters from Seat Pleasant, the Maryland neighborhood home to Durant.
In June last year, Curry and LeBron James said neither the Warriors nor the Cleveland Cavaliers would visit the White House if they won the NBA title.
Golden State eventually clinched a third title in four years by sweeping the Cavs, and are favorites to defend their crown this year.
The Warriors are on a nine-game winning streak and sit atop of the Western Conference with a 34-14 record, the third-best in the league after the Milwaukee Bucks and the Toronto Raptors, who are 34-12 and 36-14, respectively.