LeBron and Steph Curry Tell Trump NBA Winner Won't Visit the White House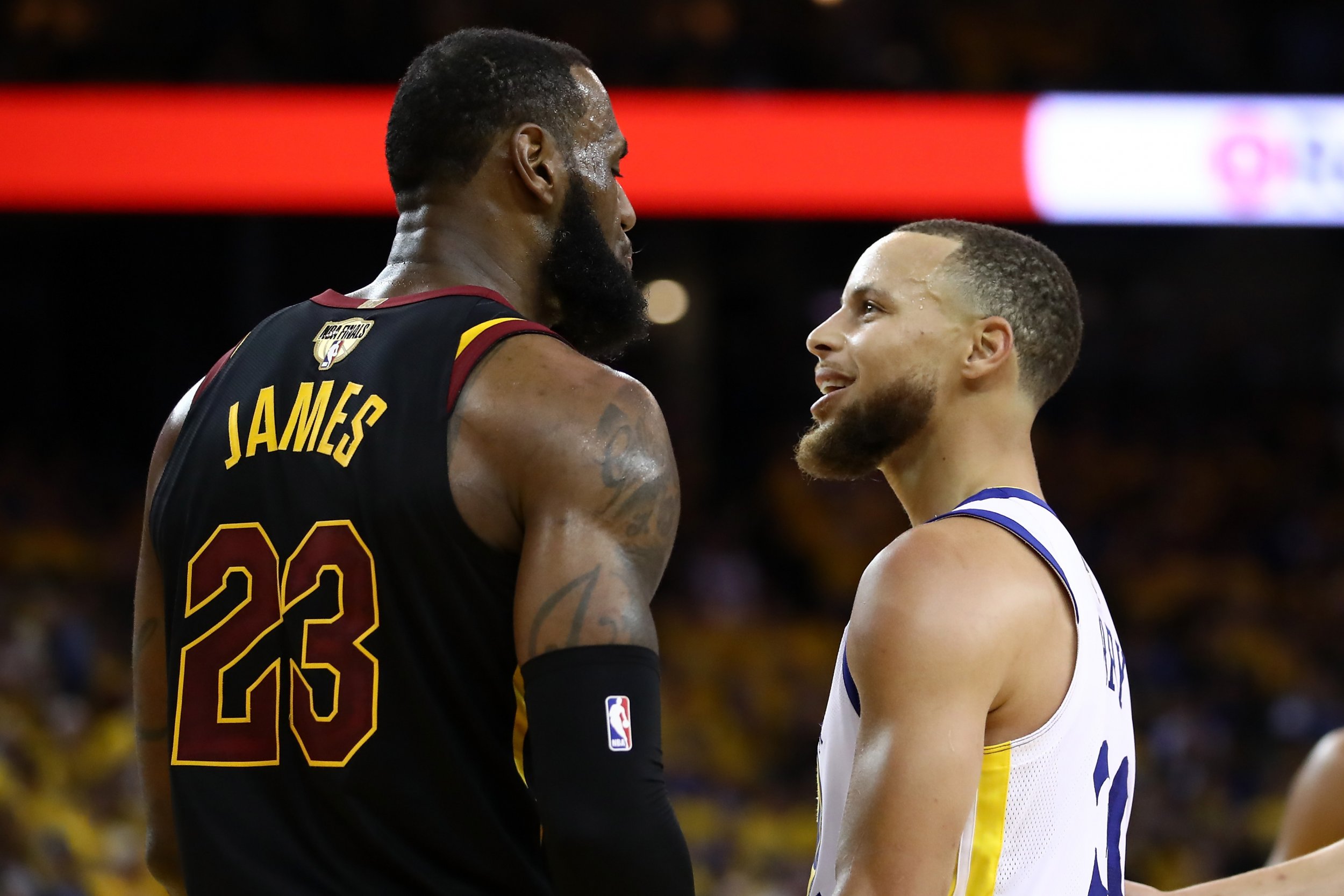 LeBron James has claimed that regardless of who wins the NBA title, neither the Cleveland Cavaliers nor the Golden State Warriors would accept an invitation to visit the White House.
Earlier this week, President Donald Trump reignited the debate over championship-winning teams visiting 1600 Pennsylvania Avenue, as he rescinded the invitation for Super Bowl LII winners Philadelphia Eagles after learning many of the players did not plan to attend.
Last year, Trump cancelled the routine presidential visit after Golden State won a second NBA title in three years but LeBron suggested the President won't have to go that far this time as neither the Cavs nor the Warriors want to attend anyway.
"I know no matter who wins this series, no one wants an invite anyway," the three-time NBA champion told reporters on Tuesday.
"It won't be Cleveland or Golden State going."
LeBron added Trump's decision to revoke the Eagles' invitation was "typical of him" and that he stood for a lot things Americans do not believe in.
"There are a lot of people that believe that he's not for the people or doing things that's right by the people," he added.
"I think more importantly, as Americans and especially people in Philadelphia, we shouldn't let that news take away from what that unbelievable team did and accomplished, what all those players did to sacrifice throughout each and every Sunday, going out and playing the style of football that they played and winning a Super Bowl the way they won it. "
In September last year, Stephen Curry revealed he hoped the Warriors could "inspire change" by not attending the White House visit, only for Trump to revoke the invitation the following day because "Stephen Curry is hesitating."
The Warriors point-guard agreed with LeBron's stance and hinted he was positively surprised a number of teams have followed the example set by Golden State last year.
"I decided to speak out on me not wanting to go to the White House last year," he told reporters.
"And every team that has won a championship since then has gone through that. That's refreshing that he's educating people along the way. I think that's important. If you focus on who is saying the right things, you shouldn't get lost in the noise that's going on right now."
Kevin Durant echoed his colleagues' words and was even more explicit in stating this year's NBA winner will not visit the White House next year.
"It's good that guys are sticking to what they believe in and what they want to do," he added.
"Like guys said before me, I'm sure whoever wins this series won't be going."
In a statement motivating the decision to revoke the Eagles' invite, the Office of the Press Secretary highlighted how some members of the team disagreed with Trump over his insistence players should stand for the national anthem.
Trump subsequently took to Twitter to further expand on his decision, claiming that choosing to remain in the locker room for the national anthem was as disrespectful as kneeling.
However, Jim Kenny, the mayor of Philadelphia dismissed the statement, suggesting it proved Trump was a "fragile egomaniac."
"Disinviting them from the White house only proves that our President is not a true patriot, but a fragile egomaniac obsessed with crowd size and afraid of the embarrassment of throwing a party to which no one wants to attend," he said in a statement.