'Good Boy': Bodycam Footage Shows Police Ordering Dog to Attack Black Man Kneeling With Hands in Air
The Salt Lake City Police Department (SLCPD) has launched an internal affairs investigation into Jeffrey Ryans' arrest after body camera footage shows a police officer ordered his dog to attack the 36-year-old Black man, who was already kneeling on the ground with his hands in the air.
Police were called to Ryans' house on April 24 after neighbors heard him arguing with his wife.
Footage, obtained by The Salt Lake Tribune, shows Ryans had been smoking in the backyard when officers arrived. An officer is heard telling Ryans to get on the ground or to face getting bitten by the police dog; the Salt Lake City man does so quickly,
Even though Ryans is seen kneeling with his hands in the air, the officer still orders the dog to attack. The officer continues to tell the dog, Tuco, to "hit" as another officer is already seen placing handcuffs on Ryans.
Tuco latches on Ryans' left leg and continues to tear as the officer praises Tuco, calling him a "good boy." Ryans is heard screaming in pain and asking, "Why are you biting me?"
Ryans has now filed a lawsuit against the police department alleging the use of force was unnecessary and caused an injury that required multiple surgeries, cost him his job as a train engineer and limited his ability to care for his children.
"I felt like a chew toy," Ryans told the Tribune. "I didn't know why this was happening to me. That's what was going through my mind. Why?"
His attorney Gabriel White alleges the only reason officers treated Ryans the way they did was because he was Black.
"People need to know Black lives matter," Ryans said. "Everybody matters, but you can't just treat people differently because of their religion or their skin color. I developed myself to get to where I'm at right now. I should have the same respect as others. We don't get it."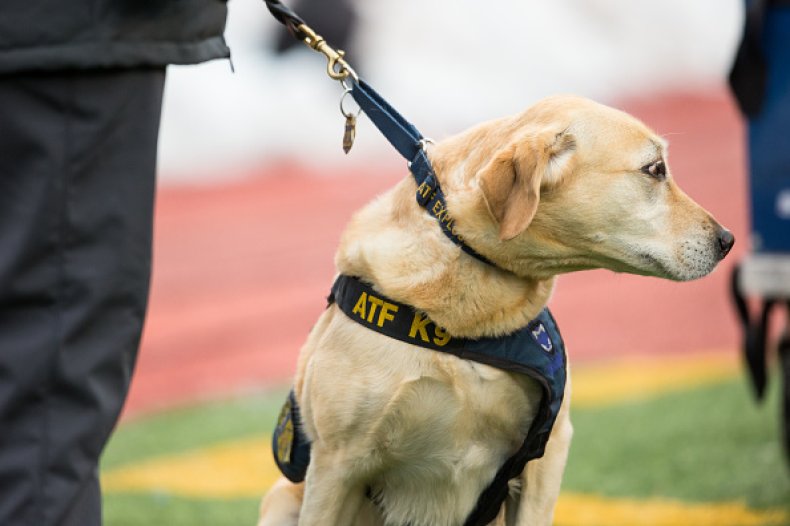 Newsweek reached out to the SLCPD who referred to a statement released on Tuesday that said an internal affairs investigation has been opened by the department to determine if the officer's use of force was within police policy.
As of Wednesday afternoon, the department said the officer has been placed on administrative leave.
"SLCPD has also launched a thorough review process of the K9 apprehension program by external subject matter experts. In the meantime, SLCPD has suspended this K9 function until we review policies, procedures, training, and actual application in the field," Police Chief Mike Brown said in an updated statement.
The police department previously addressed the role of systemic racism in policing under the policies and procedure page on their website.
"We want to be transparent with you, our residents, about our police department's policies and procedures," the page reads. "We acknowledge that, while we strive to employ progressive policies and a culture of accountability among our ranks, we can always do better and we are committed to working with the community to do that."
Under its policies on use of force, the SLCPD states that officers cannot kneel on an individual's head or neck as a form of restraint. Police departments across the nation have banned chokeholds in the wake of George Floyd's death.
The policy also says that "a police officer must never employ unnecessary force or violence and should use only such force in the discharge of duty as is reasonable in all circumstances."
Whether the officer who arrived on the scene at Ryans' house in April violated this policy is still under investigation.
Police had arrested Ryans because his wife had filed a protective order against him in December. Ryans claims that he was under the assumption that the order had been lifted, from what was conveyed to him by his wife, but because her request was still pending at the time of his arrest in April, he had been in violation of the order and is now facing charges.
Salt Lake City Mayor Erin Mendenhall tweeted on Tuesday that she has called on Police Chief Mike Brown to complete the investigation with "urgency" and to do so "as transparent as possible with the public."
Update 12/08/20 3:19 p.m. This story was updated with a new statement from the Salt Lake City Police Department.