Who Is Marie Tharp? Google Celebrates Creator of 'World Ocean Floor Map'
Google is celebrating the life and career of American geologist Marie Tharp on Monday, November 21, with a fun take on its iconic logo.
The world's favorite search engine has a dedicated team of illustrators, or "doodlers," who create Google Doodles to celebrate significant figures and important historical dates.
Today's doodle features a live sketched video to tell the story of Marie Tharp, with a voice-over performed by Cate Larsen, Becky Nesel and Dr. Tiara Moore.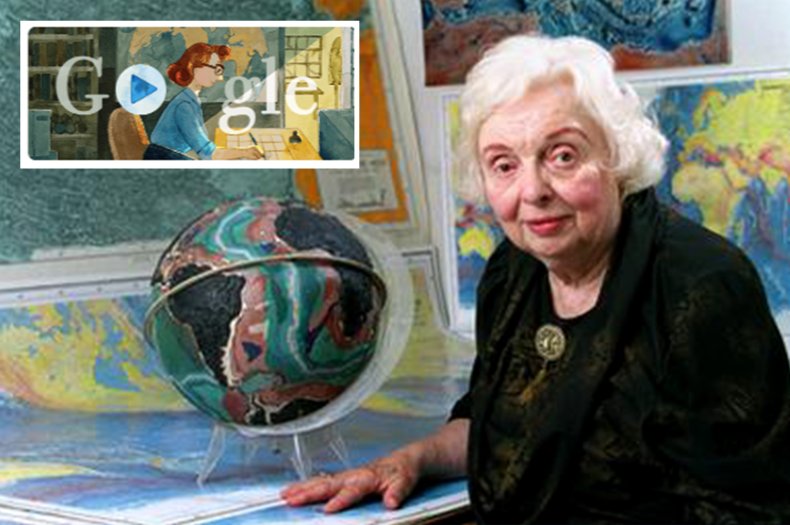 Who Was Marie Tharp?
Marie Tharp was a geologist and oceanographic cartographer who created the first scientific map of the Atlantic Ocean floor.
Famed for making waves in the traditionally male areas of ocean science and geology, she was born in 1920 in Ypsilanti, Michigan.
Tharp attended the University of Michigan and got a master's degree in petroleum geology—the application of geology to the exploration for and production of oil and gas.
By 1948, she became the first woman ever to work at the Lamont Geological Observatory in Palisades, New York.
There she worked with geologist Bruce Heezen, who was busy gathering ocean depth data in the Atlantic Ocean. With much of the Earth already mapped out, the ocean remained a mystery and Tharp turned her attention to this.
Using sonar technology, she was the first person to discover the Mid-Atlantic ridge on the ocean floor, part of the longest mountain range in the world.
She believed that the rift valley had been formed by the ocean's surface being pulled apart, supporting the idea of continental drift. But when Tharp presented these findings to Heezen he famously dismissed her work as "girl talk."
But when later research revealed the location of earthquake epicenters, Heezen could not ignore the obvious—the epicenters lined up with Tharp's profile of the Mid-Atlantic ridge.
Published Work
It was only then that Tharp's hypothesis of plate tectonics and continental drift were accepted by Heezen, and the pair published the first physiographic map of the North Atlantic in 1957.
The work was published in 1977 by National Geographic under the title The World Ocean Floor and Tharp would later donate the entire map collection to the Library of Congress in 1995.
In 2001, the same observatory where she started her career awarded her with the first annual Lamont-Doherty Heritage Award for her life's work pioneering oceanography.
Tharp died in August 2006 at the age of 86, but her legacy of talented cartography and making strides in a male-dominated industry lives on.
Rebecca Nesel, a geologist and earth science communicator who worked on the Doodle, told Google: "Marie's story inspires me because she was a woman in earth science when that was very uncommon and dealt with many challenges because of that, like not being allowed on the research vessels or having her work dismissed by her own colleagues.
"Regardless, she remained confident in her work and her abilities, and didn't let those challenges dim her creativity and passion toward her work. Marie's story inspires me to keep sharing my own ideas with the world, even when it's scary," she said.