Who Was Frank Kameny? Google Doodle Celebrates LGBTQ Rights Activist
Frank Kameny, the American astronomer, veteran, and gay rights activist, is celebrated in today's Google Doodle in honor of Pride Month. Kameny was one of the most prominent figures of the U.S. LGBTQ rights movement.
Franklin Edward Kameny was born on May 21, 1925, in Queens, New York. He was a gifted child and at the age of 15 enrolled at Queens College to study physics. Kameny fought in the World War II and, once demobbed, later went on to gain a doctorate in astronomy at Harvard University.
In 1957, Kameny accepted a job as an astronomer with the Army Map Service. But months later, he was fired based on an executive order that effectively banned LGBTQ people from federal employment.
Kameny sued the federal government for his termination and in 1961 he filed the first gay rights appeal to the U.S. Supreme Court, which was denied.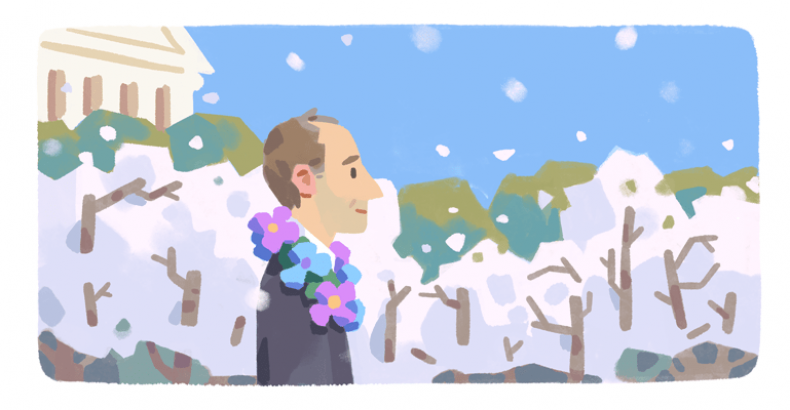 This sparked the astronomer's lifelong fight for equal rights. However, Kameny appeared to be interested in activism from an early age.
According to NYC LGBT Sites, at the age of 15, Kameny said: "If I disagree with someone, I give them a chance to convince me they are right.
"And if they fail, then I am right and they are wrong and I will just have to fight them until they change."
Kameny's activism involved organizing one of the first gay rights advocacy groups in the U.S., years before the Stonewall Riots of 1969. In 1965, Kameny is often credited as the first to stage a gay rights protest, with around 10 other people in front of the White House, and later the Pentagon, with signs that included: "Homosexuals Ask For the Right to the Pursuit of Happiness."
Then, in the early 1970s, Kameny challenged the American Psychiatric Association's classification of homosexuality as a mental disorder, along with Barbara Gittings of the Daughters of Bilitis.
In 1975, the Civil Service Commission finally reversed its ban on LGBTQ employees, a challenge Kameny had pursued for around 20 years.
More than 50 years after he was fired, Kameny received a formal apology from the U.S. government, in 2009.
The following year, during Pride Month, Washington D.C. named a stretch of 17th Street NW near Dupont Circle "Frank Kameny Way" in his honor.
In an interview with Eric Marcus, a journalist and the founder of the Making Gay History Podcast, Kameny said: "Life takes its turnings, and you don't foresee them.
"But ultimately, in retrospect, life has been more exciting and stimulating and interesting and satisfying and rewarding and fulfilling than I ever could possibly have dreamed it would have been."
Dr. Frank Kameny died in October 2011, aged 86. Google Doodle says: "Thank you, Frank Kameny, for courageously paving the way for decades of progress!"