Google unveiled a fresh design for its popular Gmail service today for desktop and mobile users, promising new AI-enhanced features to boost productivity and the much-anticipated capability to set an auto-destruct time limit on messages.
The new design lets users click on attachments, such as photos, without having to scroll through lengthy conversation threads, prominently displays the most-used applications—including Calendar, Tasks, Docs or Sheets—and introduces a "snooze" functionality to let users put off email notifications until a specified date.
Taking a queue from Snapchat, which lets its users send photos that permanently delete in a few seconds, the Gmail re-skin has a fresh focus on privacy.
The update comes with a "confidential mode" that removes the options to forward, copy, download or print messages in order to help protect sensitive information. In addition, users can make a private message expire after a period of time.
"With confidential mode, it's possible to protect sensitive content in your emails by creating expiration dates or revoking previously sent messages," wrote David Thacker, VP of product management. "Because you can require additional authentication via text message to view an email, it's also possible to protect data even if a recipient's email account has been hijacked while the message is active."
Now, Gmail will "nudge" users to respond to messages that its AI deems important and its "Smart Reply" will be brought to the web version, using machine learning tech to suggest three possible responses to emails, based on the conversation.
Google, seemingly keen to distance itself from the recent Facebook data abuse debacle, stressed that it doesn't scan Gmail conversations to target advertising.
Gmail on mobile will get new high-priority notifications to highlight messages Google believes shouldn't be ignored, and will even start to suggest when users should unsubscribe from newsletters or offers that are no longer of worth. Lastly, updated security warnings and anti-malware settings have been implemented.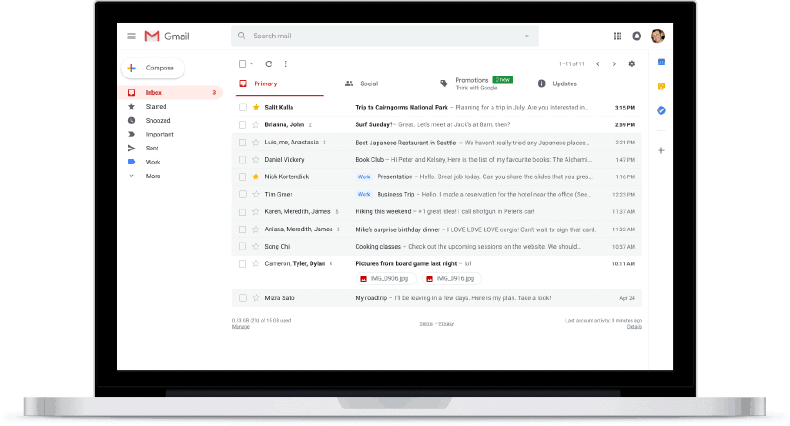 "Email is a necessity for most of us," said Gmail product manager Matthew Izatt in a blog. "We use it to stay in touch with colleagues and friends, keep up with the latest news, manage to-dos at home or at work—we just can't live without it."
Can I try it now?
Google said that some of the features will start rolling out today, but others will appear "within the coming weeks." Anyone who wants to try the changes now should make sure all software and browsers are updated, go to Settings in the top right corner and select the option for "Try the new Gmail." It can be toggled on and off.
Gmail has more than 1 billion monthly active users.