The Google Pixel 4 offers a great camera, excellent software and futuristic motion gesture tech, but flirts with greatness without quite reaching its full potential.
The $899 XL flagship, which ships this week on all major U.S. carriers alongside the 5.7-inch $799 Pixel 4, is expertly crafted with an appealing minimalist design. In some ways, the 4 XL puts the smart in smartphone, but is also notable for glaring missed opportunities.
It still boasts a great camera, without an ultra-wide lens. It has a buttery-smooth 90 Hz screen, which isn't very bright and downgrades itself to 60 Hz when that brightness is turned down. It comes with a new chip designed for motion tracking that gives the phone a radar bubble, yet gesture controls are limited.
The Pixel 4 has really fast face unlocking, yet expels the fingerprint scanner. There are enhanced specs, but the battery isn't amazing. You get the idea.
The majority of testing was done over the past week on a Pixel 4 XL, which offers better specifications and battery life, although the difference between the devices is mostly just the physical size.
At just shy of $900, the 6.3-inch Pixel 4 XL is clearly priced to compete among the top flagships. It is more expensive than the iPhone 11 ($699) and significantly more than the stellar OnePlus 7T ($599). Whether you feel that the handset is worth the price will be based on a) your love for the Google ecosystem and b) how much you are willing to compromise for that experience. Yet despite having some shortcomings, the new handset is not without its charms.
Far from it, in fact. Like previous Pixels, Google's camera technology, which still largely takes place on the back-end thanks to machine learning and artificial intelligence, continues to impress. The Pixel 4 series has a premium feel in the hand, haptic feedback is top notch and the latest Android 10 software is super responsive. While some will criticize the basic design, I prefer the simplistic color approach. Yes, the Pixel 4 has issues, but is still easy to love.
Pixel 4 XL Specifications:
Dimensions: 6.3 x 2.9 x 0.3 inches, 193 grams
Screen: 6.3 inch OLED, up to 90 Hz
Operating System: Android 10
Bluetooth: 5.0
Chipset:Qualcomm Snapdragon 855
Internals: 6 GB RAM, 64-128 GB Storage
Camera: Dual setup - 16 MP (ƒ/2.4), 12.2 MP X2 telephoto (ƒ/1.7)
Video: 1080p @ 30 FPS, 60 FPS, 120 FPS, 4K @ 30 FPS
Battery: 3700 mAh, 18 W/2 A USB-Type C charger
Colors: Black, White, Orange
The aesthetics of the 2019 series will feel like familiar territory for most Pixel users, with a larger bezel on the top of the device now containing the 8MP front camera, face-unlocking technology and the "Soli" chip that gives the phones radar capabilities.
Newsweek tested the "Just Black" version of the XL and 4, which unlike the "Clearly White" and "Oh So Orange" handsets is glossy rather than a matte. Despite attracting fingerprints as expected, the style is pleasingly simple, with a metallic frame that helps with grip.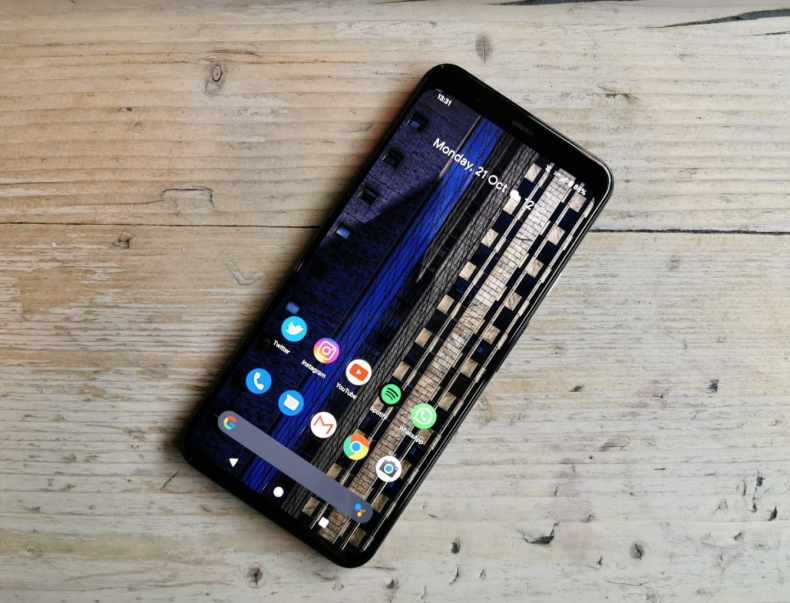 The camera module on the rear of the Pixel 4 devices is now squared, at a glance like the new iPhones, which looks great while housing the new double-lens setup. On the right are the usual power and volume buttons, on the left is the SIM slot and on the bottom is the USB-C port for charging. So far so normal. But unlike prior models, there is no longer a fingerprint sensor on the back and the notch has been completely filled in by the top bezel. Unlike some others in the market, the phone retains a squared design, with only slight curving off the edges.
The display on both of the new Pixels is a double-edged sword—great performance with limited brightness. It's impossible to argue with the inclusion of a screen with a 90Hz refresh rate, which is thankfully becoming an industry standard. Much like the recently-released OnePlus 7T, it enhances smoothness when scrolling through websites or playing games. (It means the screen is refreshed 90 times a second). But unlike most other devices, Google's mode is dynamic, meaning it downgrades to 60 Hz if brightness dips below 75 percent.
The company says it does so to preserve the battery, but a spokesperson told Engadget it will soon roll out fresh updates that will "include enabling 90hz in more brightness conditions."
In reality, the majority of Pixel 4 users are already likely to have their brightness levels topped out, unless they are sitting in a dark room where a lower light is preferred.
Despite great color accuracy and sharpness, testing by DisplayMate shows that screen brightness sits at about 450 nits, which is below the iPhone 11 (625 nits) and Samsung S10 (1,215 nits). It's very noticeable when placed beside other high-end devices. Google has brought "Ambient EQ" into the Pixel, which adjusts display colour temperatures to mimic the environment, and it works as advertised. Initially, brightness was always at 100 percent when outside, although I admittedly became more used to lower brightness levels over time.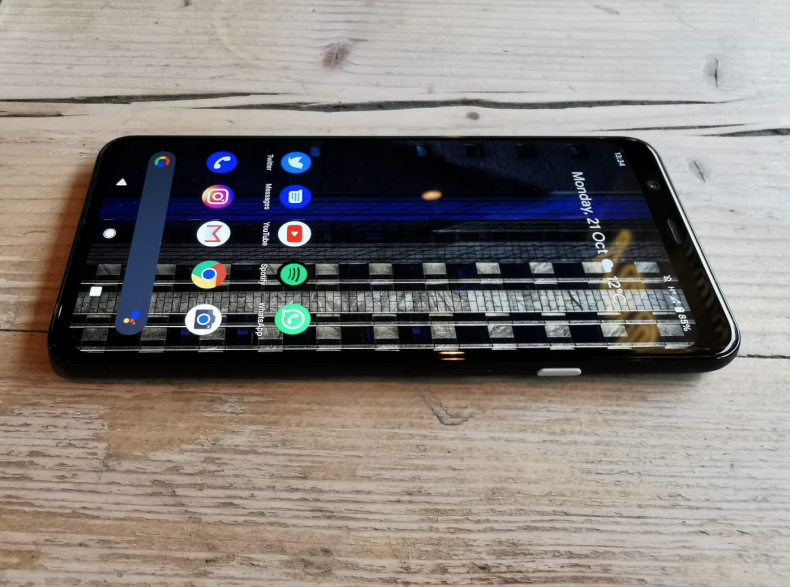 Software
Thanks to an upgraded 6GB of RAM and a Qualcomm Snapdragon 855 (which isn't the latest chipset but still performs well), performance on the Pixel series is better than ever.
Multi-tasking and switching between apps is extremely snappy, and there were zero issues with slowdown, crashing or unexpected stalling on the new devices during the week's use. The Pixels run on the Android 10 mobile operating system (OS) and will always be among the first to receive security updates from the company. The Pixels also include a redesigned Google Assistant that is both quicker at opening apps and more efficient at answering queries. The menu can be accessed by squeezing both sides of the smartphone, but is optional.
Honestly, it's not something I frequently use on any device. There is a Google Hub sitting in my kitchen, and that's great, but the voice-help experience doesn't always translate to mobile, in my opinion, and I have little interest in speaking to the handset out loud in public.
The new Pixel series touts "on device" artificial intelligence including "Live Caption," which captions speech in audio or video in real time. A new "Recorder" application is able to quickly transcribe text and sounds from audio and store it in a searchable format. It's actually quite amazing and is a game changer for anyone who frequently transcribes audio. Yes, it's mostly going to be journalists and businesspeople, but it's still a really neat use of Google AI.
While there is the option of using the traditional PIN number or pattern passcodes, face unlock is impressively quick on the new Pixels, even if it comes at the expense of other forms of biometric identification, such as the in-screen fingerprint scanner, which I have personally come to prefer in recent years as the back-end technology has improved. It's my go-to password experience, so having it missing on the new Pixels was a real downside.
By taking advantage of the Soli radar chip that is embedded in the front bezel, the Pixel 4 actually works by proactively hunting for your face as you are reaching for the phone, meaning it opens astoundingly quickly, even in the dark. Security concerns raised after users found it still worked with the user's eyes closed (i.e. asleep) will reportedly be fixed in the coming months.
The Pixel 4's face unlocking is processed on the device, without scans ever leaving the phone or being shared externally, and are protected by a scarily-named "Titan M" security chip.
The tiny Soli chip enables what Google is calling "Motion Sense," which are a set of gesture controls that work by tracking the human hand inside the phone's radar bubble.
On the new Pixels, the feature lets you skip songs and snooze clock alarms by waving your hand in front of the screen, without ever actually touching the phone. Yes, like a Jedi.
Google says the technology will get better over time, and that is welcome news because unfortunately it doesn't always work. Perhaps one in 10-20 times, a song would fail to skip for no discernible reason, and the handset does not provide advice on what is being done wrong. It also felt oddly limited. I innately expected to have more control over navigation, for example when multitasking or closing apps. Most times, it was just as quick to tap the screen than take the chance of it not working. It's unclear how many people will use it, and it may be dismissed as a gimmick, but it's likely a glimpse of where smartphones are going in the near future.
Pixel fans will be upset to learn that Google has chosen to scrap unlimited original-quality photo backups to Google Photos, a perk that was previously offered alongside prior models. Instead, the company is offering a three month free trial of Google One, a subscription service which includes 100 gigabytes (GB) of cloud memory. Unlimited pictures can still be stored in a "high" quality, but Google warns that they may be compressed or resized in the process.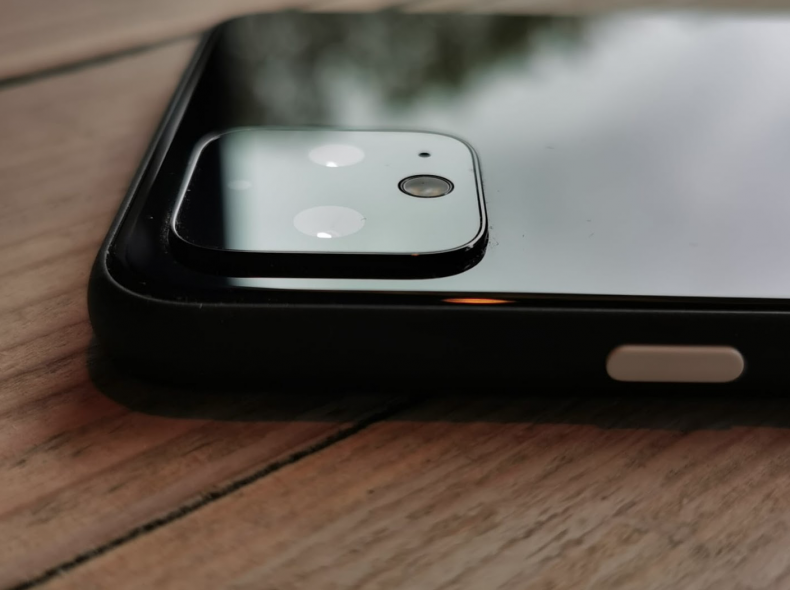 Battery
This new technology would push any smartphone to the brink—so it was strange to see a 3,700 mAh battery included on the larger Pixel 4 XL and a 2,800 mAh in the 4, which both lag behind competitors, many of which offer 4,000 mAh-plus batteries boasting two-day juice reserves.
In testing, the Pixel XL lasted relatively comfortably from morning to night, but there was zero wiggle room for error. If you're caught without a charger you are out of luck.
The Pixel 4 series comes with an 18W fast charge adapter but even that is noticeably lacking when compared to some rivals, many of which easily top 30W capabilities. It seems odd to jam so much smart technology into the phones without also significantly boosting the battery. Yes. 3,700 mAh is adequate on paper, but does not appear to work for heavy use, especially if the brightness is turned up full, the 90 Hz screen is blazing and Motion Sense is enabled.
There is an adaptive option, set as default, which limits applications' use to help manage power, but it is clear that the phone would only benefit from more juice. Thankfully, the Pixels do still charge quickly when plugged into the wall, going from zero to full in under an hour.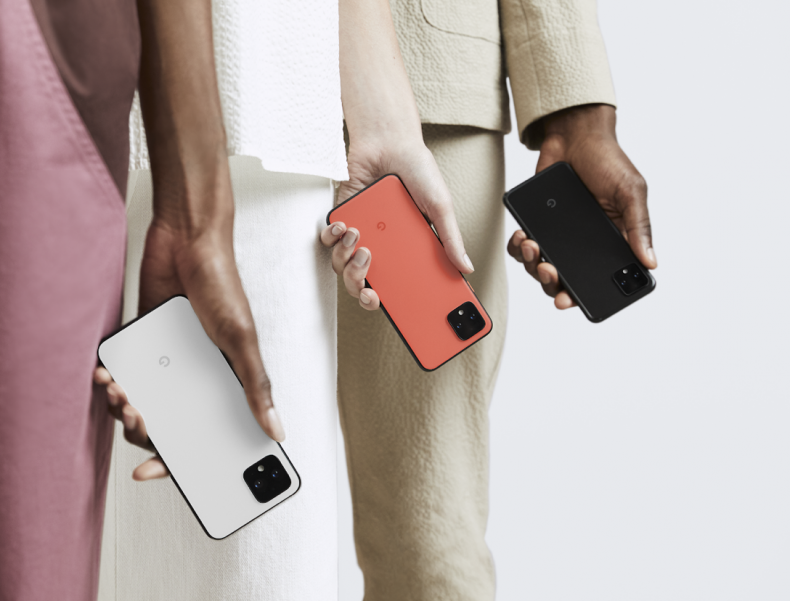 Camera
The camera has always been the main attraction of a Pixel, and this year is no exception, with Google adding a 16-megapixel 2X telephoto to complement the 12-megapixel main lens. The menus also feature modes for time lapses, slow motion and low light photography.
That last feature, Night Sight, shoots decent photos in a really dark room, retaining an impressive amount of clarity. The Pixel 4 boasts an astrophotography mode that can capture enhanced images of the stars, if you can cut through city smog. A live HDR+ mode is also really good, letting you preview what a processed image will look like before it's taken.
Like previous Pixel models, Google uses a secret sauce of AI to help create its images. In most cases, it is still jaw-dropping how much clarity the phones can produce with fewer lenses than other flagships, but the lack of ultra-wide lens found in many modern rivals is another baffling omission. Perhaps we should be thankful for the second lens, but in many cases I found myself poking around for the ultra-wide option before remembering it simply wasn't there.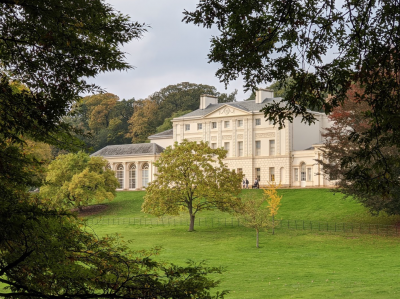 Of course, the Pixels also record video and—like most features—the specs are the same regardless of Pixel 4 model, shooting 1080p at up to 120 frames per second (FPS) and 4K at 30FPS. Its video capabilities never feel like the focus, but independent testing shows that the series performs well in comparison to other flagships in terms of their footage quality.
Pixels have always done more with less, easily outshining more premium handsets that have greater megapixel counts. But making a purchase decision on photography alone is no longer clear-cut. The lack of an ultra-wide lens was surprisingly disappointing, especially with the option being crammed into more triple-camera phones than ever before. Often thanks to the AI, camera results are still fantastic, but the Google Pixel 4 is no longer the only sheriff in town.
The Google Pixel 4 and 4 XL smartphones teeter on the edge of greatness without ever crossing the line. They offer great Android software, cutting-edge artificial intelligence, have a nice minimalistic design and no-one can doubt their ability to take a great photo. But several drawbacks, including the average battery life, dim screen brightness and unpredictable Motion Sense gesture controls, mean that some consumers will likely be tempted to look elsewhere, especially when they see the $799/$899 price tag.