As YouTube Turns 15, Google's Video Platform Sets Sights on Twitch and Netflix: 'Growth Will Only Continue'
It's easy to forget, but the internet was a very different place when YouTube.com was registered as a free video-sharing platform exactly 15 years ago today.
Back in 2005, Facebook was barely a year old and MySpace dominated the social media space. Reddit would come the same year, but Twitter, Pinterest, Tumblr, Snapchat and Instagram had not yet been born. WhatsApp, Vine? Twitch? Years in the future. There were no iPhones. And titles like YouTuber and Influencer were definitely not in the vocabulary.
In 2020, an age of TikToks and tweets, when smartphones are as powerful as some computers, it's difficult to imagine the internet without it.
YouTube's stats speak for themselves. More than one billion hours of video are watched daily by two billion-plus users. It has expanded into 100 countries and 80 languages. Teenagers now aspire to create content on the platform as a career. Some succeed.
But crucially, it does not appear to be plateauing. According to a Nielsen report this week, as reported by Variety, the site is currently nipping at the heels of streaming giant Netflix, with a 21 percent share of all connected-TV viewing in Q4 2019. (Netflix had 31 percent, Hulu had 12 percent and Amazon Prime had 8 percent.)
Further, analysts suggest YouTube's game streaming venture is also on the rise, increasingly competing with Amazon's Twitch by stealing viewers and signing deals with creators. Research in 2018 suggested YouTube remained one of the most popular sites among teenagers.
So where does it go from here, how has the website performed since its creation, and will the embattled video veteran take the streaming crown from Netflix? Who better to ask than the industry experts and content creators who fuel this vast machine? So that's what we did.
"The platform has honestly come a long way since 2005," Jose "Angry Joe" Vargas, a massively popular YouTube creator with over 3.2 million subs, told Newsweek. He noted YouTube had the potential to rival the streaming giants—with some strategic tweaks.
He said: "If YouTube would just focus more on their own content creators rather than attempting to attract mainstream shows or celebrities, I think the platform growth could even rival streaming services such as Hulu or Netflix. You could argue it already does for watch time.
"But YouTube should remain a free alternative to those services moving forward while putting more emphasis on interactivity, new ways to watch and new ways to engage. I'm thinking about social television, co-viewing with family or friends remotely, stuff like that."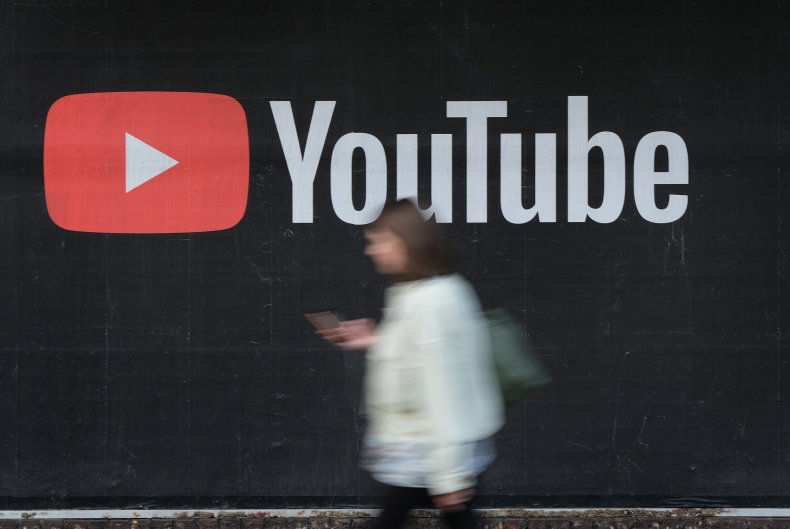 M. Brandon Lee, YouTube consultant and host of the channel This is Tech Today, told Newsweek that many Gen Z-ers he has spoken to do not seem to have the Netflix addiction of millennials, but the dream of making it big on YouTube remains a very real aspiration.
"The overwhelming theme that I keep hearing from them is how they watch YouTube, how they have their favorite YouTubers, and how they want to be a YouTuber," he added. "That personal connection with a platform is something you [don't often] find on other video services."
Lee conceded YouTube has had its share of challenges over the years - from algorithm changes to the "adpocalypse," which saw some creator content being demonetized.
And he noted how the website is now trying to duplicate interactivity features from Twitch, a live streaming giant owned by Amazon which has grown its own loyal user base centered on gaming since launching in 2011. Twitch currently attracts 15 million average daily visitors.
But Lee remains optimistic about YouTube. "Creator tools are improving in ways that make the algorithm less of a mystery, they're adding a ton of features to give you data that you'd normally pay for with a third-party service, and they're adding more ways for us to make money," he told Newsweek. "I think YouTube is getting better. I'm excited for the years ahead."
For Wade Barnes, who creates YouTube content under the name LordMinion777, the next step will likely be an expansion of its existing premium content, alongside live-streaming.
He suggested it could soon compete with Netflix or Prime by funding more original content and expanding its subscription services. "Twitch, Mixer, Facebook, etc. don't have the video market like YouTube does, and I wouldn't be surprised to see them focus more on locking that down and competing with highly-produced shows and movies of their own," he added.
In many respects, YouTube moulds to what you want it to be. Cat compilations? Check. Latest music videos? Check. Political discussion? Check. Drama between creators? Double check. But its clear there is a much darker side to the platform brimming just under the surface.
In the recent past, the Google platform has grappled with Russian misinformation, the spread of conspiracy theory videos and covert child abuse material.
On numerous occasions, it has faced criticism for its algorithms that recommended content based on a user's views.
The algorithm—which determines the fate of a user's views by surfacing or disappearing content—was the focus of a Buzzfeed News report last January that found it was pushing "misogynist videos, pirated videos, and content from hate groups" beside news searches. In 2017, the site took action after videos appearing to exploit children racked up millions of views.
YouTube created bonafide internet superstars out of users who had little idea how to deal with fame. Then it had to deal with the consequences when they did crazy things.
It teased financial riches and global name-recognition for those who could attract an audience and court big brands - leading to the rise of that term "influencer" - but the constant push to "make it" on the site also led to burnout and mental health issues for some content creators.
Just last month, The Verge reported YouTube's own content moderators had to sign a document acknowledging that the role can cause post-traumatic stress disorder (PTSD).
Danielle Partis, editor of Influencer Update.biz, suggested the good times may be coming to an end from the perspective of new or smaller creators trying to break through the noise.
"I think as more and more legislation comes in, YouTube will become less of a 'free for all' as it was in its first few years," Partis told Newsweek this week.
"It's become increasingly harder and harder for smaller creators to get paid, and the amount they can earn from ad revenue has dropped significantly in the last five years.
"YouTubers now rely on income from external brand deals, lending themselves to marketing campaigns, or simply signing contracts with YouTube itself. It isn't a destination for people to just share whatever they want and build their brand independently anymore—and for good reason. The platform is simply too big and requires more moderation than ever before. But if Alphabet's advertising revenue numbers are anything to go by, the growth will only continue."
Earlier this month, Google turned industry heads after revealing YouTube alone had $15.15 billion in revenue in 2019, as reported by The Guardian at the time.
It's clearly lucrative, and wild west or not, it's clear the site has radically transformed how video content is made and consumed. One benefactor of the evolution is Omeed Dariani, who runs a management business for independent creators called the Online Performers Group.
"When I first heard the term 'Broadcast Yourself,' I thought it was a neat idea. It was impossible then to know how it would redefine my life," Dariani told Newsweek.
He said: "An entirely new profession sprung from the site, turning seemingly random people into celebrities, with all the positives and negatives that come with that. It's interesting how it has decentralized and democratized talent discovery and content. Shows, songs and ideas exist on YouTube that would never make it through the Hollywood pipeline. Traditional entertainment companies now ask online performers to create programming for old media."
Truth be told, it's impossible to predict the future when it comes to technology. But unlike the shift from MySpace to Facebook all those years ago, when users tossed their favorite website aside for the shiny new object in what seemed like seconds, YouTube shows no sign of giving up its prime position. It's got the brand, it's got the creators and it's clearly got money.
Still, there are more rivals than ever before—with eyeballs and data a prime commodity. From IGTV to TikTok, each are trying to carve out their own corner of the internet, with varying degrees of success. Partis stressed that people are increasingly accustomed to consuming different types of media depending on their mood or setting—but one website still looms large.
"As far as competitors go, Google stands alone. There are other streaming platforms, but no other video platform has come close to competing with YouTube," she told Newsweek.