'Goonies' Stars Pay Tribute to Ke Huy Quan Following Oscars Win
The cast of The Goonies paid tribute to co-star Ke Huy Quan following his Best Supporting Actor Oscar win for Everything Everywhere All at Once.
Quan made his film debut as Short Round in 1984's Indiana Jones and the Temple of Doom before going on to play the amateur inventor Data in the Richard Donner-directed adventure comedy a year later.
Despite that initial success, acting work began to gradually dry up for Quan, who pivoted to work as a stunt coordinator and assistant director on films like 2000's X-Men and the Jet Li martial arts action film The One.
Inspired to give acting another shot as he approached the age of 50, within two weeks of signing with an agent, Quan learned about the role of Waymond Wang in Everything Everywhere All at Once. The rest, as they say, is history.
More than 35 years on from The Goonies, Quan is back in the spotlight and his former co-stars were among the first to congratulate him on his comeback success.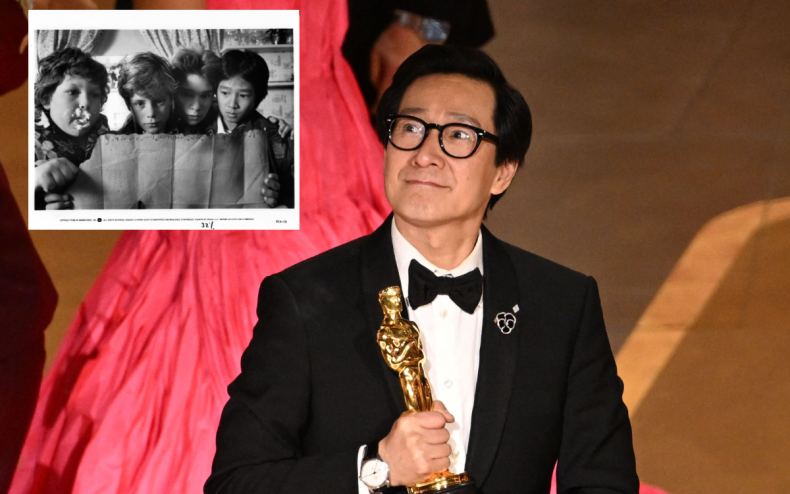 Sean Astin, who starred as Mikey Walsh, and would experience a comeback of his own with The Lord of the Rings, took to Twitter to pay tribute to his old friend.
"Always with dignity, grace, loyalty, hope, joy & inspiration," he wrote. "A forever moment Ke...I'm so happy, proud and over the moon...CONGRATULATIONS. Well earned!!!!"
Corey Feldman, who played Mouth in The Goonies, also celebrated Quan's win on social media. "He deserves it," Feldman tweeted. "Not just for a fantastic performance but for the perseverance of following his dream and never giving up."
Feldman's reaction was even captured in real-time in a video posted to Instagram by the popular 1980s actor with The Lost Boys star moved to tears. Watch it here.
In another Goonies-related twist, Feldman also congratulated Jeff B. Cohen, who was once familiar to millions for playing Chunk in the film, but opted to parlay that initial success into a career as an entertainment lawyer.
A partner at the entertainment law firm Cohen Gardner LLP, Cohen represents both Quan and his Everything Everywhere All at Once co-star Michelle Yeoh, who went on to win the the Academy Award for Best Actress. As Feldman put it in one tweet: "Chunk and Data both won."
Feldman told Newsweek: "Such a welcomed change to what we are used to seeing, culminating in a powerful night for Ke, a powerful Night for Asian American culture in Cinema, and a powerful Night for The Goonies! With Jeff Cohen repping Ke, it really puts an exclamation mark on the catch phrase Goonies "Never Say Die!'"
Indeed, Quan acknowledged Cohen's role in his success during his Oscar speech, referring to him as his "Goonies brother for life."
Cohen has yet to comment on the Oscar success on Twitter, though one of his most recent tweets paid tribute to Quan's win at the Screen Actors Guild Awards, in which he described the star as his "brother."
Josh Brolin, who also appeared alongside the quartet in The Goonies, has yet to comment on Instagram.
Newsweek has reached out to Astin, Feldman and Cohen for comment.
Correction, 3/15/23, 5:52 ET: This story was updated to include comment from Corey Feldman.