A GOP lawmaker is suing to have his name appear as Dave "Let's Go Brandon" Williams on the upcoming June primary ballot.
State Representative Williams is running for Congress in El Paso County, Colorado, and would like to have his nickname on the ballot. "Let's Go Brandon" has gained popularity amongst conservatives as an anti-Biden slogan.
Williams filed a lawsuit against Colorado Secretary of State Jena Griswold claiming the Democrat would not add the phrase to his name on the ballot, despite it being his nickname. Griswold denied the request calling the phrase a slogan, not a nickname.
The lawsuit calls Griswold's ruling "illegal and contrary to law," which lets candidates include nicknames on ballots.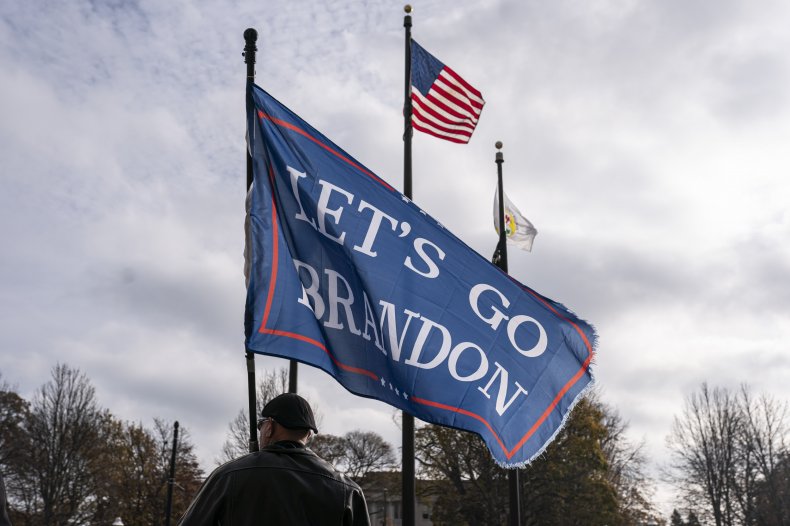 "This 'political slogan' standard does not exist in Colorado law," the lawsuit states.
"While Colorado statute does permit the use of nicknames on the ballot, our office does not believe this is a good faith use of that statute and will cause confusion for voters," a spokesperson for the Secretary of State's Office said in a statement. "The Secretary of State's Office looks forward to defending our practice of ensuring the ballot remains clear and accessible for all Colorado voters."
"Let's Go Brandon" became popular at a NASCAR race where the winner, Brandon Brown, was being interviewed. The crowd was chanting "F**k Joe Biden" but the reporter interviewing the driver said the crowd was yelling "Let's Go Brandon."
Since then, people have used the slogan in place of using vulgar language against the president.
Williams' lawsuit states that the phrase is in fact his nickname because it is used in his public communications, on his social media accounts and his campaign website. It also notes that others regularly refer to him as "Dave 'Let's Go Brandon' Williams."
"My 'Let's Go Brandon' nickname represents who I am and what the voters can count on knowing me by," Williams said to The Denver Post. "Jena Griswold is breaking state law, and being inconsistent with her past interpretation of it, because she wants to put her thumb on the scale against my candidacy, and it's come time she learn she can't push her radical agenda on the rest of us without a fight."
Williams is challenging Representative Doug Lamborn for the Republican nomination for El Paso County. He has pledged to be "a right-wing conservative, America-first, grassroots fighter."
Newsweek reached out to Williams for comment.