GOP Candidates Make Wild Pivot on Abortion Going From Primaries to Midterms
Several Republican candidates have sought to move away from previous statements and positions that supported bans on abortions as the primary season gave way to the general election.
Prominent candidates including Dr. Mehmet Oz in the Pennsylvania Senate race, Blake Masters in the Arizona Senate race and Minnesota gubernatorial candidate Scott Jensen have all appeared to soften their position on abortion.
Those moves have likely been caused by concerns that voters—and in particular women—are more motivated to vote this year following the U.S. Supreme Court's decision in Dobbs v. Jackson Women's Health Organization, which struck down the constitutional protection for abortion.
A poll from The Wall Street Journal found that 52 percent of white suburban women said they would support a Democratic candidate in the upcoming midterms, compared to 40 percent who opted for a Republican.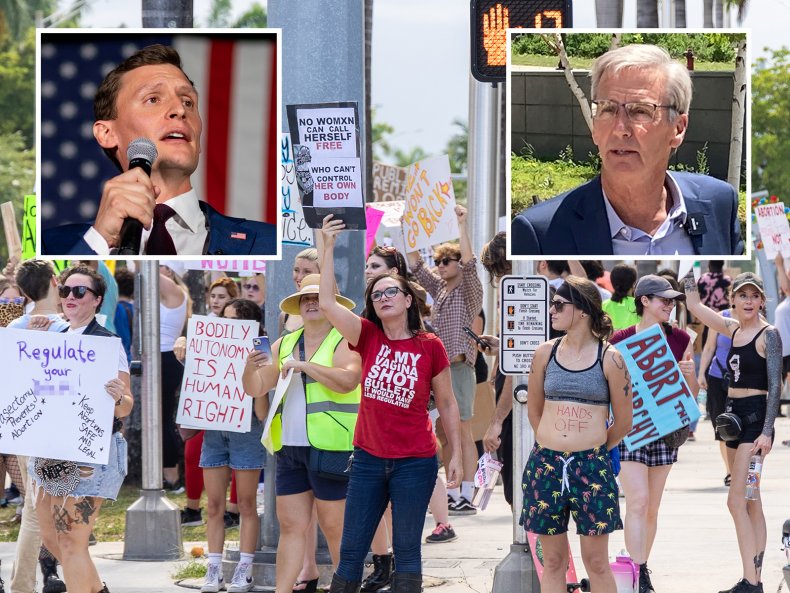 White suburban women are an important voting demographic and abortion may be informing their preferences. That would also help to explain why some Republicans have moved to soften their stance.
Here are some of the prominent Republicans who have pivoted on abortion.
Blake Masters
Arizona U.S. Senate candidate Blake Masters had said on his campaign website that he was "100 percent pro-life" and supported a "federal personhood law (ideally a Constitutional amendment) that recognizes that unborn babies are human beings that may not be killed."
However, that language was subsequently removed from Masters' website in late August. The website was changed to say Masters supports "a law or a Constitutional amendment that bans late term (third trimester) abortion and partial-birth abortion at the federal level" and "pro-life legislation, pregnancy centers, and programs that make it easier for pregnant women to support a family and decide to choose life."
Masters is in a tough fight against Democratic Senator Mark Kelly and the University of Virginia (UVA) Crystal Ballforecast recently moved the race to lean Democratic.

Mehmet Oz
Oz, the Republican candidate for U.S. Senate in Pennsylvania, is also in a difficult race against his Democratic opponent, Lt. Governor John Fetterman.
Fetterman has accused Oz of wanting to ban abortion even in cases of rape or incest, pointing to comments the Republican made on May 10 where he described abortions at any stage as "murder." The comments were made at a town hall seven days before the GOP primary.
"I do believe life starts at conception, and I've said that multiple times," Oz said in audio first reported by The Daily Beast on August 31. "If life starts at conception, why do you care what stage our hearts start beating at? It's, you know, it's still murder if you were to terminate a child whether their heart's beating or not."
While those comments could be interpreted as supporting a total ban on abortion, Oz's campaign told NBC News on August 31 that he "is pro-life and supports exceptions for rape, incest, and life of the mother."
Oz reiterated that position during a press conference on September 6 where he also said he opposed criminal sanctions for abortion. Fetterman has been leading Oz, a celebrity surgeon, in a slew of recent polls.
Scott Jensen
Minnesota gubernatorial candidate Scott Jensen has been the subject of criticism and mockery this week after the Republican released an ad showing him holding a baby and saying that abortion was protected under the state's constitution.
"Abortion is divisive, and [Minnesota Governor] Tim Walz is weaponizing the issue. In Minnesota, it's a protected constitutional right, and no governor can change that. And I'm not running to do that," Jensen said in the ad.
That campaign ad came after the Democrat-aligned Alliance for a Better Minnesota reportedly spent more than $1 million running a TV ad that quotes Jensen's comments from March, where the Republican told Minnesota Public Radio he would "try to ban abortion."
Poll tracker FiveThirtyEight rates Walz as "clearly favored to win."
Zach Nunn
Zach Nunn is the Republican candidate in Iowa's 3rd Congressional District, and a state senator challenging Democratic Representative Cindy Axne.
During a primary debate in May, Nunn raised his hand when candidates were asked whether "all abortions should be illegal in this country." That led to Axne using the clip in a campaign ad.
Nunn then published an op-ed in which he appeared to soften his position and accused Axne of taking the incident out of context. He said he supports exceptions for "rape, incest and fetal abnormalities, and to save the life of the mother."
Nunn is slightly favored to win the seat, according to FiveThirtyEight.
Tom Barrett
Republican state Senator Tom Barrett is running in Michigan's 7th Congressional District against Democratic Representative Elissa Slotkin, who currently represents the state's 8th District.
Barrett's website had a "values" section that said "Protecting individual rights includes protecting the unborn" and he and his wife had "been involved in the pro-life movement our entire lives." The website also said Barrett would "always work to protect life from conception."
That section of the website was scrubbed after voters in Kansas rejected an amendment to the state constitution that would have removed protections for abortion.
FiveThirtyEight's analysis rates Slotkin as slightly favored to win.
It remains to be seen how much of an impact abortion will have on the upcoming midterms but the recent actions by some Republicans suggest they are concerned about the issue.