With GOP Candidates Vying for His Backing, Donald Trump Plans Rally in Ohio
Former President Donald Trump has scheduled a rally in Ohio as Republicans hoping to replace retiring U.S. Senator Rob Portman continue to seek his endorsement.
Trump is set to speak in Delaware, Ohio, on April 23, less than two weeks before the state's fiercely contested GOP Senate primary takes place on May 3, according to a release from the former president's Save America political action committee. Although nearly all of the Republican contenders have campaigned as Trump loyalists, the former president has yet to endorse any candidate in the Senate race.
Republican Senate candidates who may hope to attend the rally alongside the former president include businessman Mike Gibbons, who holds a slim 1.3 percent polling lead over former Ohio Treasurer Josh Mandel, according to a RealClearPolitics average of polls. Other candidates include Hillbilly Elegy author J.D. Vance and former Ohio GOP chair Jane Timken.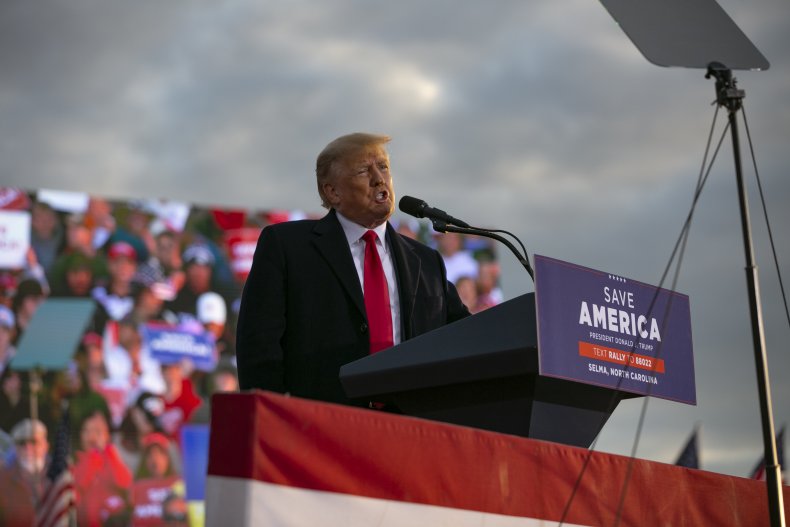 Last month, a Republican debate nearly played host to a physical altercation between Gibbons and Mandel. The candidates came within inches of each other's faces after Mandel accused Gibbons of making "millions of dollars" from questionable investments in China.
A recent Morning Consult poll found that Trump has a strong 80 percent favorability rating among Ohio Republicans. Despite the Senate candidates seeming eager to win his support, the former president has been reluctant to back any particular candidate.
"I like almost all of them, and it's hard not to," Trump told The Washington Examiner last month. "Every one of them likes Trump, and I like a lot of those guys. My hardest thing is to endorse people over others when they all like you."
The rally is set to be held at the Delaware County Fairgrounds. Those who attend may spend a full day at the fairgrounds, as the release states that parking and the line for entry open at 8 a.m. local time, a full 11 hours before Trump's scheduled 7 p.m. speech. A selection of "pre-program" speakers is scheduled to appear three hours before Trump, although the lineup of speakers has not been announced.
However, the Delaware County Fairgrounds may not have been the first choice of venue for the former president's rally. Trump's team had been hoping to schedule a rally for April 24 at the Portage County Fairgrounds until the board that runs the property turned down the event, according to a report published last week by the Record-Courier.
Meanwhile, the size of the crowds attending Trump rallies may be decreasing. Atlanta Journal-Constitution reporter Greg Bluestein recently tweeted that last month's Commerce, Georgia rally had "the smallest crowd" he had seen at a Trump rally since the 2016 election, while GOP campaign strategist Susan Del Percio said that crowds were diminishing because Republicans "want to move on" from Trump during an MSNBC interview on Sunday.
Ohio's status as a battleground state has changed somewhat in recent years due to a rightward shift in the political landscape. Regardless, Democrats will be hoping to seize on the opportunity to flip the Senate seat in what could be a competitive race. The clear frontrunner for the Democratic nomination is U.S. Representative Tim Ryan.
Newsweek reached out to Trump's office for comment.