Republican National Committee Chairwoman Ronna McDaniel tweeted Wednesday that she disagreed with the guilty vote cast by her uncle, Utah Senator Mitt Romney, in the final moments of Wednesday's impeachment trial against President Donald Trump.
Romney announced his intentions to cast a guilty vote against Trump for his alleged abuse of presidential power in a speech on the Senate floor before the voting officially got underway on Wednesday.
"This is not the first time I have disagreed with Mitt, and I imagine it will not be the last," McDaniel tweeted. "The bottom line is President Trump did nothing wrong, and the Republican Party is more united than ever behind him. I, along with the @GOP, stand with President Trump."
Newsweek reached out to the RNC for comment but did not receive a response in time for publication.
Senator Romney has publicly disagreed with Trump before, particularly about Trump's phone calls with officials from Ukraine and China in which the president allegedly asked for those countries to open investigations into his political rival former Vice President Joe Biden and Biden's son, Hunter.
"When the only American citizen President Trump singles out for China's investigation is his political opponent in the midst of the Democratic nomination process," Romney tweeted in October 2019, "it strains credulity to suggest that it is anything other than politically motivated. By all appearances, the President's brazen and unprecedented appeal to China and to Ukraine to investigate Joe Biden is wrong and appalling."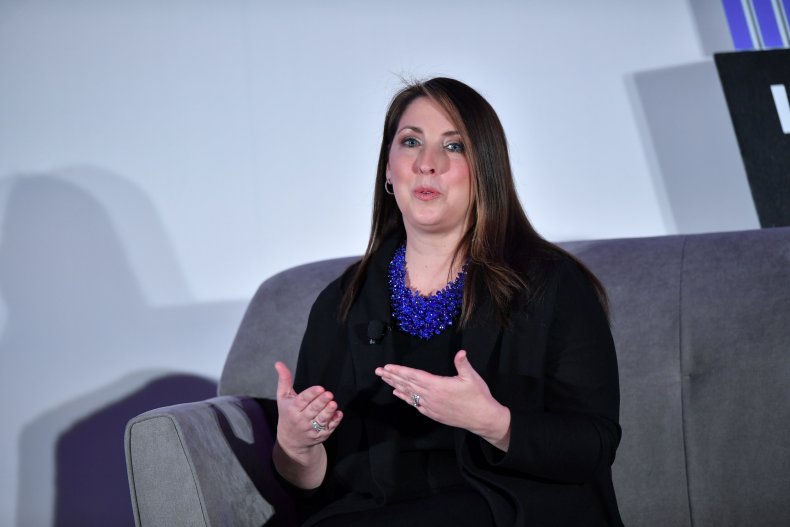 "Mitt Romney never knew how to win," Trump tweeted. "He is a pompous 'ass' who has been fighting me from the beginning, except when he begged me for my endorsement for his Senate run (I gave it to him), and when he begged me to be Secretary of State (I didn't give it to him). He is so bad for R's!"
McDaniel told Fox News host Neil Cavuto in October 2019 that Trump and Romney could settle their own differences without her getting involved.
"I think they may not be sending each other Christmas cards this year," McDaniel said. "There's no love lost. They're able to discuss these situations with each other. They're grown men. I'm not going to get in the middle of their disagreements."
Romney indicated in his Wednesday speech that he was anticipating some negative reaction from Republicans because of his vote.
"I'm aware that there are people in my party and in my state who will strenuously disapprove of my decision," Romney said, "and in some quarters I will be vehemently denounced. I'm sure to hear abuse from the president and his supporters. Does anyone seriously believe that I would consent to these consequences other than from an inescapable conviction that my oath before God demanded it of me?"
As previously reported by Newsweek, Romney's openness to hearing additional evidence during Trump's impeachment trial led American Conservative Union Chairman Matt Schlapp to announce that Romney was "formally NOT invited" to the 2020 Conservative Political Action Conference, an annual convention of conservatives.
Romney's vote made him the only Republican in the Senate to vote in favor of Trump's impeachment. In the final vote, Trump was found not guilty of the charges levied against him.