GOP Congressman Doug Collins Claims Democrats Are Mourning Soleimani's Death Because They're 'In Love With Terrorists'
Republican Congressman Doug Collins of Georgia on Wednesday claimed that Democrats are mourning the death of top Iranian military commander Qassem Soleimani because they're "in love with terrorists" amid escalating tensions between the U.S. and Iran.
The House and Senate are both set to vote on legislation introduced by Democrats that would force President Donald Trump to obtain prior consent from Congress before further escalating hostilities against Iran. The House will vote this Thursday, while the Senate measure is expected to reach the Senate floor before the end of next week. The resolutions come as Trump faces mounting criticism over his decision to strike Soleimani late last week without briefing congressional leaders, also known as the Gang of Eight, until after the fact.
Although two Republican Senators flipped on Trump earlier today, telling reporters after a briefing that they intend to vote to limit the president's military powers, Collins ignored the development when he appeared on Fox News' Lou Dobbs Tonight to criticize Democrats for introducing the measure.
"The Democrats are, tomorrow, talking about constraining [Trump's] authorities as the commander-in-chief, vis-a-vis Iraq," Dobbs said. "How venal, how vapid can one party become?!"
"Nancy Pelosi does it again," Collins responded. "And her Democrats fall right in line."
"They're in love with terrorists. We see that. They mourn Soleimani more than they mourn our Gold Star families who are the ones who suffered under Soleimani."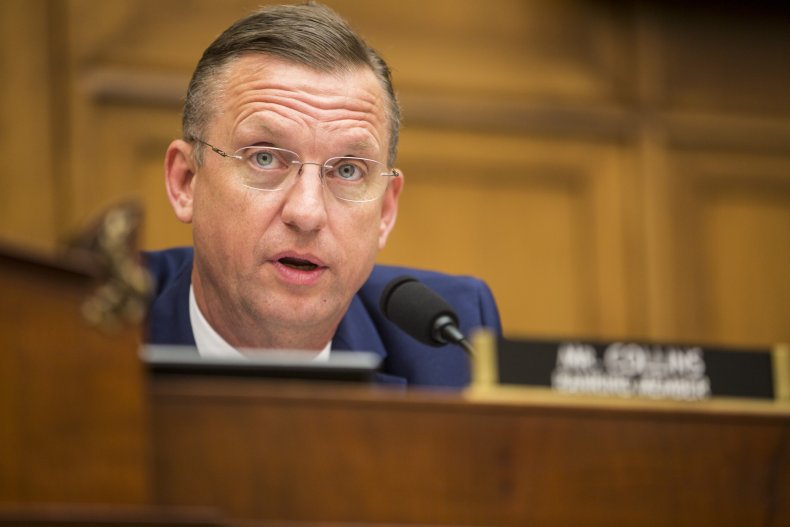 Following an hour-long closed-door briefing with Trump administration officials on Iran, GOP Senators Rand Paul of Kentucky and Mike Lee of Utah both indicated they will now support limiting Trump's military powers. Lee described the meeting—during which House and Senate members were briefed on Iran by Secretary of State Mike Pompeo and Defense Secretary Mark Esper—as "the worst briefing I've seen, at least on a military issue."
Officials warned lawmakers during the meeting, which took place one day after Iran launched a dozen ballistic missiles at American locations in Iraq in retaliation for Soleimani's killing, against supporting the resolutions to rein in Trump's power, according to Lee.
"I find this insulting and demeaning," Lee said, "to the office that each of the 100 senators in this building happens to hold. I find it insulting and demeaning to the Constitution of the United States."
Paul echoed Lee's sentiments, saying the briefing was "less than satisfying." He also rebuked the administration's efforts to invoke the 2002 war authorization as a justification for the attack on Soleimani. "I see no way in the world you could logically argue that an authorization to have war with Saddam Hussein has anything to do with having war with people currently in Iraq," Paul said, calling the move "absurd" and an "insult."