GOP Congressman Says He Doesn't Think Mick Mulvaney Can 'Walk Back' His Quid Pro Quo Ukraine Comments
Republican Congressman Francis Rooney expressed serious concern about comments made last Thursday by President Donald Trump's acting Chief of Staff Mick Mulvaney in regards to a "quid pro quo" in Ukraine, arguing that he could not simply "walk back" the statements.
"I don't see how you walk back something that's clear," Rooney, who represents Florida's 19th District, said in an interview with CNN on Sunday. "I would say game set match on that," he added.
Mulvaney told reporters during a Thursday press conference that Trump had "absolutely" mentioned "the corruption related to the DNC server" in relation to Ukraine military aid. "That's why we held up the money," he said. Previously, Republicans and the White House had maintained that military aid being withheld to Ukraine had nothing to do with investigations Trump urged Ukrainian leaders to open against his political rivals. Trump and his GOP supporters had insisted there was "no quid pro quo."
"The look back to what happened in 2016 certainly was part of the thing, and he [Trump] was worried about corruption in that nation," Mulvaney added during the press conference. Trump's interest in the DNC server stems from right-wing conspiracy news sites and has been widely debunked, even by former members of the president's administration.
A journalist pressed Mulvaney on the point, saying that his remarks showed there was a quid pro quo. Mulvaney responded with visible frustration, arguing: "We do that all that time with foreign policy." The Trump official insisted that people angered by political influence in foreign policy should "get over it."
Mulvaney later released a statement insisting that his words had been mischaracterized and that there was no quid pro quo. But Rooney, along with some other Republicans, has remained skeptical.
"The question is, is it of a great enough magnitude to justify impeachment and I want to learn a little more about that, I want to get more counsel," Rooney explained in his Sunday interview with CNN. He asserted that he thinks this is a "very egregious situation."
Rooney also slammed the way the Trump administration has treated career diplomats and the diplomatic core more broadly. The congressman previously served as the U.S. ambassador to the Holy See (the Vatican).
"I think it's terrible. I don't agree with any of it," he said. "But they're derogating the work of our paid foreign service. Those people serve all around the world in difficult circumstances," the representative pointed out.
Rooney went on to defend the former U.S. ambassador to Ukraine, Marie Yovanovitch, who Trump had removed from her post. Yovanovitch testified before a closed door session in the House of Representatives this month, raising concerns about the administration's approach to foreign policy.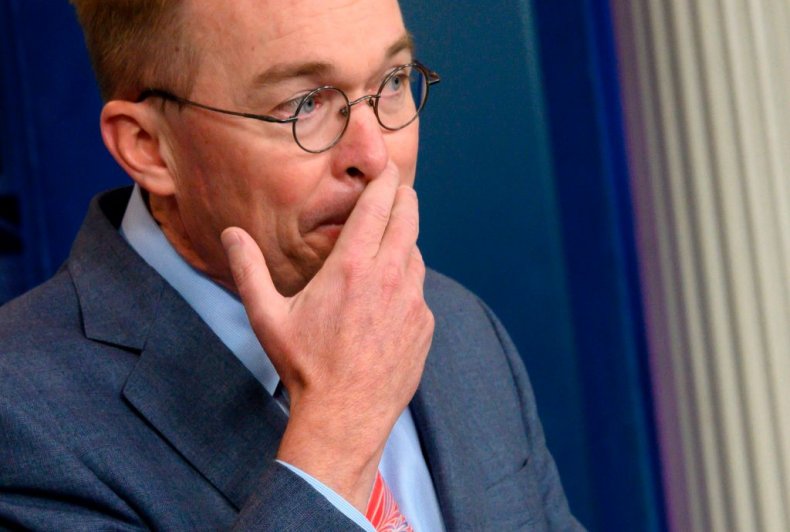 "I just hate to see our diplomatic activities disrupted and in some ways corrupted by these actions," Rooney said.
On Saturday, Rooney revealed to Fox News that after two terms in Congress, he does not plan to seek re-election. "I've done what I came to do, and I want to be a model for term limits," he said. The congressman also said he hopes more Republicans will come forward with their concerns about Trump's actions.
The day before, the Florida representative told CNN that "whatever might have been gray and unclear before is certainly clear right now," in respect to Mulvaney's comments.
"I'm definitely at variance with some of the people in the district who would probably follow Donald Trump off the Grand Canyon rim," he added later in the interview.