Fox News Anchor Confronts Trump Official Mulvaney Over 'Quid Pro Quo' Remarks: 'That's What You Said'
Fox News anchor Chris Wallace confronted President Donald Trump's acting Chief of Staff Mick Mulvaney over his controversial statements last week, in which he said that the White House withheld military aid to Ukraine to pressure the country to open an investigation into a debunked conspiracy theory regarding Democrats.
"You had talked about investigating the Democrats was part of the quid pro quo," Wallace said to Mulvaney on his weekend show Fox News Sunday. "You also said, if I may, it was part of the Justice Department investigation into the origins of the Russia probe.
"But the fact is, not only did the press think you said it, here's what–a statement that was put out by a senior Justice Department official," the Fox News anchor continued, putting the statement on the screen.
"If the White House was withholding aid in regards to the cooperation with any investigation at the Department of Justice, that is news to us," the official's statement said.
Wallace asserted that "everybody thinks" Mulvaney stated that the military aid was being withheld to pressure Ukraine to investigate the president's political opponents. "You said right there, three points, not two," the journalist pointed out.
Mulvaney insisted, however, that his words were being misconstrued. "I never used that language because there is not a 'quid pro quo.'"
But Wallace interjected, pointing out that he was directly told by a journalist that he had just described a "quid pro quo" during a press conference last week. "You said: 'that happens all the time.'"
"Reporters will use their language all the time," Mulvaney shot back. "My language never used 'quid pro quo.'"
Later in the interview, Wallace asked Mulvaney if he had ever offered or discussed his resignation with Trump after the press conference last week. "Absolutely, positively not," the White House official replied.
Mulvaney told reporters on Thursday that Trump had "absolutely" mentioned "the corruption related to the DNC server" in relation to Ukraine military aid. "That's why we held up the money," he said.
"The look back to what happened in 2016 certainly was part of the thing, and he [Trump] was worried about corruption in that nation," he added after a follow-up question.
When pressed by a reporter, who pointed out that this was a quid pro quo, Mulvaney responded with frustration. "We do that all that time with foreign policy." He also argued that people upset by political influence in foreign policy should "get over it."
The Trump official's statement appeared to fly in the face of a key Republican talking point, that there was no quid pro quo related to Trump's efforts to pressure Ukrainian officials to investigate his political rivals. Military aid to Ukraine enjoys widespread bipartisan support, and the nearly $400 million in funding was cleared by lawmakers, as well as the Pentagon and intelligence agencies. However, the White House held up the money as Trump and his personal lawyer Rudy Giuliani urged Ukraine to investigate debunked claims that Democrats conspired with Urkainians to delegitimize Trump during the 2016 election, as well as to open a probe into unsubstantiated allegations against Democratic presidential candidate Joe Biden.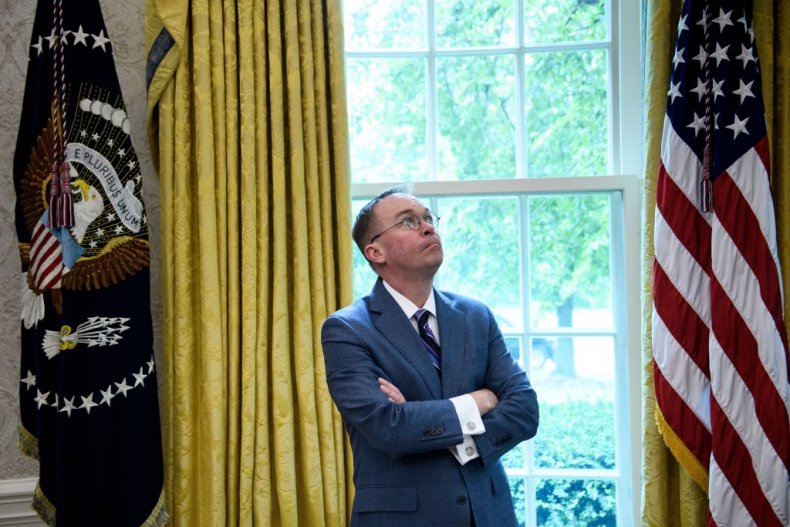 Hours after Mulvaney's remarks to the press on Thursday, he released a new statement contradicting his previous remarks.
"Once again, the media has decided to misconstrue my comments to advance a biased and political witch hunt against President Trump," he said. "Let me be clear, there was absolutely no quid pro quo between Ukrainian military aid and any investigation into the 2016 election. The president never told me to withhold any money until the Ukrainians did anything related to the [DNC-connected] server."
Some Republicans have raised further concerns about Trump's actions toward Ukaine after Mulvaney's comments.
"It's quite concerning, and I think we're going to get more information as we're seeing this happen rapidly," GOP Representative Adam Kinzinger of Illinois told CNN on Friday. "I have no idea why he said what he said."
Republican Representative Francis Rooney of Florida said "whatever might have been gray and unclear before is certainly clear right now."
And John Kasich, the former two-term Republican governor of Ohio, openly called for the president's impeachment. "It's clear now that a line was crossed. This is an abuse of power. Action must be taken," Kasich posted to Twitter.
Recent polls by Gallup and Pew Research have shown that the majority of Americans–just over 50 percent–support the Democratic-led impeachment inquiry against Trump.