Republicans Called Out for Insisting 'No Quid Pro Quo' After Trump Official Admits There Was
President Donald Trump and his defenders have argued for about three weeks that there was "no quid pro quo" in regards to pressuring Ukraine to investigate a debunked conspiracy theory about Democrats and unsubstantiated claims against Democratic presidential candidate Joe Biden. But on Thursday, Trump's chief of staff asserted that military aid was "certainly" withheld to Ukraine to pressure the country's leaders to open the probes.
"Did he also mention to me the corruption related to the DNC server? Absolutely. No question about it. But that's it. That's why we held up the money," Mulvaney told reporters.
"The look back to what happened in 2016 certainly was part of the thing, and he [Trump] was worried about corruption in that nation," he added after a follow-up question.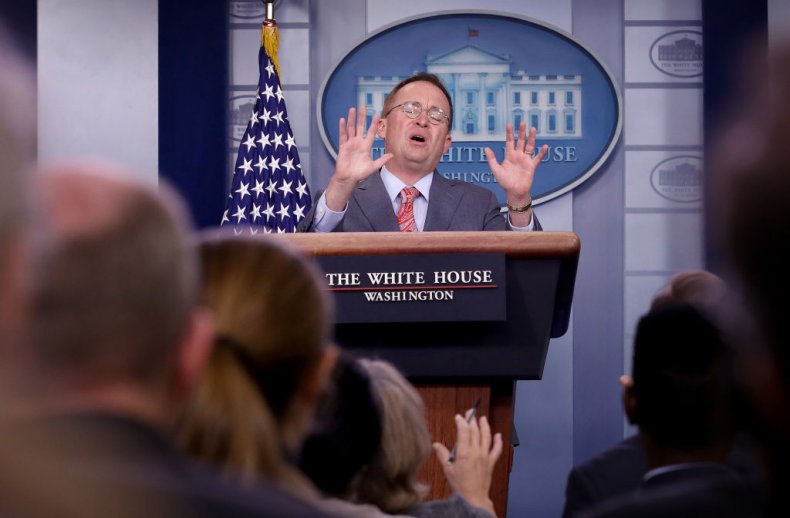 When Mulvaney was told that he was admitting there was a quid pro quo, he said: "We do that all that time with foreign policy." He went on to say that people upset by political influence in foreign policy to "get over it."
Many on social media were quick to jump on the Trump officials' comments, pointing out that this admission went directly counter to the White House's previous talking point and the defense used by Republican supporters.
"GOP talking points three weeks ago: the call transcript shows NO quid pro quo!" journalist Sam Stein tweeted. "Mulvaney today: of course there was a quid pro quo. That's how you do foreign policy."
"So let's follow up with those Republican members who went on the tv and said there was no quid pro quo now that Mulvaney has enthusiastically admitted to it," Democratic Senator Brian Schatz of Hawaii posted to Twitter. "What's the new talking point? My guess is 'Caravan! Emails! Jibber jabber! Cheeseburgers!'"
"Nothing happened. Ok it happened. The whistleblower is lying. Here's a 'transcript.' Uh-oh, you think that's impeachable? But it's not what the whistleblower said! Ok, fine, it's exactly what the whistleblower said. But no quid pro quo! Ok there was a quid pro quo," Brian Klaas, a professor of political science at University College London, wrote in a tweet, roughly outlining how Trump's and his supporter's narrative has evolved.
"No collusion, no collusion, no collusion. Okay, I can see how that might seem like collusion but there was no quid pro quo, no quid pro quo. Okay, there was a quick pro quo, but get over it. Just making sure I've got this straight. Get over it," Media Matters for America editor-at-large Molly Parker tweeted.
Mulvaney's admission will only add fuel to the fast-moving impeachment inquiry against Trump. Democrats had already argued that they did not need to establish that there was a clear quid pro quo in order for a crime to have been committed by the president. The president's critics had said that he had already clearly abused his office by pressuring a foreign power to investigate his political rivals.
George Conway, an attorney who is married to Trump's counselor Kellyanne Conway but criticizes the president on a near daily basis, explained that Mulvaney's comment simply "enhances the seriousness" of the allegations against Trump.
"The problem is the corruption—the use of presidential power for purely personal ends. That's impeachable in and of itself," Conway explained on Twitter. "The fact that a quid pro quo was part of the effort merely enhances the seriousness of an already serious offense."