GOP Congressman Says He's Been Called a 'Traitor' by People Close to Him for Recognizing Biden's Victory
Representative Denver Riggleman, a Virginia Republican, said that people close to him have called him a "traitor" because he recognizes the reality that President-elect Joe Biden won the election against President Donald Trump.
Biden was projected as the winner of the presidential election more than three weeks ago, after Fox News, the Associated Press and other major networks called Pennsylvania and Nevada in his favor. These states' electoral votes pushed the Democrat over the 270 threshold required for victory in the Electoral College. But Trump has refused to concede, claiming without providing evidence that widespread voter fraud led to Biden's victory. Many of the president's supporters believe his false claims that the election was "rigged" against him.
"I don't know what's in their hearts, and I wish I could tell you. I've tried to call—I've tried to talk to individuals about this. And by the way my own—well I shouldn't say this exactly—but people very close to me have called me pretty much a traitor to the cause," Riggleman told CNN on Monday morning, "because of my belief in data and statistical analysis and technology and people that have taken an oath to the Constitution."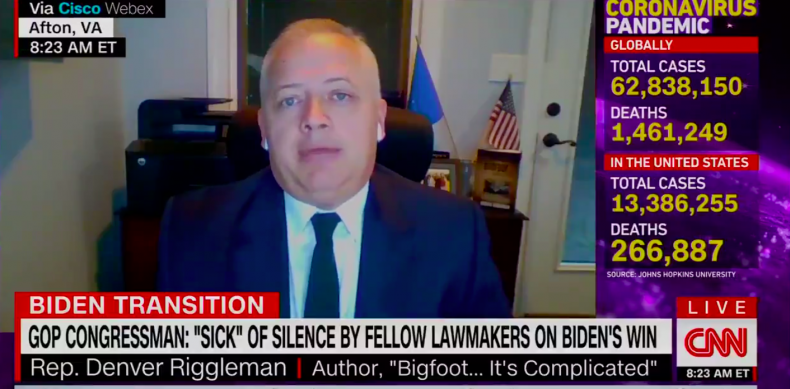 "It's thousands of people that have taken an oath to the Constitution that are being disparaged and I think that is absolutely just—it's just a repugnant act," the congressman said.
Newsweek reached out to the Trump campaign and the Republican National Committee for comment, but they did not immediately respond.
Trump last Thursday called Georgia's Secretary of State Brad Raffensperger, a Republican who the president endorsed in 2018, an "enemy of the people" after he oversaw a hand recount in his state to confirm that Biden had in fact beat Trump there by some 12,000 votes. In an opinion article published by USA Today, Raffensperger pointed out that he and his family voted for and donated to Trump, saying that he is "being thrown under the bus by" the president despite his support.
In an interview with Forbes published on Saturday, Riggleman described Trump and his loyalist supporters as "anti-American" for pushing unfounded conspiracy theories that the election was rigged. "[It] really speaks to where your intelligence level is...to believe in that type of operation," the Republican lawmaker said.
Riggleman had already been rejected by his party prior to the election. He was criticized by GOP officials for officiating a same-sex wedding for a friend in July 2019 and later censured in September 2019 by the Rappahannock County Republican Party in Virginia for "abandoning party principles" about fiscal spending and immigration. Instead of holding a primary earlier this year, the local GOP leaders in his district held a convention to determine their nominee—selecting Bob Good instead. Good went on to win the election and will officially be sworn in to take Riggleman's congressional seat in January.
A growing number of prominent Republican lawmakers have recognized the reality of Biden's victory. Several others have been highly critical of Trump's baseless claims of widespread election fraud.
"Having failed to make even a plausible case of widespread fraud or conspiracy before any court of law, the President has now resorted to overt pressure on state and local officials to subvert the will of the people and overturn the election," Senator Mitt Romney, a Utah Republican, said in a statement posted to Twitter on November 20. "It is difficult to imagine a worse, more undemocratic action by a sitting American President."
Speaking to CNN on Sunday, GOP Senator Roy Blunt of Missouri admitted that he does not believe the election was "rigged." Asked if he accepted that Biden is the president-elect, Blunt said: "We are certainly moving forward as if that's what's going to happen on January 20."