GOP Congressman Steve King Claims He Drank From Toilet at Migrant Detention Center: 'Actually Pretty Good!'
Republican congressman Steve King claimed he drank from a toilet in a migrant detention center during a town hall in Eagle Grove, Iowa on Wednesday, but then described what sounded like a water fountain attached to a toilet.
"I actually went into that cell where it was reported that [migrants] were advised they had to drink out of the toilet. I took a drink out of there. And actually pretty good!" King said in reference to his visit to the border. "I have a video tape and I smack my lips but I didn't send it out because I thought this subject just needs to go into the rearview mirror."
King referred to the incident as a "personal experience."
"These toilets in these prisons are solid stainless steel. They're built so that they are semi-indestructible by the inmates that are there and in the back where the lid would be on our toilet, that's also sealed and you push a button and the water comes out," the Iowa congressman added. "It's not drinking out of the toilet, it's drinking out of the water fountain that's integral with the back of the toilet."
King's remarks were in reference to Democratic congresswoman Alexandria Ocasio-Cortez' claim that Customs and Border Protection officers ordered women to drink water out of toilets at a migrant detention center situated along the southern U.S.-Mexico border.
The freshman lawmaker made the allegation in July after she joined over a dozen House members to visit migrant detention centers in Texas, a trip organized by the Congressional Hispanic Caucus after reports began emerging of allegedly inhumane living conditions inside the facilities.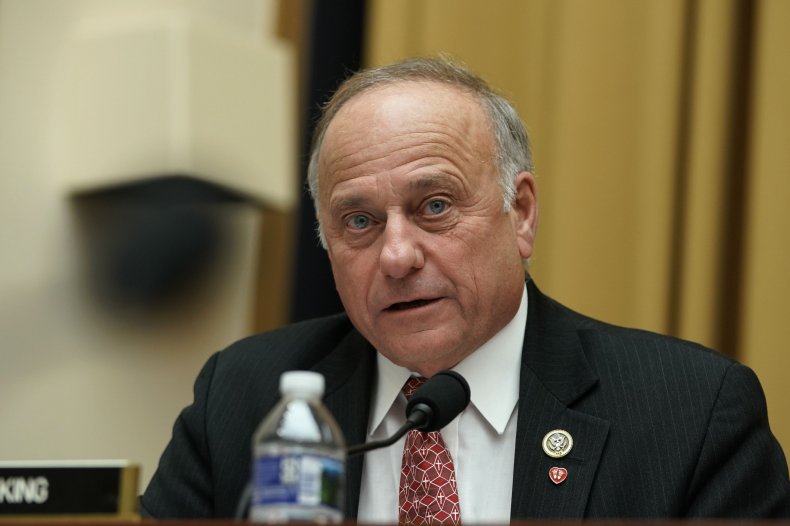 After leaving the first detention center, Ocasio-Cortez tweeted, "Officers were keeping women in cells w/ no water & had told them to drink out of the toilets. This was them on their GOOD behavior in front of members of Congress."
The agency subsequently released a statement disputing Ocasio-Cortez's claim. CBP Deputy Commissioner Robert Perez said he hadn't "heard of that type of allegation being made" in his 30-year career. CBP also released a video of Chief Patrol Agent Roy Villareal drinking water from a fountain connected to the toilet, rather than the bowl itself.
However, Ocasio-Cortez stood by her claim that female detainees were told to drink out of the toilet bowl. "When these women tell me that they were put into a cell and that their sink was not working — and we tested the sink ourselves and the sink was not working — and they were told to drink out of a toilet bowl, I believe them," she said at a House oversight committee hearing. "I believed these women. I believed the canker sores that I saw in their mouths because they were only allowed to be fed un-nutritious food."