GOP Congressman Wants Matt Gaetz, Jim Jordan on Trump's Defense Impeachment Team: 'Your A Team'
Rep. Mark Meadows (R-N.C.) has revealed his "A team" lineup of impeachment defenders for President Donald Trump would include Rep. Matt Gaetz (R-Fla.), Rep. John Ratcliffe (R-Texas) and Rep. Jim Jordan (R-Ohio).
Meadows made the remarks on the Thursday edition of former Trump chief strategist Steve Bannon's radio show War Room: Impeachment. Bannon asked the congressman who he thought should be part of the team defending Trump.
"If I had to pick a team, I would say you get in Jim Jordan, you get in a Matt Gaetz. You put your A team. A John Ratcliffe," replied Meadows.
All three congressmen have reputations as some of Trump's most fiercely loyal supporters. Gaetz and Jordan were two of the most vocal Republicans defending Trump during the House impeachment hearings.
Gaetz garnered attention by leading an unauthorized intrusion into a closed-door impeachment hearing on October 14. During the public hearings, he called the impeachment "hot garbage" and repeatedly attempted to shift focus from Trump to unsubstantiated allegations concerning Hunter Biden. A number of Republicans including Meadows were impressed with Gaetz during the hearings.
"He had one of the greatest performances in the Judiciary, and I say performances because he brought the truth," said Meadows. "Listen, everybody wants to have their day in the sunshine. This is not a time to play politics, this is a time to put your best team on there and I think Matt Gaetz would be one of them."
Jordan claimed witness testimony during the "unfair" hearings was nothing more than "hearsay," while touting Trump's "amazing record" of accomplishment. His broad support of Trump has been unwavering. He claimed that he had never heard Trump tell a lie during an April 2018 interview with CNN's Anderson Cooper.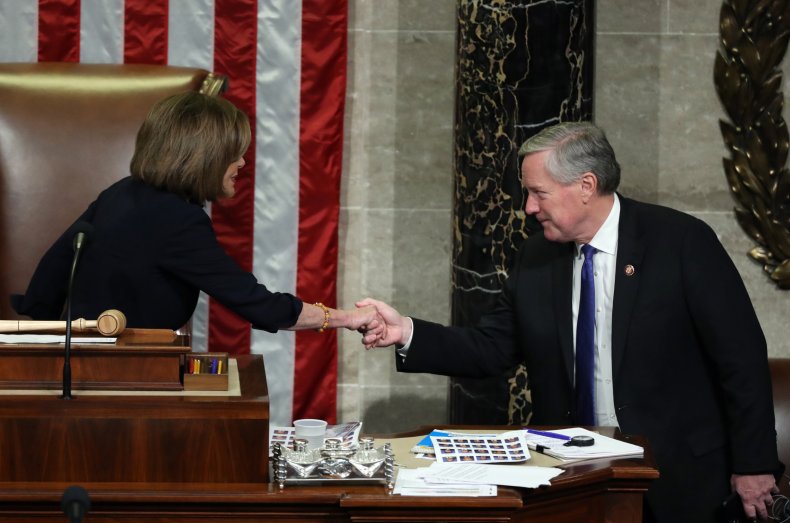 Although the House voted to impeach Trump on December 18, Speaker Nancy Pelosi has so far failed to deliver the articles of impeachment to the Senate. Pelosi says she has concerns about fairness and a lack of details Republicans are providing about the trial process. In a December 27 Twitter post, Meadows suggested that a fair response in the Senate would be immediate dismissal.
"House Democrats ran roughshod over process and destroyed precedent passing a totally partisan impeachment, and now demand the Senate make it 'fair,'" tweeted Meadows. "In reality: the fair response from the Senate would be a full dismissal. Toss it. An illegitimate impeachment can't be salvaged."
On December 19, Meadows announced that he would be retiring from the House at the end of his current term but stressed that his work in support of Trump is not finished. Meadows insisted he is ready to "fight" for Trump in the future, although a spokesman told Newsweek that there is "no plan in place" for a role with the president.
"My work with President Trump and his administration is only beginning," Meadows said in a press release. "This President has accomplished incredible results for the country in just 3 years, and I'm fully committed to staying in the fight with him and his team to build on those successes and deliver on his promises for the years to come."