GOP Filibuster Voting Rights Bill, Blocking Debate After 50-50 Vote
Senate Republicans have filibustered the For the People Act, the Democrats' voting rights bill. The filibuster blocked its debate after a 50-50 vote, which broke down entirely along party lines.
All 50 members of the Senate Democratic caucus voted in favor of debating the bill, including Democratic West Virginia Senator Joe Manchin. Manchin was considered a lone holdout on the sweeping federal election reform bill. Last week, he negotiated several changes to the roughly 800-page bill.
"Unfortunately, my Republican colleagues refused to allow debate of this legislation despite the reasonable changes made to focus the bill on the core issues facing our democracy," Manchin said in a statement.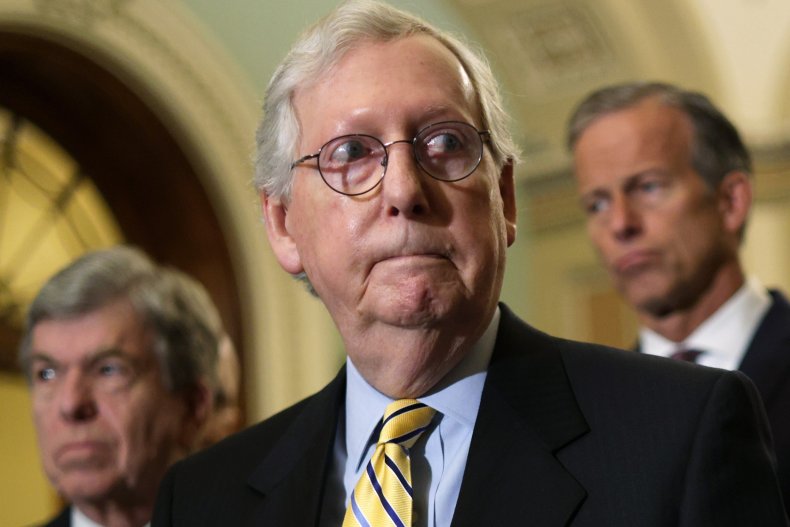 On Tuesday, Republican Senate Minority Leader Mitch McConnell said that he and his party's members opposed the bill. "This is not a federal issue. It should be left to the states," he told reporters. He also called the Democrats' election reform bill a "power grab."
Democratic Senate Majority Leader Chuck Schumer forced Tuesday's vote on the bill. The vote was always expected to fail as Republicans uniformly opposed it. But Democrats succeeded in delivering a unified vote for its debate. The Democrats will likely use the unanimous Republican opposition to argue in favor of eliminating the Senate filibuster.
Over the last week, Manchin helped draft a compromise voting rights bill to gain his support. The compromise bill automatically registers Americans over the age of 18 to vote, establishes Election Day as a federal holiday, requires a minimum of 15 early voting days for all federal elections and places restrictions on partisan gerrymandering. It also provides new laws for campaign finance and new ethical rules for the president and vice president.
However, Manchin's bill also requires voters to prove their identities using a variety of methods. Democrats generally oppose voter ID laws, saying such laws target poor voters and voters of color.
Current filibuster rules require most legislation to get at least 60 Senate votes to pass. With an evenly split Senate—50 to 50—Democrats worry that 10 Republican senators will never back any significant legislation expanding voting access, LGBTQ rights, immigration, or addressing other high-profile national issues.
All 50 senators in the Democratic Caucus would need to vote in favor of ending or modifying the filibuster for it to change.
Both Manchin and Democratic Arizona Senator Kyrsten Sinema have said that eliminating the filibuster will kill any hope of senatorial bipartisanship. But while Sinema has remained committed to keeping the filibuster as it is, Manchin has said he's open to reforming how the Senate procedure is used.
Newsweek contacted Schumer's office for comment.