GOP Governor Who Wants to Ban Drag Confronted With Photo of Himself in Drag
Republican Tennessee Governor Bill Lee, who wants to make drag performances in his state felonies, appeared angry after being confronted with a photo of himself in drag.
Tennessee's Republican-led legislature last week voted to pass a bill that would make it a felony to perform as a "male or female impersonator" in an "adult cabaret performance" on public property or anywhere the entertainment "could be viewed by a person who is not an adult."
A video shared on social media by progressive news site The Tennessee Holler shows Lee telling reporters outside a school on Monday that he intends to sign the legislation, one of several Republican state bills that would ban drag.
The governor's mood shifted and he appeared to become angry after a Holler reporter asked him if he remembered a photo of himself dressed as a female cheerleader in his 1977 high school yearbook.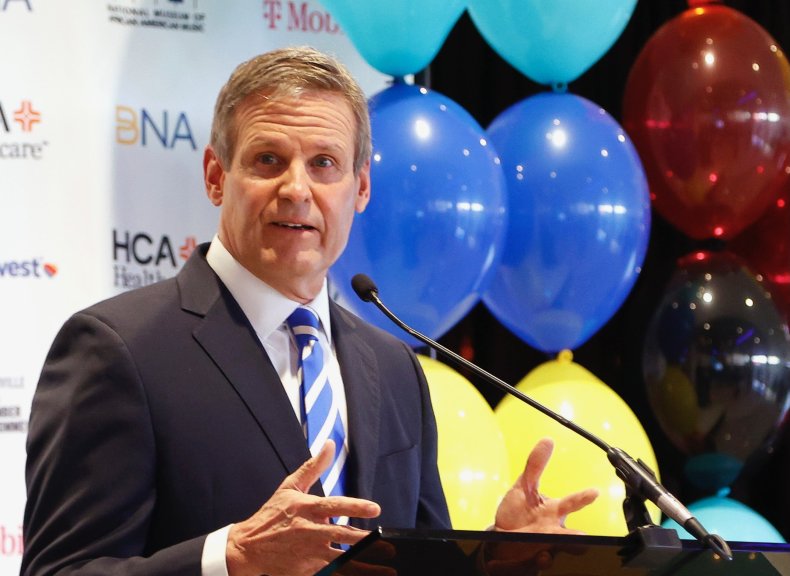 "What a ridiculous, ridiculous question that is!" Lee said. "Conflating something like that to sexualized entertainment in front of children! Which is a very serious subject."
Lee went on to say that he was concerned about "children that are potentially exposed to sexualized entertainment, to obscenity." The reporter later asked Lee about the photo again, getting no response when asking him if drag is "only illegal when gay people do it."
The photo of Lee surfaced in a Reddit post over the weekend and likely shows Lee taking part in the tradition of a "powderpuff football game," which involves male and female students crossdressing, according to NBC News.
Transgender activist Erin Reed, researcher of the recent series of anti-drag and anti-trans health care bills working their way through state legislatures, said in a comment to Newsweek that Lee was trying to "have it both ways" by calling only drag he did not participate in "sexualized."
"Governor Bill Lee wants to have it both ways," Reed said. "He wants you to believe that his drag was jestful, youthful, and fun but all other drag is sexualized, dangerous, and predatory."
"The truth is, there is nothing wrong with Governor Lee dressing in drag," she added. "And just like nobody prosecuted him for it, he should not prosecute members of the LGBTQ+ community for it either."
Lee's press secretary, Jade Byers, said in a statement to The Tennesseean that the bill banning drag is about protecting children from "obscene, sexualized entertainment."
"Any attempt to conflate this serious issue with lighthearted school traditions is dishonest and disrespectful to Tennessee families," Byers said.
Lee also said on Monday that he intends to sign a bill to ban gender-affirming health care for transgender minors, despite the treatments being endorsed by major mainstream medical institutions like the American Medical Association and the American Academy of Pediatrics.
In 2019, Lee faced backlash over a resurfaced 1980 Auburn University yearbook photo that showed him dressed as a Confederate soldier. Lee apologized for the photo at the time, calling it "insensitive."