A Republican congressional candidate in Florida was caught on tape threatening a police officer's job during a recent traffic stop.
Martin Hyde, who is running in Florida's 16th Congressional District, was pulled over by a police officer in Sarasota, Florida on Valentine's Day. Hyde, according to responding officer Julie Beskin, was clocked going 57 in a 40 mph zone and was also spotted texting while driving, according to SNN. The body camera footage showed Hyde threatening the officer's job during the stop.
At the beginning of the video, Beskin is seen approaching Hyde's vehicle and then tells him he's being recorded and why he was pulled over.
"Hi, how are you doing sir? I'm Officer Beskin with Sarasota Police Department. I've got you on audio and video recording. The reason I pulled you over is I observed you going 57 in a 40 and you were texting on your phone while you were doing that," the officer said.
Hyde responded that he was going to call the officer's supervisor.
"I'll just call the chief, how's that?" he said.
After the officer told Hyde to "go right ahead" with his suggestion, he then asked if the officer understood who she had just pulled over.
"You know who I am right?" Hyde asked.
Beskin then proceeded to ask Hyde for his license registration and insurance, telling him that she has a job to do. Hyde responded, in the video posted on social media, hinting that the officer might lose her job.
"Yeah, for now," Hyde stated.
He then asked for the officer's name to which the officer responded, "Officer Beskin, it's going to be on the citation."
After a back and forth for a few more seconds, Hyde then hands the officer his license, while the officer again asks for his registration.
"Can I see your registration, please? You not going to give me your registration, sir?" the officer said.
Hyde asked if the officer is going to arrest him and the officer answered back if he intended to provide her with his registration. They continue another back and forth over his registration as the officer continued to ask Hyde for his paperwork.
Hyde said the officer "is making career decisions" and asked why she was doing this.
After returning to her vehicle to write Hyde citations for speeding, texting, and driving and failing to provide the officer with his registration, the officer returned to Hyde.
The officer then attempted to give Hyde the citations and he informs her that he "just spoke to your boss." The officer asked Hyde if he would like his paperwork and Hyde answered back with a question about her immigration status.
"Is it your Russian immigrant status that makes you talk to people like this?" he said.
The officer, according to SNN, called in her supervisor and then proceeded to try and tell Hyde why he was being issued three citations. Hyde retorted that he's "not interested in hearing anything you have to say. I'll wait for the supervisor."
He eventually hands over his registration and stated that he had already been given a citation for not possessing it. Hyde then proceeded to tell her he was running for office.
"You're talking to a congressional candidate," he said.
A supervisor soon arrived on the scene and Hyde can be seen on camera talking to the sergeant.
Later in the video, Hyde again commented on the officer's tenure with the department and stated that it may not last much longer.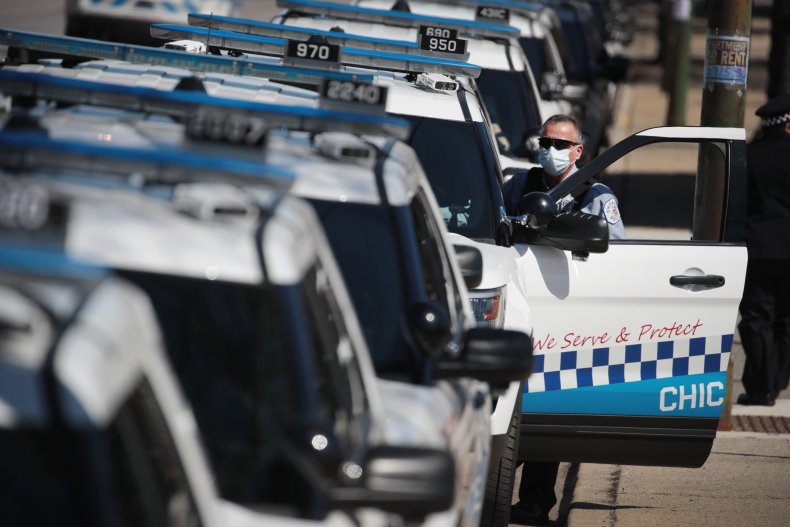 "She thought she was on a big power trip. Guess what? She's been there seven years; she ain't gonna make eight. I'll make sure of it. She ain't," said Hyde.
Hyde is challenging Florida's current 16th District Congressman Representative Vern Buchanan in the GOP primary. Hyde has received the endorsements of Roger Stone and Michael Flynn, according to Florida Politics.
Hyde's campaign website said he's against cancel culture.
"Our great country was not built on tearing each other down, but by building each other up. America is the best country on the planet for too many reasons to list, but we are heading down a road of assuring that is not the case. Cancel culture needs to be canceled," the website stated.
Hyde's interaction with the officer comes after a New Mexico Democratic state Representative Georgene Louis was arrested for aggravated DWI, according to the Santa Fe New Mexican.The lawmaker allegedly blew a .17 BAC, which is more than twice the legal limit after video showed she was at first reluctant to perform the field sobriety tests.
The state lawmaker was initially pulled over over last weekend for driving faster than 60 mph in a 45 zone. The responding officer stated that he smelled alcohol after approaching her vehicle.
In addition to DWI, Louis was also cited for speeding and being unable to provide insurance or registration for her vehicle.
Newsweek reached out to the Martin Hyde for Congress campaign for comment.