Republican Lawmaker Says 'Iran Would Be Pretty Much Toast In a Very Quick Amount of Time'
Republican Congressman Adam Kinzinger warned on Wednesday that Iran would be defeated very quickly if it chose to challenge the U.S., making the comment after President Donald Trump told reporters "there's always a chance" of war with the Persian Gulf nation.
Appearing for an interview on Fox News' America's Newsroom, Kinzinger, who represents Illinois and serves on the House Foreign Affairs Committee, said that Trump was right to take a hardline stance against Iran, arguing that Tehran was the ones that had provoked Washington.
"This is Iranian's doing, they're almost trying to provoke us," the representative said. "So, reaction would obviously be the right answer if it happens again," he added.
Kinzinger also stated confidently that Washington could quickly defeat Iran if a conflict were to break out.
"In terms of military to military, it would be a very one-sided conflict. Iran would be pretty much toast in a very quick amount of time," he said.
However, the GOP congressman explained that he did not believe Iran would cross the red line set down by Trump, as the Iranian government does not want to be defeated.
Tensions have long been high between Iran and the U.S., but Trump's administration has escalated the historic rift by withdrawing from the landmark 2015 Joint Comprehensive Plan of Action (JCPOA), commonly known as the Iran nuclear deal. The international treaty, which was signed by France, the U.K., the European Union, Germany, Russia and China as well as the administration of former President Barack Obama, offered sanctions relief and investment to Iran in exchange for reducing its nuclear capabilities.
Trump has been a big critic of the deal and in May 2018 he formally announced the U.S. withdrawal from the agreement, later moving to reimpose harsh financial sanctions targeting the country.
Since last month, critics of Trump's Iran policy have raised alarm bells about an increased possibility of war. The administration has deployed additional forces to the Persian Gulf region in response to alleged threats from Iran against U.S. regional interests as well as allies.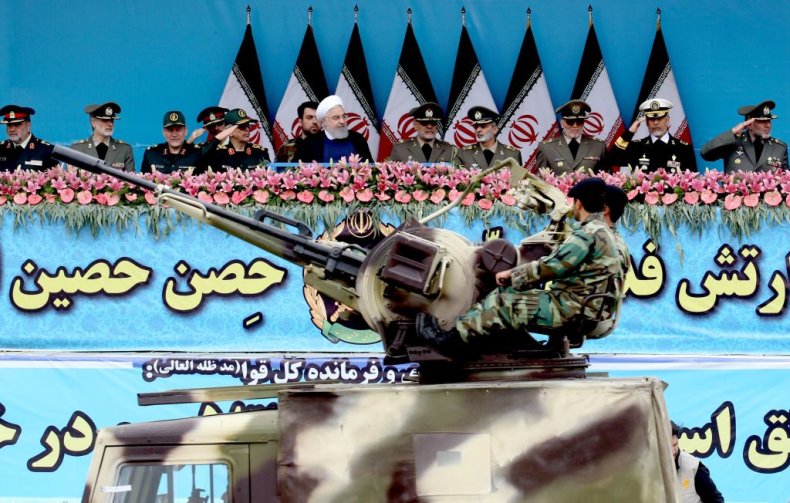 Many analysts and politicians have suggested that the administration is acting in a similar manner as President George W. Bush's government did in the lead up to the invasion of Iraq. Similar to Kinzinger on Wednesday, defenders of that invasion argued the war would be quick and easy to finish. It actually lasted more than eight years and many experts have argued the conflict led directly to destabilizing other regional countries, as well as the rise of extremist groups such as the Islamic State (ISIS).
Although Iranian leaders have said they will not hesitate to respond if attacked by the U.S., they have also repeatedly expressed their desire to avoid conflict with any nation.
"Iran has no tendency to enter conflict with other countries or world powers," Iranian President Hassan Rouhani said in a phone call with Qatar's Emir Tamim bin Hamad Al Thani this week, according to Iran's Islamic Republic News Agency (IRNA). But Rouhani added that "if they start an illogical act, undoubtedly they will face [a] firm and regrettable response."