GOP Leader McCarthy Says Government Tried to Make Bitcoin Go Away as Value Reaches All-Time High
As bitcoin hit an all-time high on Tuesday, House Minority Leader Kevin McCarthy said he does not want to "keep his head in the sand" when it comes to recognizing the significance of the cryptocurrency for America's competitive future.
"This is something that those who regulate, those who are in government, that make policy, better start understanding what it means for the future, because other countries are moving forward, especially China," McCarthy told CNBC's Squawk Box. "I do not want America to fall behind. I want the next century to be ours."
The California Republican also said he was right for previously signaling the importance of bitcoin to U.S. policymakers, but he added that he felt Treasury Secretary Janet Yellen and Federal Reserve Chairman Jerome Powell "tried to ignore" the matter and "tried to make [bitcoin] go away."
McCarthy's comments come as China announced earlier this month its new digital yuan system, controlled by the country's central bank, which stands to threaten the U.S. dollar's role as an international trade standard and world reserve currency. The digital yuan would give nations sanctioned by the U.S. a way to conduct financial transactions without U.S. knowledge or consequences. Now, McCarthy is pushing for U.S. regulators to start taking bitcoin seriously in order to compete on the global cryptocurrency stage.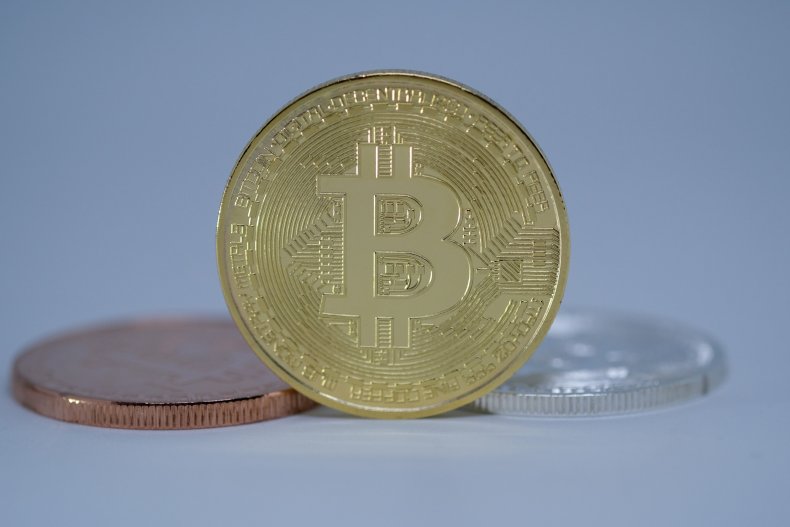 Bitcoin certainly hasn't gone away; the cryptocurrency reached a record high of more than $63,000 as of Tuesday, according to data from Coin Metrics cited by CNBC. The price rose by 5 percent in the past 24 hours as investors anticipated the arrival of the cryptocurrency exchange Coinbase to the stock market on Wednesday.
Bitcoin is a highly volatile cryptocurrency administered by a "decentralized network with a transparent set of rules," according to Investopedia. It is susceptible to quick market shifts, so while its value has ultimately grown, so has economists' skepticism about its security, stability and legitimacy.
"The reason we have such price volatility in bitcoin and other crypto-assets is that there's a world...where all companies, all governments, all people use bitcoin as money," Gil Luria, director of research at D.A. Davidson, told Marketplace on Tuesday.
"You can think that that likelihood is low, [but] there are other people that think that it's possible and unlikely. So as long as that's possible, in which case, each bitcoin would be worth $1 million, it's also possible that Bitcoin becomes worthless," Luria continued. "And when you have an asset that is either worth $0 or $1 million, price discovery is a process of volatility."
And the swinging value of bitcoin concerns regulators. Yellen issued a warning in February that bitcoin is a "high speculative asset" and said she was concerned about the extreme losses investors could suffer from an "extremely volatile" price.
"I don't think that bitcoin...is widely used as a transaction mechanism," Yellen told CNBC. "To the extent it is used, I fear it's often for illicit finance. It's an extremely inefficient way of conducting transactions, and the amount of energy that's consumed in processing those transactions is staggering."
Powell echoed Yellen's sentiments about volatility during a virtual panel last month, when he said the Federal Reserve would need the support of Congress to draft legislation before considering a central bank digital currency.
"To move forward on this, we would need buy-in from Congress, from the administration, from broad elements of the public, and we haven't really begun the job of that public engagement," Powell said, according to CNBC. "So you can expect us to move with great care and transparency with regard to developing a central bank digital currency."
McCarthy is one member of Congress who has spoken about a buy-in for bitcoin. In July 2019, he told CNBC, "I like bitcoin," citing the cryptocurrency's secure network and decentralized structure.
And some investors have echoed McCarthy's view that bitcoin may be the key to America's competitive future. In a talk earlier this month, venture capitalist Peter Thiel spoke of the importance of cryptocurrency on the global stage.
"I do wonder whether bitcoin should be thought of as a Chinese financial weapon against the U.S. It threatens fiat money, but it especially threatens the U.S. dollar," Thiel said.
According to CoinDesk's Noelle Acheson, Thiel's words could have been a signal of the need for lawmakers to pay more attention to bitcoin and pass regulation that will alleviate investors' concerns about volatility, further encouraging participation in the industry and creating a viable global competitor.
Newsweek reached out to the Federal Reserve and the U.S. Treasury for comment but did not receive replies by publication time.